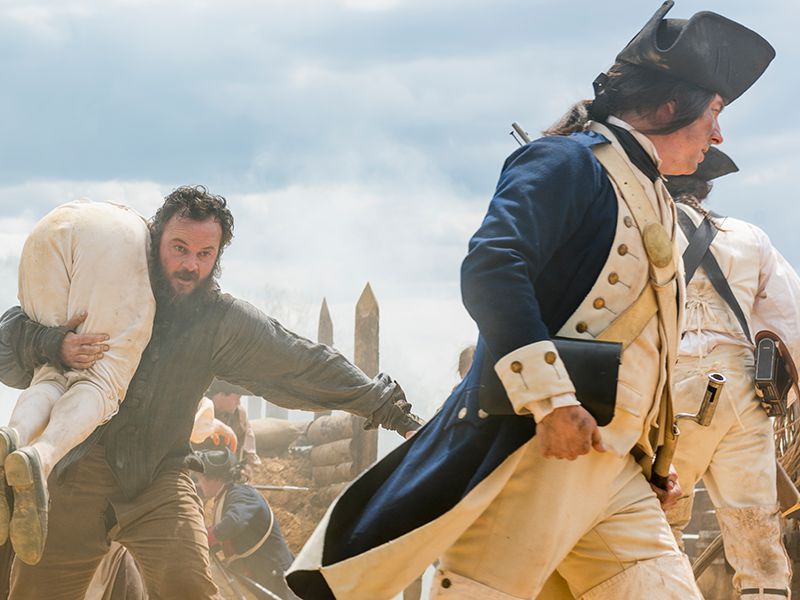 Season 4, Episode 9
Reckoning
After receiving Abe's intel, Washington heads south to lay siege on Yorktown. Abe volunteers for the Continental Army. Peggy goes into labor.
Show Full Recap
Full Recap
In a dream, Peggy Arnold bathes in a tub. Benedict Arnold walks in and drowns her. She wakes up as Abigail walks into her bedroom. Peggy says she worries the dream is a sign of darker things to come. Suddenly, Peggy clutches her pregnant belly and falls to the ground.
In Virginia, a rebel soldier brings Caleb Brewster to a barn, where he's holding a captured British soldier claiming to be a rebel spy. Caleb is disappointed to discover it's John Champe. When Caleb asks Champe about Abe Woodhull, Champe tells Caleb that he and Abe had made plans to seek refuge on the Marquis de Lafayette's ship. Caleb immediately leaves to find Lafayette.
Abe sits in a cell with British prisoners aboard Lafayette's ship.
General George Washington informs his generals that he is sending the army south to rendezvous with the French fleet but intends to make General Clinton believe they're still attacking York City. He says he decided to abandon York City after Lafayette received intelligence that General Cornwallis is vulnerable in Yorktown. Ben Tallmadge says he has a plan to convince Clinton that they're still attacking York City without moving a single soldier.
In his tent with Anna Strong, Ben composes a fake love letter from himself to Anna as part of his plan to deceive Clinton.
Mary shows Mrs. Bates the love letter, which Mary says she stole from Anna in secrecy. The letter says that Ben and the army are leaving for York City. Mrs. Bates says she's going to take the letter to Clinton.
Abigail takes care of Peggy, who lies in bed. She tells Peggy a bounty has been placed on Arnold's life. Peggy says she wishes someone would take a shot at him, for what he said about John André. Abigail assures her that John André loved her until the end. Abigail leaves to answer a knock on the door.
Abigail opens the door to reveal Akinbode. They kiss. He urges her to move to Canada with him. Abigail informs him that Cicero went south with Arnold. Akinbode vows to find Cicero and bring him back.
Mrs. Bates shows Ben's letter to Clinton while Major Hewlett stands by. When Mrs. Bates reveals the intelligence came from a woman named Mary Woodhull, Clinton speaks highly of the Woodhull family. To reward Mrs. Bates for her service, he calls in her husband, Joseph Bates, who embraces his wife and they leave. Hewlett then tells Clinton he doesn't think the intelligence can be trusted, but Clinton says he intends to take caution by heeding the report, especially considering the loss in the Rangers' leadership. Upon learning that Colonel Simcoe is gravely wounded, Hewlett asks to personally deliver Clinton's orders to Cornwallis in Yorktown.
On Lafayette's ship, French soldiers deliver Abe to the Captain's quarters, where Lafayette is waiting with Caleb. Caleb and Abe embrace, and Caleb reveals that he's the one who shot Simcoe in Blandford. Abe says he left Simcoe alive to deliver Arnold's intelligence about Yorktown's vulnerabilities. Lafayette confirms that Washington has heeded the letter and is sending the army to Yorktown.
In Yorktown, Hewlett informs Cornwallis and the other army commanders that Clinton needs men for another campaign in York City. Cornwallis confirms he will send reserves to aid Clinton.
In a medical tent, a doctor treats Simcoe and says that his outlook is grave. He tells Simcoe to get his affairs in order.
In the Allied camp at Yorktown, Abe reunites with Mary and Thomas. Anna, Caleb and Ben join them. "So much for Samuel Culper," says Ben, now that Abe's identity has been revealed. Abe asks for a moment alone with Mary. Abe urges her to return to Setauket with Thomas but she refuses to leave his side.
In Ben's tent, Abe debriefs Ben on the British army's supply inventory, which he gleaned from Arnold's ledger. He informs Ben that the British are low on munitions powder.
Washington convenes with his generals and devises a plan to defeat the British in Yorktown by using the enemy's own entrenchments and overtaking the redoubts.
On the battlefield that night, Ben orders the Allied forces to reinforce the British entrenchments at Yorktown while fighting the British.
Peggy realizes that Abigail spied on André for the Patriots, and accuses Abigail of being responsible for his capture and death. She orders Abigail to leave the house. Suddenly, Peggy starts to bleed.
The next day, the Allied forces advance on the British redoubts at Yorktown.
The French fleet advances on the British fleet near Yorktown. British ship captains consult their signal books and communicate with each other using incorrect flags, as a result of Townsend's sabotaging the signal books. The French bombard the confused British ships.
The battle at Yorktown continues on October 9th. Abe helps fortify the trenches amid heavy gunfire while Anna brings water to soldiers. Abe glimpses Washington giving orders nearby. When Anna is nearly shot, Abe runs towards her, but Abe is shot and falls to the ground. Caleb carries him off the battlefield.
Abigail helps Peggy into bed and prepares to deliver the baby herself after noticing the baby has not turned in the right direction.
Caleb carries Abe to the medical tent. Thomas sees him, and tells Mary that his father is here. Mary rushes to Abe and sews up his wound. Thomas holds Abe's hand.
In the British medical tent, Hewlett sneaks up to Simcoe's cot with a dagger drawn, but hides when he hears Rangers coming. He eavesdrops as Simcoe urges his men to rejoin their former rebel units and avoid execution by claiming they were captured. Simcoe says he will ship out with the other commanding officers who are ill. Hewlett walks away.
Ben informs Washington that the British are low on munitions powder, that they have enough for a march, but not for a siege. Washington capitalizes on this weakness by planning an attack on the redoubts that night.
Abigail guides Peggy through labor.
That night on October 11th, Allied forces – Ben, Caleb, and Alexander Hamilton among them – storm the British redoubts at Yorktown and overtake them in a ruthless battle. They seize control of the British cannons and fire them on the British forces in town.
In the morning, the British wave a white flag of surrender.
Hewlett approaches Simcoe on the H.M.S. Bonetta with a dagger drawn. Hewlett stuffs an apple in Simcoe's mouth and recalls his beloved horse that Simcoe killed with a poison apple. Hewlett orders Simcoe to eat the apple in his mouth, which Simcoe thinks is poisoned. Simcoe eats it and says that Hewlett's transformation from weakling to warrior has been his greatest creation.
Hewlett takes a bite of the apple, revealing it is not poisoned. Hewlett says that he still wants to kill Simcoe, but changed his mind after hearing Simcoe protect his Rangers, and he has decided to put their feud behind him. Hewlett stuffs the apple back in Simcoe's mouth and leaves. Simcoe sobs alone.
Peggy cradles her baby and names him Edward, after her father. She thanks Abigail and says that André's capture was not her fault.
In Surrender Field, the British army marches through a gauntlet of Continental and French forces to a drumline. Lafayette orders the Allied musicians to play "Yankee Doodle." A British commanding officer presents Cornwallis's sword to Washington. Washington says he is honored to accept their surrender. The British soldiers drop their guns as they march away while the Allied forces look on.