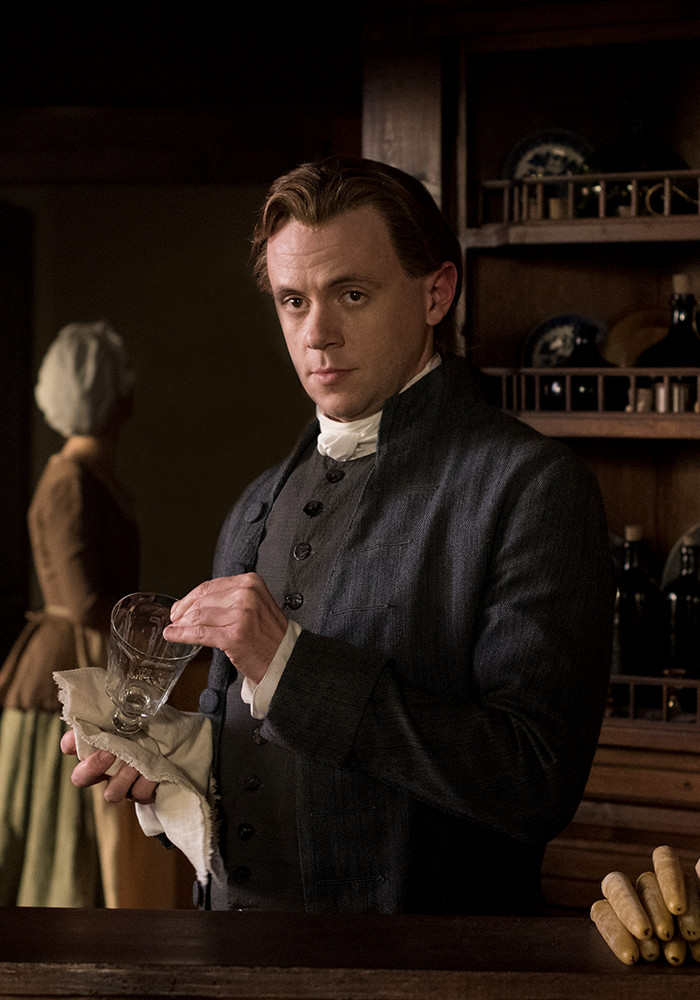 Secretive and reserved, Robert Townsend is best summed up in the words of historian Alexander Rose: "A man of parts and halves in a time of wholes and absolutes. Half-Quaker, half-Episcopalian, part secular, part devout, an American who refused to fire a musket for his country, a Loyalist who struggled against the British."

Townsend has survived by living under the radar, using his considerable wits not only as a weapon to disarm others, but to keep his true feelings hidden. He recognized Abe as another keeping his nature under wraps, and opted not to turn him over to the British when he uncovered evidence of his spying. Seeing Townsend as the missing New York-based piece in the Culper Ring, Abe recruited him, eventually overcoming Townsend's ingrained mistrust of others and fear of taking action. Season 3 found Townsend now a partner in Rivington's Corner, a coffeehouse that was the gathering place of the British officer class. Between the scraps of intelligence he overheard from his customers or gleaned from his talkative partner Rivington, Townsend averted a crippling attack on the American camp.

In the fourth season, Benedict Arnold's roundup of suspected spies comes perilously close to nabbing Townsend, who has to lay low.

Nick Westrate was recently seen in Ricki and the Flash, directed by Jonathan Demme and written by Diablo Cody. Nick starred opposite Meryl Streep, playing her son, Adam.

A Juilliard School graduate, Westrate got his start as a Broadway thespian in Moon for the Misbegotten, which starred Kevin Spacey. In 2015, he had a breakout performance on the Broadway stage as the lead role of Gloria in Harvey Fierstein's Casa Valentina. In 2010, he was nominated for a Drama Desk Award for Outstanding Featured Actor in a Play for his performance as Donald in Boys in the Band. Two years later, he received the Special Drama Desk Award for his versatility in the three off-Broadway shows, Unnatural Acts, Love's Labor's Lost, and Galileo. The Drama Desk committee touted this incredible feat as the "highlight of the season."

In 2013, he booked a series regular role in the Charlize Theron-produced NBC pilot Hatfields & McCoys with Virginia Madsen and Sophia Bush. His other television credits include a recurring role in the critically acclaimed HBO series Mildred Pierce with Kate Winslet and Evan Rachel Wood, as well as guest starring roles on Blue Bloods and Person of Interest for CBS, as well as Quantico on ABC, and New Amsterdam for FOX.