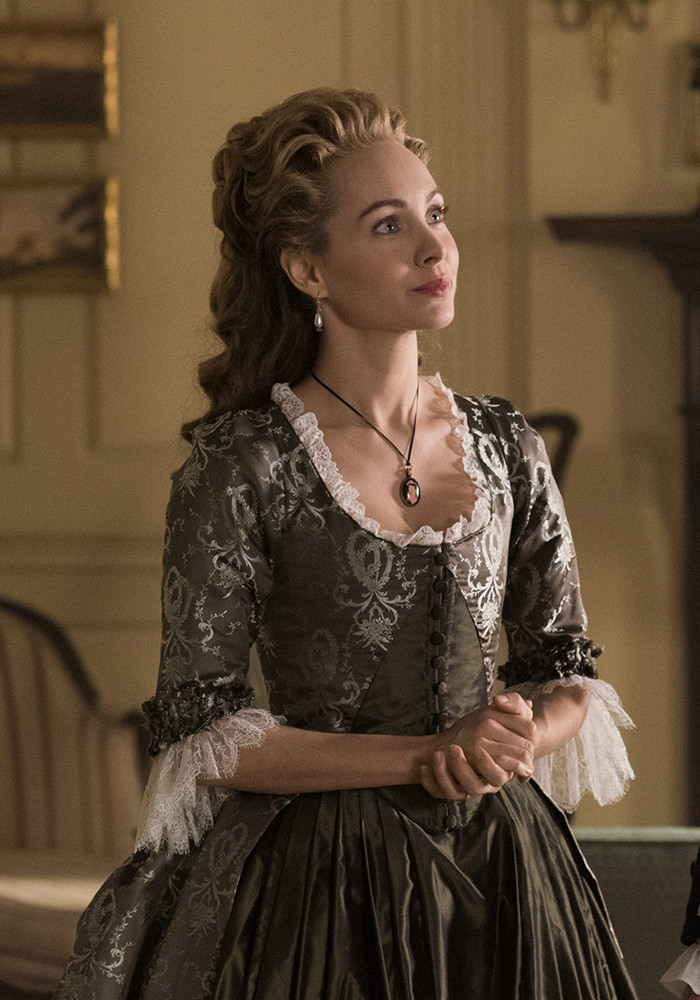 Hailing from one of the richest and most distinguished Tory families in the capital of Philadelphia, Peggy is known as "the most beautiful woman in America."

A clever woman with a mind of her own, Peggy disobeyed her father's wishes when she fell in love with Major John André. Instead of eloping at the end of Season 2, André and Peggy decided she should stay in Philadelphia to turn Benedict Arnold from the Patriot cause. Peggy steered Arnold toward betraying Washington and the Americans, though with disastrous results—Arnold was run out of Philadelphia and John André was hanged.

At the beginning of Season 4, Peggy has crossed lines and joined her husband in New York. But she is embittered by losing André and being known as the wife of a traitor. She plots her revenge against all those who cause her pain.

Ksenia Solo landed her first television role at age ten in the popular Canadian kids series I Was A Sixth Grade Alien, alongside Michael Cera. By the age of eighteen, she became the youngest recipient to ever receive two consecutive Gemini Awards in 2005 and 2006 for her portrayal of the young journalist Zoey Jones in the edgy teen drama Renegadepress.com. She later won her third Gemini award for Best Performance in a Featured Supporting Role for her portrayal of Kenzi in the fantasy-noir television drama Lost Girl. Solo was also nominated for the first-ever Canadian Screen Awards for Best Performance by an Actress in a Featured Supporting Role in a Dramatic Series for her work in Lost Girl in 2013.

In 2010, after an international search, Solo was handpicked by Darren Aronofsky to play Veronica in the five-time Oscar® nominated film Black Swan. That same year, she was named one of the 55 faces of the Future of Hollywood by Nylon Magazine. In 2011, Solo played Dodge in the highly anticipated FOX/DreamWorks comic book adaptation of  Locke & Key, which was directed by Mark Romanek and executive produced by Steven Spielberg. In 2015, Solo recurred as Shay in the cult hit series Orphan Black. In 2016, Solo starred opposite Maria Bello in the feature film In Search of Fellini and co-starred with Dominic Monaghan in the psychological thriller PET.