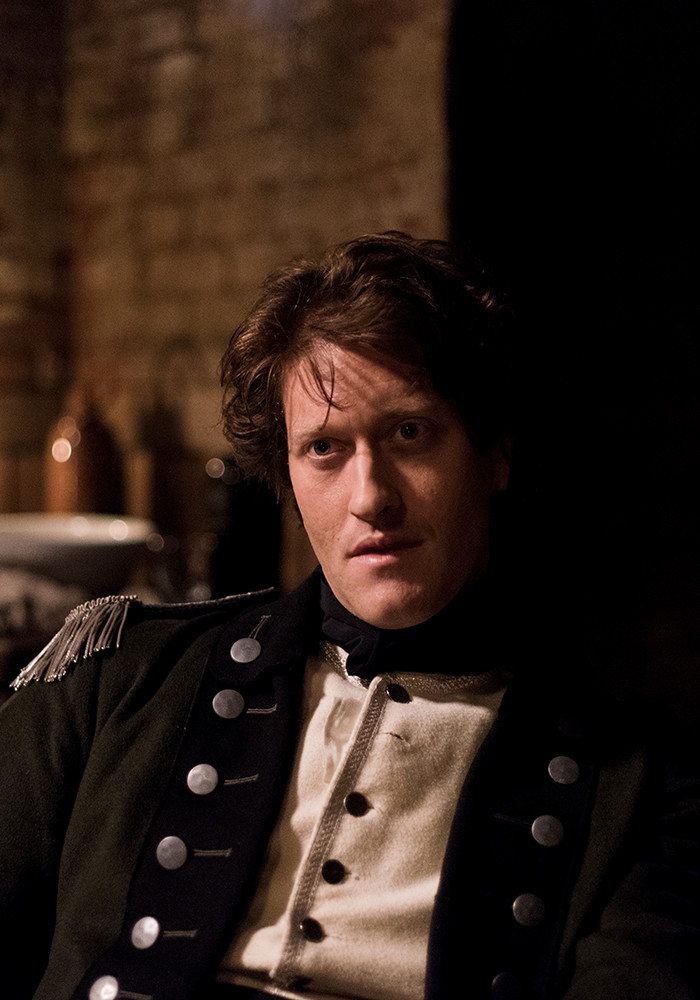 Ruthless and bloodthirsty, a blunt instrument of war, Simcoe harbors an intense dislike of most colonists, especially Abe. Simcoe's lack of restraint is his undoing, however, and his murder of Caleb's uncle allowed Hewlett to dislodge him from Setauket by the end of the first season.

Major John André had a use for Simcoe's remorseless ways, however: hunting down Rebel spies on Long Island. Appointed leader of the Queen's Rangers in place of Robert Rogers, Simcoe relocated the unit back to Setauket in Season 2, a provocation to his former commander Hewlett. Their feud came out into the open, and Setauket was nearly torn apart by a civil war between rival British forces.

In Season 3, Simcoe learned the name Samuel Culper but was fooled by Abe into thinking Culper was Robert Rogers. Simcoe got his comeuppance when he tried to have Abe hanged for striking him and was instead banished from the town for burning Colonel Cooke's fields.

As Season 4 opens, Simcoe is keen to repay old grudges. At Rivington's Coffeehouse he is introduced to someone he admires: Benedict Arnold. Tasked to work together and bring Virginia to the sword, Simcoe's no-nonsense soldiering conflicts with Arnold's insatiable greed. That's not to say he is without distraction himself—his thirst for retribution is unmatched, endangering Abe and the other members of the Ring.

Samuel Roukin's background in British theater includes roles in Trevor Nunn's Hamlet at the Old Vic; Bijan Sheibani's The Kitchen at the National Theatre; and Sir Nicholas Hytner's His Dark Materials and Henry IV Parts 1 & 2. Roukin also spent a season at the Royal Shakespeare Company in the lead role of Pip in Declan Donnellan's adaptation of Great Expectations. Most recently on Broadway, Roukin played Valvert in The Roundabout Theatre's production of Cyrano de Bergerac.

Roukin's film debut was in the Oscar®-nominated film Happy-Go-Lucky, directed by Mike Leigh. Other films include Jane Campion's Bright Star and David Yates' Harry Potter and the Deathly Hallows, and most recently, Meera Menon's Equity, that made its world debut in the 2016 Sundance Film Festival and was acquired by Sony Picture Classics.   Roukin's television credits include guest star and recurring roles on multiple series, including Housewife, 49, Appropriate Adult, and Richard II, produced by Sam Mendes, and large arcs on WGN's Salem and SyFy's The Magicians.

Roukin is a native of Southport, England, trained at the University of Hull, and earned a distinction from Bristol Old Vic.