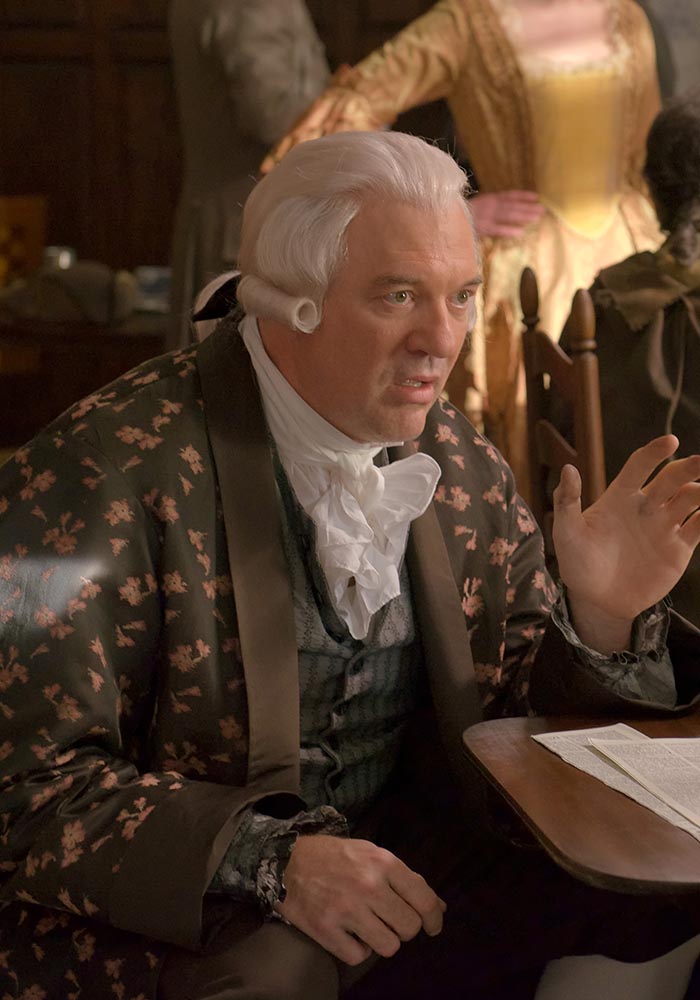 Rivington is the boisterous proprietor of Rivington's Corner, as well as the publisher of The Royal Gazette, a rabidly pro-British tabloid. An ingratiating backslapper, Rivington is the ultimate insider, a man who often knows as much about what the British are doing as any officer. Rivington doesn't keep anything to himself, which makes him the perfect mark for Townsend's spying. Townsend even uses Rivington's newspaper as a signal, placing a classified ad to signal the Ring that he has intelligence to pass.

A native of Colorado, John Carroll Lynch spent the first eight years of his professional career as a member of Minneapolis's Guthrie Theater Company with roles in over 30 productions.

Lynch landed his first major film role as Norm, Frances McDormand's duck-obsessed husband in the Coen brothers' Academy Award-winning Fargo. Since then, he has worked steadily in film, television and theater, playing an impressive range of characters — some lovable, some funny, some terrifying — doctors, killers, perplexed fathers, aggravated brothers, frustrated husbands, rich business men, poor contractors, southerners, northerners, westerners and easterners. If there's one thing consistent about Lynch's career, it's the extreme diversity of the characters he plays and wide range he covers — from dry wit to broad comedy, and from thriller and mystery to melodrama.

With over fifty film credits, Lynch has been directed by, among others: Clint Eastwood, Martin Scorsese, David Fincher, Mark Ruffalo, Miguel Arteta, Mick Jackson, Albert Brooks and Seth Macfarlane.

On the small screen Lynch has appeared in many roles, including, American Horror Story, Manhattan, The Americans, House of Lies, Carnivale, Body Of Proof, Big Love, From the Earth to the Moon, David E. Kelley's Brotherhood of Poland, NH, and The Drew Carey Show as Drew's cross-dressing brother 'Steve' for six seasons.

Lynch continues to pursue work in the theater. Highlights include the lead role of Eddie Carbone in Arthur Miller's A View from the Bridge at the Guthrie, the original production of the Pulitzer Prize-winning Dinner with Friends at South Coast Rep, Under the Blue Sky at the Geffen and Beth Henley's world premiere, Ridiculous Fraud at New Jersey's McCarter Theater.

Coming up this year, Lynch will be seen in The Founder as Mac McDonald in the period drama about Ray Kroc, as a minister in the faith-based true story Miracles from Heaven with Jennifer Garner, as a disturbing cult member in Karyn Kusama's excellently reviewed horror film The Invitation, and recurring opposite Paul Giamatti in the Showtime series Billions.

Lynch lives in New York with his wife, actress Brenda Wehle.