Video
Watch the The Walking Dead Universe Family Hangout, Featuring Norman Reedus, Melissa McBride, Lennie James and More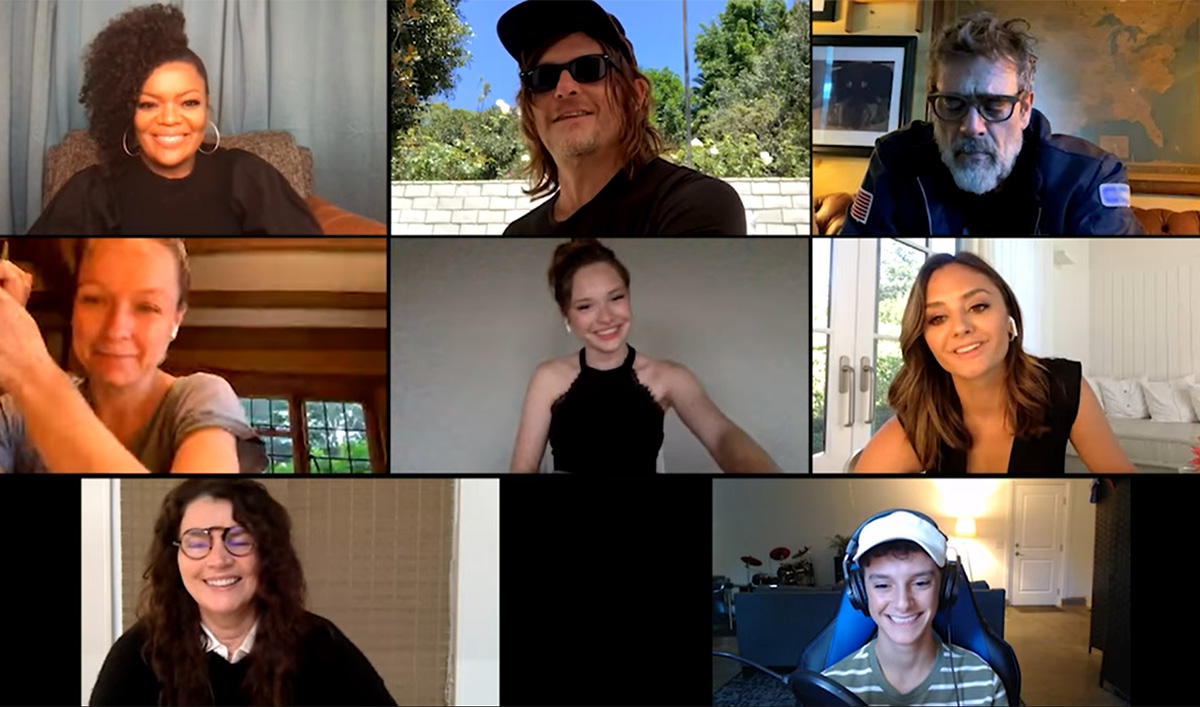 This past weekend, the casts of all three shows in The Walking Dead Universe — The Walking Dead, Fear the Walking Dead, and the new series The Walking Dead: World Beyond — gathered virtually for the first ever TWD Universe Family Hangout. Hosted by Yvette Nicole Brown, the cast members split into four groups and answered a series of fan questions and shared their experiences with fans, and each other, from being part of the TWD family.
The hangout comes after the official Comic-Con@Home panels for The Walking Dead, Fear the Walking Dead and The Walking Dead: World Beyond, which featured a new trailer from The Walking Dead: World Beyond, the first teaser from Fear Season 6 and an extended scene from The Walking Dead Season 10 Special Event, as well as plenty of details from what's to come in all three series and Lauren Cohan's return as Maggie.
Read More: Everything You Need to Know from Comic-Con@Home About Maggie's Return to TWD
In the Hangout, Brown asked each group a variety of fun and fascinating fan questions. For instance, the first group — Lennie James (Morgan), Khary Payton (Ezekiel), Cassady McClincy (Lydia), Karen David (Grace), Alexa Nisenson (Charlie), Annet Mahendru (Huck) and Paola Lazaro (Princess) — were asked what royal titles they would give to their characters, given that the panel already had a king (Ezekiel) and a princess. James answered that he would make Morgan a Baron.
The second group, which consisted of Norman Reedus (Daryl), Jeffrey Dean Morgan (Negan), Samantha Morton (Alpha), Zoe Colletti (who is joining the cast of Fear Season 6 as Virginia's sister Dakota), Christine Evangelista (Sherry), Julia Ormond (Elizabeth) and Nicolas Cantus (Elton), featured newcomers to the TWD Universe like Cantu and Colletti and led Reedus to reminisce on his first season of TWD.
Additionally, Cantu actually had a question for Reedus, asking "How does it feel being everyone's top pick for zombie survival partner in my first grade class?"
"Don't worry, Uncle Daryl to the rescue. I got a backpack full of graham crackers and a crossbow," responded Reedus.
Reedus also shared some stories about his relationship with Daryl's dog.
The third grouping, Lauren Ridloff (Connie), Nico Tortorella (Felix), Jenna Elfman (June), Alexa Mansour (Hope), Garrett Dillahunt (John), Nadia Hilker (Magna), Cooper Andrews (Jerry) and Eleanor Matsuura (Yumiko), who was celebrating her birthday, also spoke about their first days on set. Mansour and Tortorella discussed their recent experiences at the start of The Walking Dead: World Beyond, while veteran stars of Fear and TWD looked back to what they remembered from their first days on set of their respective shows. What stuck out from back on those first days on set varied wildly. For Jenna Elfman, it was the intensity of the stunts. For Nadia Hilker, it was the heat. For Garrett Dillahunt, it was the catering.
The final group, Melissa McBride (Carol), Cailey Fleming (Judith), Callan McAuliffe (Alden), Alycia Debnam Carey (Alcia), Danay Garcia (Luciana), Maggie Grace (Al), Aliyah Royale (Iris), and Hal Cumpston (Silas), answered questions about what superpowers their characters would develop. Fleming thinks Judith would be able to read people's intention, while McBride would want Carol to become invisible.
And, in the midst of discussing how she, McAuliffe and Cumpston, who are all Australian, keep their natural accents suppressed while filming. Debnam-Carey revealed that Lennie James, who is British, always tries to speak in Morgan's American' accent on set, but slips when he gets to passionate about soccer.
Watch the Full Hangout for More Stories From the Cast:

Click here to learn about the Commonwealth, the community Angela Kang teased that will soon be a part of the show.
Read More