Press
Angela Kang Teases Carol's Arc to EW; Variety on Lauren Cohan Returning, The Walking Dead Season 11 Renewal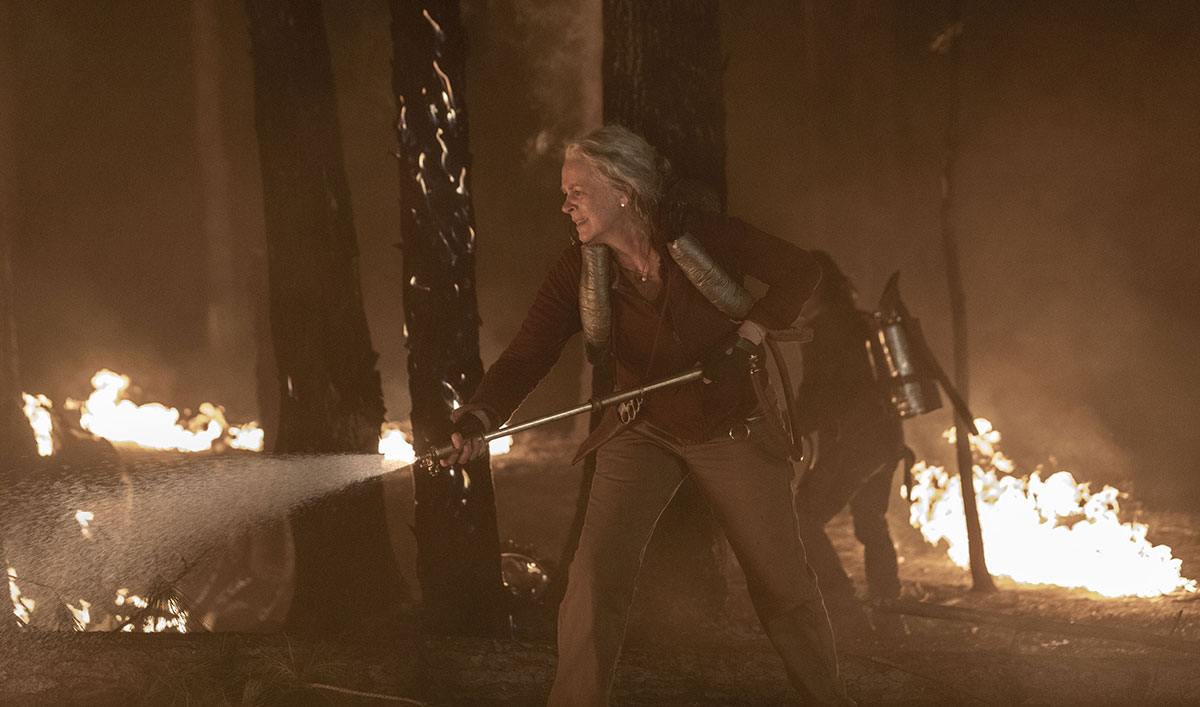 This week, Angela Kang teases Carol's arc to Entertainment Weekly, while Variety reports on Maggie's (Lauren Cohan) return and The Walking Dead's Season 11 renewal. Plus, Norman Reedus discusses Daryl's romantic prospects with EW. Read on for more:
• Looking ahead, Angela Kang teases to Entertainment Weekly that, when Carol sees Alpha at the episode's end, "it just reignited every feeling of hatred and desire for vengeance that she had. That has consequences and that really sets up a lot of the main conflicts of the season going forward."
• Variety reports that Lauren Cohan will return as a series regular and that The Walking Dead has been renewed for a Season 11, with Angela Kang saying, "It's worked out and we couldn't be more thrilled. I think [Maggie] is a really compelling character. And Lauren is such a compelling actress."
• Discussing Daryl's possible romance, Norman Reedus tells Entertainment Weekly, "I want to be really careful with doing that and I think Angela [Kang] does as well. But it's The Walking Dead, so as soon as something good starts happening, it all goes down. You know what I'm saying? So I don't want to get me too happy or I might get bitten."
• Entertainment Weekly speaks with Greg Nicotero, who says, "The first three walkers that come out of the boat, that was something we had never done before because if you look at those really closely, the skin is translucent. You can see the bones through the skin. And those were layered prosthetic pieces."
• According to The Hollywood Reporter, Season 10 will feature Princess AKA Juanita Sanchez, to be played by Paola Lázaro.
• Angela Kang tells Business Insider why satellites featured in the Season 10 Premiere: "We thought there was some kind of fun in the fact that this season deals so much with paranoia and a sense of being watched and what's real and what's not. Satellites are such as a symbol of, you know, at all times we can be tracked with satellite GPS technology."
• ComicBook.com takes note of Season 10's new opening credits, which "include an Easter egg paying tribute to Andrew Lincoln's Rick Grimes."
• Norman Reedus tells Entertainment Weekly that Daryl has "the ghosts of all these other characters that used to be on the show, they're haunting him. He's finding himself being in these roles of decision-making for a group. He's got people to protect. It's a much different Daryl than we're used to seeing."
• "You will see a different dynamic from Carol and Daryl for sure this year," Norman Reedus says to the New York Daily News. "It's complicated. There are a lot of things going on that make those characters go in certain directions. You will get to see how close they are and you'll also get to see those characters interact in different ways as well."
• Angela Kang says to The Hollywood Reporter that "a lot of the heart of the series this season lies with Carol" because "we're playing a lot in her perspective as this grieving mother, who just wants to settle the score between her and Alpha, and the lengths that she'll go to to do that."
• Greg Nicotero explains to Entertainment Weekly, "The big question is, are people willing to follow Alpha's rules and at what cost? And that's really what sets up the whole season, is the idea that there could be a pack of walkers walking down the street and you don't know if there's a Whisperer in there that's watching you."
• People's ones to watch includes Lauren Ridloff (Connie): "The Chicago-born Walking Dead actress and Tony nominee, 41, will be the first deaf actor to play a Marvel superhero, opposite Angelina Jolie in The Eternals."
• ComicBook.com reports on Angela Kang paying tribute to Scott Wilson (Hershel) on the first anniversary of his death: "For 9 years, I've worked on a show with 'dead' in the title, but it is & always has been about life & love & family. My own life is richer for having known Scott Wilson, who I loved like family."
• According to ComicBook.com, The Walking Dead has been nominated for five People's Choice Awards: The Show of 2019, The Drama Show of 2019, The Male TV Star of 2019 and The Drama TV Star of 2019 (both for Norman Reedus) and Female TV Star of 2019 (Danai Gurira).
• Josh McDermitt shares with ComicBook.com that Eugene is "looking at using that radio to bridge the gap between the communities since there's such a huge distance between the communities, so maybe he'll find companionship elsewhere."
• Avi Nash teases to GamesRadar+, "Siddiq and Michonne spend a lot of time together… and Michonne's exit on the show is a very fitting end to Danai [Gurira]'s legacy and the character's legacy – and Siddiq is a part of that, as he should be."
• GamesRadar+ learns from Denise Huth that "we're going to see a lot more of Aaron. Obviously he's been with us since season 5 as a member of Alexandria and he steps up in a significant way this season, not only as a leader of Alexandria but also of all the communities together."
• For recaps and reviews of Season 10, Episode 1, "Lines We Cross," check out 411 Mania, Atlanta Journal-Constitution, CBR, ComicBook.com, Den of Geek, Entertainment Weekly, GamesRadar+, The Hollywood Reporter, Mashable, Syfy Wire, TV Fanatic, TV Movie Fix and Us Weekly.
Unlock more with AMC Premiere: Stream new episodes 48 hours early, ad-free. Plus get exclusive access to the cast table read. Click here to learn more.
To stay up-to-date with the latest interviews with the cast, trailers, episodes and behind-the-scenes videos, join The Walking Dead Insiders Club.
Read More