Press
EW Features New Whisperers Promo; The Walking Dead's Angela Kang Talks Danai Gurira With TVLine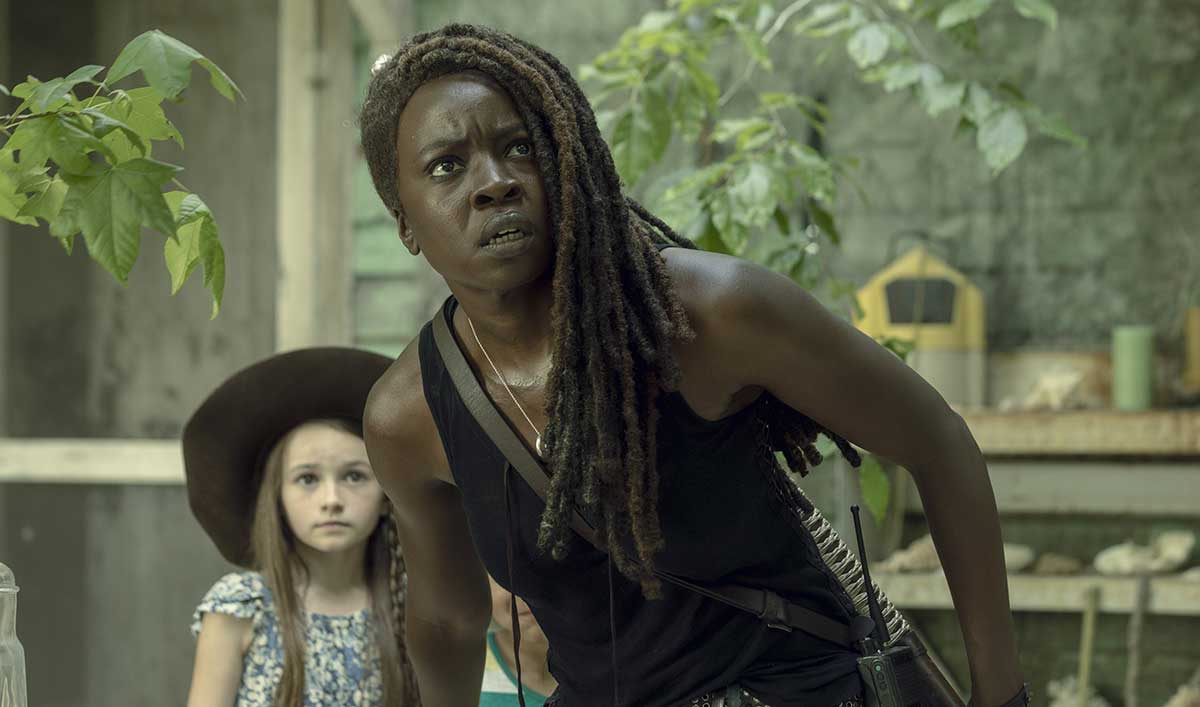 This week, Entertainment Weekly features a new Whisperer-centric promo for Season 10, while Angela Kang discusses Danai Gurira's final arc as Michonne with TVLine. Plus, Kang previews to EW what to expect from Daryl (Norman Reedus) and Carol (Melissa McBride) in Season 10. Read on for more:
• Entertainment Weekly posts a new Season 10 "Whisperers-centric" promo — part of the show's 10 weeks of TWD X reveals until the Season 10 Premiere — where Alpha (Samantha Morton) and Beta are "chanting their super-duper creepy apocalyptic motto" and there are "plenty of looks at the mysterious new character of Gamma."
• TVLine applauds that "we have to give the AMC drama extra credit for its excellent pre-season promos. From its San Diego Comic-Con trailer to its stylish 'Silence the Whisperers' clip, the show has been slaying, don't you think?"
• Angela Kang tells TVLine, "I'm excited to have the audience see Danai [Gurira]'s work during this last arc on the show, because she's just amazing. She brings so much to every episode she's in."
• "We're going to see a lot of Daryl and Carol in Season 10. Both together in stories as well as pursuing their own paths," Angela Kang explains to Entertainment Weekly, which also posts a new photo of the pair.
• As part of TV Guide's feature on the 100 best shows on TV right now, The Walking Dead is included as one of the scariest shows on TV ("If you ask us, nothing gets the blood pumping quite like a well-executed horror or thriller series").
• Discussing the Whisperers war, Angela Kang tells TVLine, "There's a much more tense, kind of crackling feel to the way they're interacting with each other as tensions continue to mount. And there are lots of plot twists and turns within that tension as it amps up over time."
• CBR.com shares a photo of Gamma, played by Thora Birch: "Sure, Birch is giving what looks like the faintest smile beneath her Walker mask, but it's probably pretty safe to say she's got bad intentions for The Walking Dead's survivors."
• According to ComicBook.com, Greg Nicotero says of Season 10, "I directed the first two episodes of Walking Dead, and they're pretty badass. I can't wait."
• Entertainment Weekly, boasting a photo from Oceanside, learns from Angela Kang that it's "been really fun having Oceanside back in the fold this season. We've sort of been away from them for a minute, but they are one of our communities and they're an active partner in everything that's going on."
• CarterMatt checks out a "really cool" Season 10 promo: "It plays out to inspire you, showing you the common principles by which people should live … or at least how they should within the world of a zombie apocalypse."
• ComicBook.com showcases Season 10 character posters for the "main players": Daryl, Michonne, Carol, Judith, Negan, Alpha and Beta.
• Deadline reports that The Walking Dead won three Saturn Awards: best horror series on television, Danai Gurira for best supporting actress on a television series (beating out a trio of Game of Thrones actors) and Jeffrey Dean Morgan for best guest star on a television series.
• ComicBook.com spotlights a new line of The Walking Dead Funko Pops: "a new version of Daryl, Alpha with a mask, Dog (DOG!), Michonne (one more Pop figure for the road), and Judith Grimes."
• Undead Walking declares, "The Walking Dead universe is full of terrible people who do awful things, so let's shine a light on the selfless characters who show that not all humanity is lost in the apocalypse."
Season 10 premieres Sunday, October 6 at 9/8c on AMC.
For more details on how to watch The Walking Dead and trailers for Season 10, sign up for the weekly The Walking Dead newsletter.
Read More