Press
Angela Kang Previews TWD Season 10 to TVLine; TV Guide Features Samantha Morton Teaser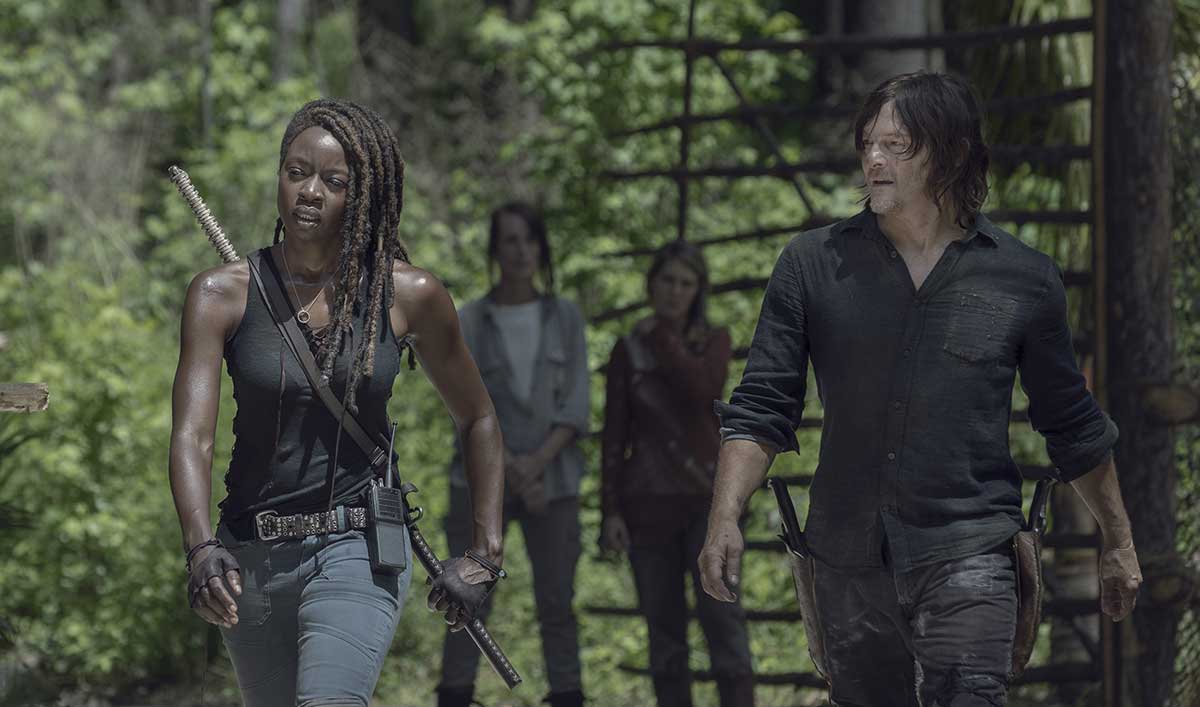 This week, Angela Kang previews Season 10 to TVLine, while TV Guide features a new Samantha Morton teaser. Plus, TVLine reports on the show's many People's Choice Award nominations. Read on for more:
• Angela Kang talks Season 10 with TVLine, discussing Alpha (Samantha Morton), who "doesn't have a traditional sort of battle strategy," Carol (Melissa McBride) and Daryl (Norman Reedus), who Kang says have "an emotional core between the two of them" and more.
• TV Guide showcases a promo featuring Samantha Morton, part of the show's TWD X reveals ahead of the Season 10 Premiere: "It's a little jarring to hear 'Sam' gush in her natural British accent about how she cried reading the scripts while her face is Alpha's, complete with her signature coating of filth."
• According to TVLine, The Walking Dead received several People's Choice Awards nods, including The Show of 2019, The Drama Show of 2019, The Male TV Star of 2019 and The Drama TV Star of 2019 (both for Norman Reedus) and The Female TV Star of 2019 (for Danai Gurira).
• ComicBook.com spotlights "a 1950s-style" PSA, featuring Eugene, that helps apocalypse survivors "distinguish between a regular fever and one caused by an incurable walker bite."
• TV Guide reports that next month's New York Comic Con will feature a panel for The Walking Dead on October 5 at Madison Square Garden: "The cast and crew of The Walking Dead and the untitled third series in the franchise will be on hand for a discussion, along with never-before-seen footage."
• Speaking about Michonne and Ezekiel (Khary Payton), Angela Kang tells TVLine, "The characters have always had a respect for each other. They like each other. [And their relationship] feeds into the journeys they're on this season."
• TV Insider's gallery of TV's best antiheroes includes Negan (Jeffrey Dean Morgan): "It's a testament to Jeffrey Dean Morgan's performance on the zombie drama that Negan's as well-loved as he is — the leather-clad baddie is responsible for two of the biggest character deaths on the show!"
• Den of Geek's list of the best horror TV shows to watch right now includes Season 9, calling it "something of a new start for an already established show. With new showrunner Angela Kang comes new directors, new writers, new actors, and an infusion of freshness into what remains one of cable television's dominant programs."
• TV Insider shares "13 happy moments that should put a smile on the face of any Walking Dead fan."
• Metro.co.uk reports that Norman Reedus "posted throwback photos with his castmates including Andrew Lincoln (Rick) and Danai Gurira (Michonne)."
• Undead Walking details its "favorite moments" from Season 4, which was "a turning point for Rick and the others."
The Walking Dead Season 10 premieres Sunday, October 6 at 9/8c on AMC.
For more details on how to watch The Walking Dead and trailers for Season 10, sign up for the weekly The Walking Dead newsletter.
Read More