Press
TV Guide Showcases Season 10 Key Art; AMC's Josh Sapan Talks The Walking Dead With Vanity Fair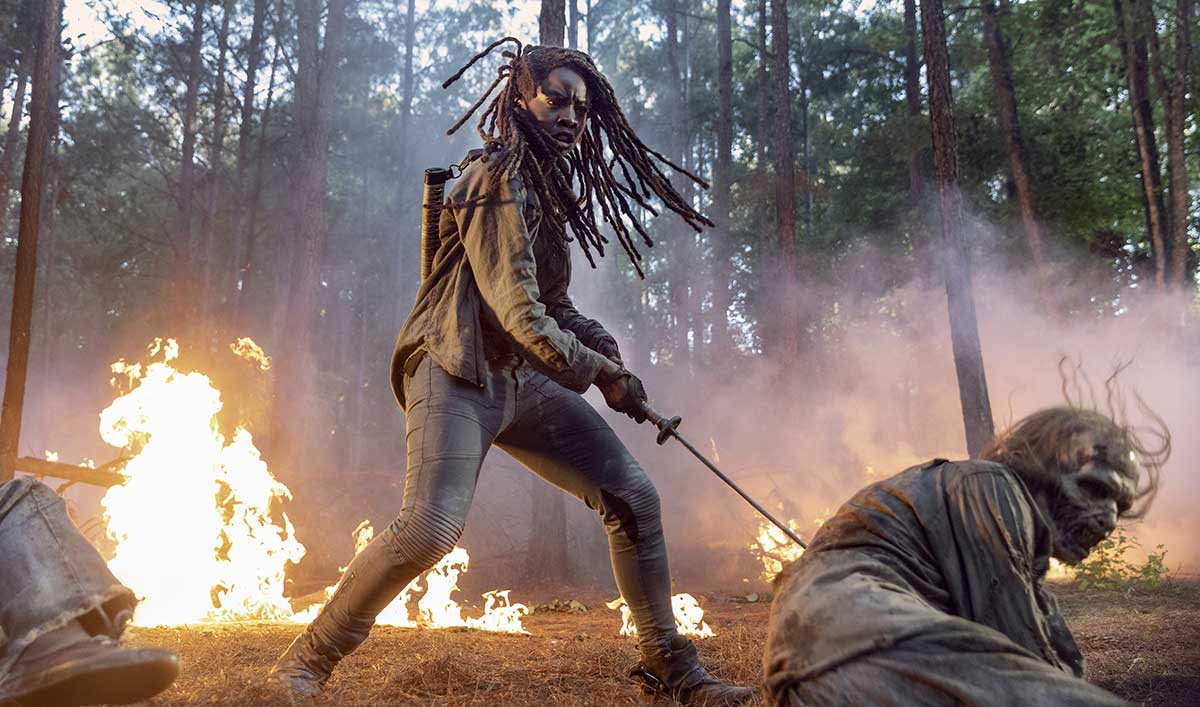 This week, TV Guide, EW and more showcase the brand new art for Season 10, while AMC's Josh Sapan discusses The Walking Dead with Vanity Fair. Plus, Bleeding Cool goes behind the scenes. Read on for more:
• TV Guide showcases Season 10's art — released as the latest TWD X reveal — which "features Daryl (Norman Reedus), Carol (Melissa McBride), and Michonne (Danai Gurira) looking ready for battle."
• Entertainment Weekly points out that "the AMC drama is putting its three longest-tenured characters front and center," while TVLine drools over "Daryl double-fisting it with a pair of knives, while Michonne and Carol both reach for their weapons, as if the eagerly-anticipated Whisperers war might begin at any second."
• Forbes enthuses, "I really love this key art. It manages to be simple and powerful all at once, with a nice artistic flair that we haven't seen before in any previous season. Three of the show's best characters and nothing else."
• AMC Networks CEO Josh Sapan tells Vanity Fair "there are stories and characters that are, eternal is a fancy word, they resonate with people and people want to stay in their world and they're reflective of all of life and all that stuff. And they're Lord of the Flies-ish. And I think The Walking Dead has all those characteristics if you treat it properly."
• Bleeding Cool gets behind the scenes, where Danai Gurira and Norman Reedus "share a laugh," Samantha Morton and Melissa McBride are together ("feeding ever-so-nicely into our growing need for Carol to be the hand that puts down Alpha") and it looks like "Aaron's theme this season is going to be 'No More Mr. Nice Guy.'"
• CBR.com highlights a new series of promo videos that "remind the survivors to remember their place against the Whisperers," with Alpha "warning the survivors that they are being watched and to respect their imposed borders."
• Entertainment Weekly posts a clip from the Season 9 Blu-ray and DVD where The Walking Dead cast "bid [Andrew] Lincoln adieu with tributes to his contributions on the AMC drama."
• Undead Walking lists "8 people from The Walking Dead universe we need to see in the Rick Grimes films."
• Examining Season 2, Undead Walking selects the "favorite moments from this pivotal season that still resonates with fans."
For more details on how to watch The Walking Dead and trailers for Season 10, sign up for the weekly Walking Dead newsletter.
Season 10 premieres Sunday, October 6 at 9/8c on AMC.
Read More