Press
THR Spotlights The Walking Dead Trailer; TheWrap on Season 10 Casting News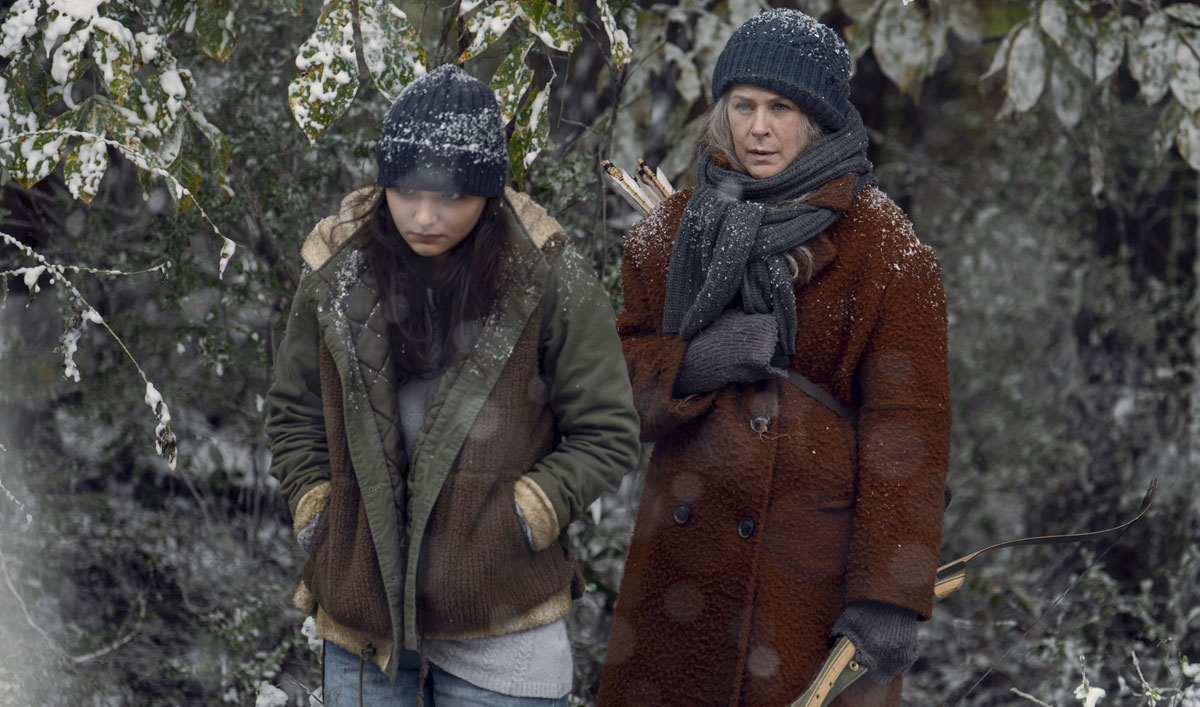 This week, The Hollywood Reporter spotlights a the first Season 10 trailer for The Walking Dead and gets Angela Kang's comments on it, while TheWrap reports on Season 10 casting news. Plus, Variety debuts a teaser for the upcoming Rick Grimes feature film. Read on for more:
• "We're getting into a whole different style of war than the last time we saw war on the show. The Whisperers are a very different type of enemy. We'll see what it's like to be in a Whisperer War," Angela Kang says of the first official Season 10 trailer, as featured by The Hollywood Reporter.
• TheWrap notes that Thora Birch and Kevin Carroll will join the Season 10 cast, with Birch playing a Whisperer named Gamma and Carroll playing a character named Virgil.
• Variety debuts a teaser for the first The Walking Dead movie, which will focus on Rick Grimes.
• We Got This Covered says that Season 10 will premiere on Sunday, Oct. 6.
• The Hollywood Reporter deems The Walking Dead one of Comic-Con's winners because "AMC used its back-to-back panels for Fear the Walking Dead and the flagship series to solidify its future."
• TVLine explains why the Season 10 trailer "has left us all kinds of stoked to see new episodes," and Uproxx details "ten of the best stand-out moments" from the trailer ("bigger, bolder, and more cinematic" than expected).
• TV Guide details "some notable moments that happen in the trailer" and Screen Rant points out "every story reveal."
• Entertainment Weekly features a Season 10 image of Michonne "mowing down zombies while a fire rages in the background" and learns from Angela Kang that fire "comes into play in a few key ways that twist the story in a way that will be pretty exciting."
• According to ComicBook.com, Melissa McBride thinks there "deserves" to be a Carol vs. Alpha showdown because "Carol wants vengeance."
• Jeffrey Dean Morgan, talking to TVLine about Negan getting out of prison, says, "It's nice for Negan to get out, and I think that we're going to see a different side of him yet again — which is kind of the great part about this role for me is every year we've peeled back another layer of who this guy is."
• Norman Reedus speculates that Daryl and Negan "might need each other at some point. It's such a weird world, 'cause some of the bad guys are the good guys, and the good guys are the bad guys, and everybody thinks they're doing the right thing," ComicBook.com reports.
• Angela Kang tells Entertainment Weekly that Season 10 will deal "with people's trauma, and the idea of what is real or not real. Things having to do with illusion, or just memory breaking, PTSD. So there's a lot of stuff that we're doing that's pretty unique to the feel of this season."
• Norman Reedus recounts filming the Season 5 scene where Daryl carried Beth's body, saying, according to Cinema Blend, "I wanted it to look like I was exhausted of tears during that and not crying while I was doing that. So, the crew on our show let me sit in the hallway on one of those empty chests and just bawl for like an hour and a half."
• ComicBook.com reports that The Walking Dead received a Saturn Award nomination for Best Horror Television Series, as well as nods for Andrew Lincoln, Khary Payton, Danai Gurira, Melissa McBride and Jeffrey Dean Morgan.
• Cinema Blend has Lennie James' take on how Morgan would deal with Rick's disappearance: "I think he would walk back across the country, I think he'd walk back and forward. It would become his new mission. He would have to find him. I think one of the things about Morgan is he still defines himself by that man and that friendship…"
• Robert Kirkman says he likes when the TV show changes the comic, explaining, "I definitely have conversations with Scott Gimple where I say, 'If we lose this, you lose this,' but he says, 'Yes, then we gain this.' The audience doesn't get to see that, so it can be tough when a major character dies and we have a plan," ComicBook.com reports.
• According to The Hollywood Reporter, Scott Gimple says the new series set in The Walking Dead Universe is about children who "grew up in a place of comfort and security, but they leave everything on a dangerous quest, and end up being pursued by adults on their own own dangerous quest. We'll see kids become heroes and some become villains."
To get full episodes, behind-the-scenes video and more, sign up for the weekly Dead Alert.
Read More