Press
The Cast and Producers of AMC's The Walking Dead Invade San Diego Comic-Con 2019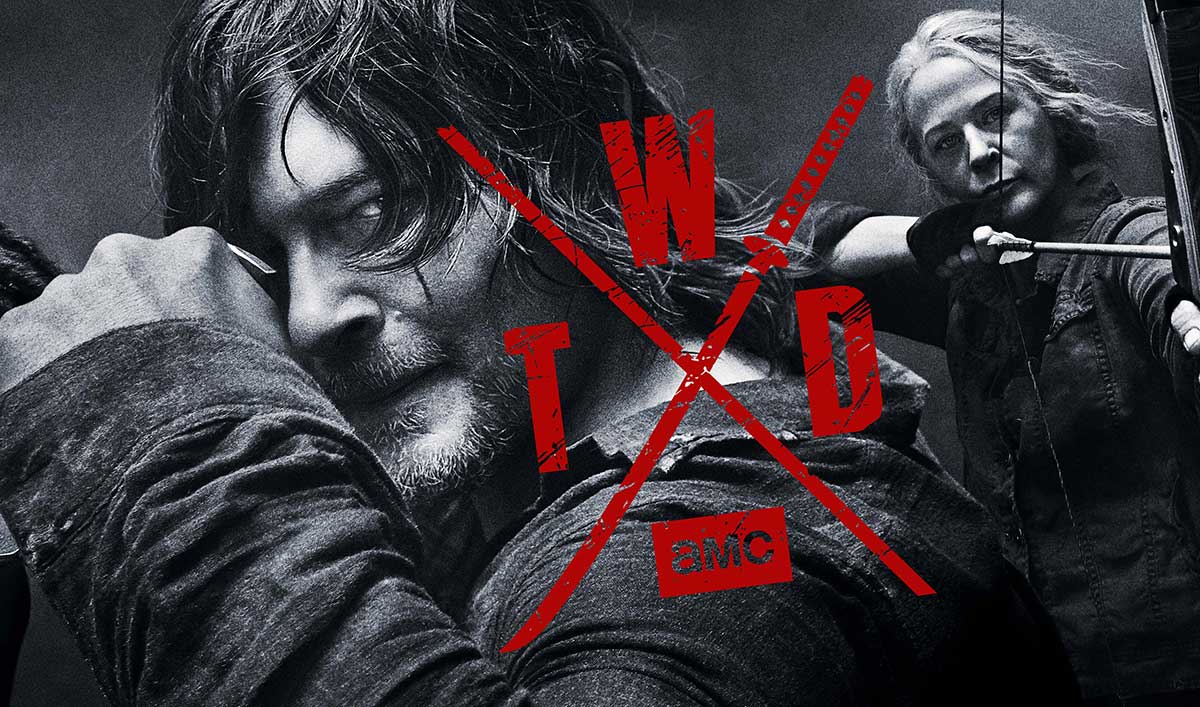 The cast and producers of AMC's hit series The Walking Dead will return to this year's Comic-Con in San Diego, CA.
TWD will be joined at Comic-Con by Fear the Walking Dead, the new supernatural horror series NOS4A2 and Ridley Scott-produced anthology series The Terror: Infamy.
View the Official TWD Poster for Comic-Con 2019
AMC will have a significant presence in and around San Diego with activities and partnerships including a Walker Horde, the return of the "DeadQuarters" fan zone, a partnership with Feeding America, benefiting the local San Diego chapter, and demos of the upcoming VR game The Walking Dead Onslaught, among other gaming activities.
In addition, The Walking Dead panel is scheduled for Friday July 19 at 1PM in Hall H. Panelists include cast members Norman Reedus, Melissa McBride, Danai Gurira, Ryan Hurst, Jeffrey Dean Morgan, Avi Nash, Nadia Hilker, Eleanor Matsuura and Cailey Fleming, along with chief content officer of The Walking Dead Universe, Scott M. Gimple, showrunner and executive producer Angela Kang, executive producers Robert Kirkman, Dave Alpert, Gale Anne Hurd and Greg Nicotero. The panel will be moderated by Talking Dead host Chris Hardwick.
Additional activities for fans of TWD include:
"DeadQuarters," the official fan zone of The Walking Dead and Fear the Walking Dead, will feature a curated walk through of settings from both series, including the winter escape from the Season 9 Finale of TWD, as well as an elaborate treehouse and plane crash site inspired by the Season 5 storylines in FEAR.  Located on Martin Luther King Promenade, in front of the Hilton Gaslamp Hotel (4th Avenue and L Street, across from the Convention Center), "DeadQuarters" will open to the public Thursday, July 18 through Saturday, July 20 from 11:00AM – 6:30 PM; Sunday, July 21 from 11:00AM – 4:00PM. Fans can pre-register here to beat the lines.
AMC is partnering with Feeding America and encouraging "DeadQuarters" visitors to donate canned foods throughout Comic-Con weekend to benefit the organization's local chapter, Feeding San Diego. Donors will receive an exclusive Hilltop Token, which can be used to unlock special deals on food, retail and entertainment around San Diego, including an opportunity to meet TWD cast members and get autographs. Click here for more details. Online donations can also be made at give.feedingsandiego.org/twd.
The network is inviting The Walking Dead super-fans to dress as walkers for an official Walker Horde moment at Petco Park on Saturday, July 20 with doors opening at 9AM. Attendees will help recreate a walker scene for a photo that will be part of official marketing campaign for TWD's milestone 10th season. Fans can register at: http://amc.com/horde-registration.
Ahead of the upcoming Fall release of the much-anticipated VR game, The Walking Dead Onslaught, AMC and gaming studio Survios will host demos at "DeadQuarters" to give Comic-Con attendees an opportunity to step into the shoes of their favorite survivors and get an exclusive sneak peek of the game.
Next Games will be holding auditions for their "Become a Hero" contest, in which fans can film their best hero poses from TWD for a chance to transform into a playable character in the popular location-based augmented reality mobile game, The Walking Dead: Our World.
FTX Games will be encouraging fans to test their luck with The Walking Dead: Slots, a virtual slot machine on a 65" screen. Players will be given three spins for a chance to make it to the top of the leaderboard and win a year's subscription to The Walking Dead Supply Drop — and every player will receive a scratch-off card to win in-game coins. FTX will also be demoing their upcoming puzzle battle role-playing game, The Walking Dead: Outbreak.
For more information, sign up for the weekly Dead Alert newsletter.
Read More