Press
Angela Kang Talks Radio Voice With THR; Forbes Thrilled With Season 9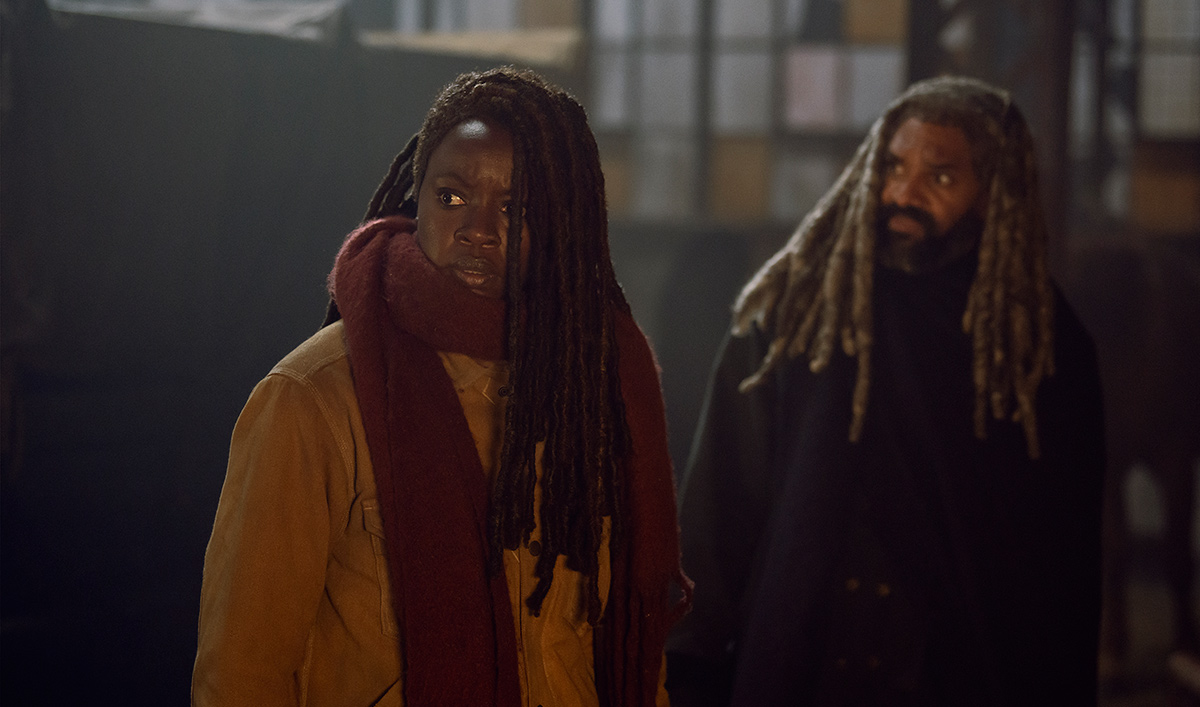 This week, Angela Kang discusses the mysterious radio voice with The Hollywood Reporter, while Forbes explains why it's so impressed by Season 9. Plus, Greg Nicotero talks with Entertainment Weekly about the realities of creating a blizzard in Georgia. Read on for more:
• Angela Kang, who led a Season 9 that "thrived, delivering a pronounced creative vision," talks to The Hollywood Reporter about the radio voice: "Any time we have a mysterious moment like this, whenever we have different entities and people come into our characters' world, it's something that's going to turn the story in a new direction."
• Forbes is eloquent in its praise of Season 9, which "has been beautifully filmed, often fantastically written and has breathed new life into old characters, and brought new ones along that have been well-received."
• Greg Nicotero tells Entertainment Weekly that the blizzard was "probably the biggest undertaking that The Walking Dead has ever done in terms of a production design scenario" and reveals there was an homage to movies like Thriller and Children Shouldn't Play With Dead Things "where the zombies come out of their grave."
• The Hollywood Reporter points out how the Season 9 Finale "brought a brand new mystery to the forefront — namely, someone out in the world is trying to get in touch with the Alexandria Safe-Zone survivors."
• Entertainment Weekly interviews Angela Kang, who explains that Negan is "complicated: there's the dangerous Negan, the jerk Negan, the really smart and strategic Negan. All of that is part of who he is."
• Angela Kang speaks with Deadline about the voice on the radio, saying the "answer to that will provide some interesting twists for the story going forward. Obviously, the idea is that Rick and Maggie and all these people are alive in our universe. That's part of the thing for our characters who don't have full closure on Rick."
• The Hollywood Reporter, which calls this week's episode one of the show's "single most visually distinct hours," speaks with Greg Nicotero, who says, "The key story point of the episode is our group moving through a frozen wasteland, and any time they see a figure shrouded in the snow, they don't know if it's a walker or a whisperer."
• Decider adds, "A lot has happened since Season 9 debuted in October, and looking back it's safe to say this was one of the best seasons ever, and definitely the best season in years."
• CBR notes the "significant changes in the finale, which leave us with plenty of questions for Season 10."
• Gold Derby wonders if Samantha Morton could "become the first-ever actor to receive a nomination for AMC's nine-year-old zombie apocalypse drama."
• Entertainment Weekly reports that Michael Cudlitz will direct Season 10, Episode 3, his second time helming an episode of the show. Forbes calls his first effort, "Stradivarius," a "promising debut" and is "excited to see what he does in Season 10."
• Asked about Connie and Daryl by TV Guide, Lauren Ridloff replies that the two "don't really speak that much. And they both are very strong leaders. They both are very loyal. They will do anything to protect the people that they care about. So I think they definitely have those things in common. Friends or more than that? Who knows!"
• ComicBook.com calls "The Calm Before"a "master class in story telling" that was "a near perfect showing of what the AMC zombie series is capable of with great pacing, acting, and shocking moments."
• In Grimes family news, Metro.co.uk reports that Cailey Fleming wants a scene with Andrew Lincoln: "I would have liked to have worked with Andy in a few scenes, I think it would have been good to have those scenes between a father and a daughter."
• Screen Rant believes Rick will "probably go down in history as one of the most quotable characters on television" and reviews his 10 best quotes.
• For recaps and reviews of the Season 9 Finale, "The Storm," check out Bloody Disgusting, ComicBook.com, Den of Geek, Entertainment Weekly, Forbes, Gold Derby, IGN, Independent, io9, Syfy Wire, TV Guide, TV Insider, TVLine, Uproxx, Us Weekly and Vulture.
Watch Season 9, Episode 16 now on amc.com and the AMC app for mobile and devices.
To get full episodes, behind-the-scenes video and more, sign up for the weekly Dead Alert.
Read More