Press
Angela Kang Talks Daryl & Beta With EW; TV Insider Extols Alpha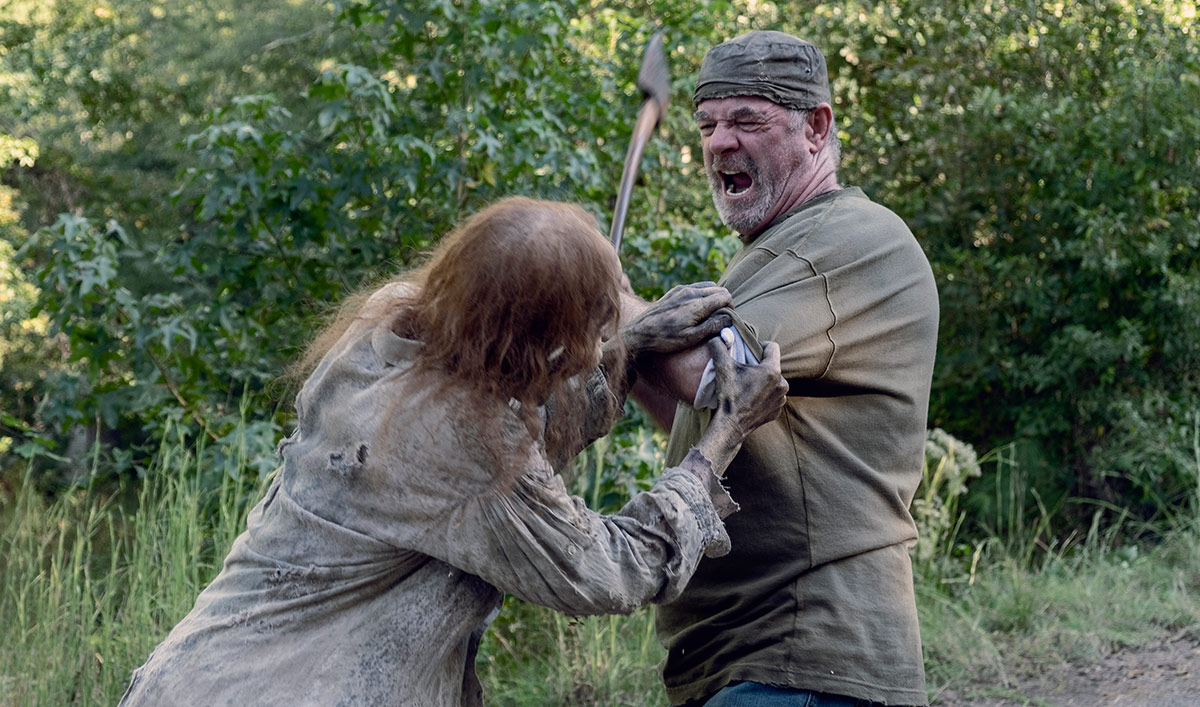 This week, Angela Kang speaks of Daryl and Beta with Entertainment Weekly, while TV Insider extols Alpha as the show's greatest villain so far. Plus, ComicBook.com spotlights a photo of Andrew Lincoln behind the scenes. Read on for more:
• Talking to Entertainment Weekly about Daryl and Beta, Angela Kang says that if those two characters are "in the same universe, you kind of need them to fight, right?! That was the thinking — just, that's f—ng cool, and we want to see that happen! It does, of course, play into a larger story…"
• TV Insider explains that, "with the show's introduction of a new antagonist in the unstable, walker-worshipping Alpha, it's become clear all villains are not created equal… and Alpha might have already surpassed her predecessor."
• ComicBook.com spotlights a photo of Andrew Lincoln spotted during the filming of last week's episode, "Guardians," "as revealed by a behind-the-scenes photo shared by The Walking Dead Twitter account."
• Uproxx reports that Lauren Cohan "intends to return to her zombie-killing roots," telling Busy Phillips "I'm not done" with Maggie.
• Khary Payton has this to say about the Whisperers to Insider, "The Whisperers are a f—ed up group of people! Sometimes there are communities that are not so f—d up, and then you get crazy cult nonsense, and that's what the Whisperers are."
• ComicBook.com points out that The Walking Dead has "paid tribute to the fallen Shiva, the pet tiger once belonging to King Ezekiel."
• CBR.com provides "a comprehensive ranking of how each season was received by the critics," according to data from Rotten Tomatoes and Metacritic.
• Noting that the "nature of The Walking Dead means that it's likely none of the characters who were there at the beginning will still be there at the end," Screen Rant ranks the "Longest Surviving Characters On TWD."
• According to ComicBook.com, Sarah Wayne Callies says of Judith that "while I would like to believe that Lori's sacrifice for Judith is a little bit like Harry Potter's mom dying to save his life and gave him superpowers and a cool scar, Michonne is that girl's mom. Because she raised her."
• Screen Rant reveals "some Easter Eggs that even the most ardent fans may have missed. Here are 25 Hidden Things Fans Completely Missed On The Walking Dead."
• Reflecting on Andrea's death, Laurie Holden says, as reported by ComicBook.com, "The one thing that I love about Scott Gimple's ending with Andrea is that she's reunited with all her friends, and there was something very healing about her being with Michonne, and Rick, and Daryl, and it was family again."
• For recaps and reviews of Season 9, Episode 13, "Chokepoint," check out A.V. Club, Bleeding Cool, Entertainment Weekly, Forbes, IGN, IndieWire, Insider, io9, Syfy Wire, TV Fanatic, TVLine, Uproxx and Vulture.
Watch Season 9, Episode 13 now on amc.com and the AMC app for mobile and devices.
To get full episodes, behind-the-scenes video and more, sign up for the weekly Dead Alert.
Read More