Press
TV Guide Interprets New Photos; Digital Spy Views Alpha Trailer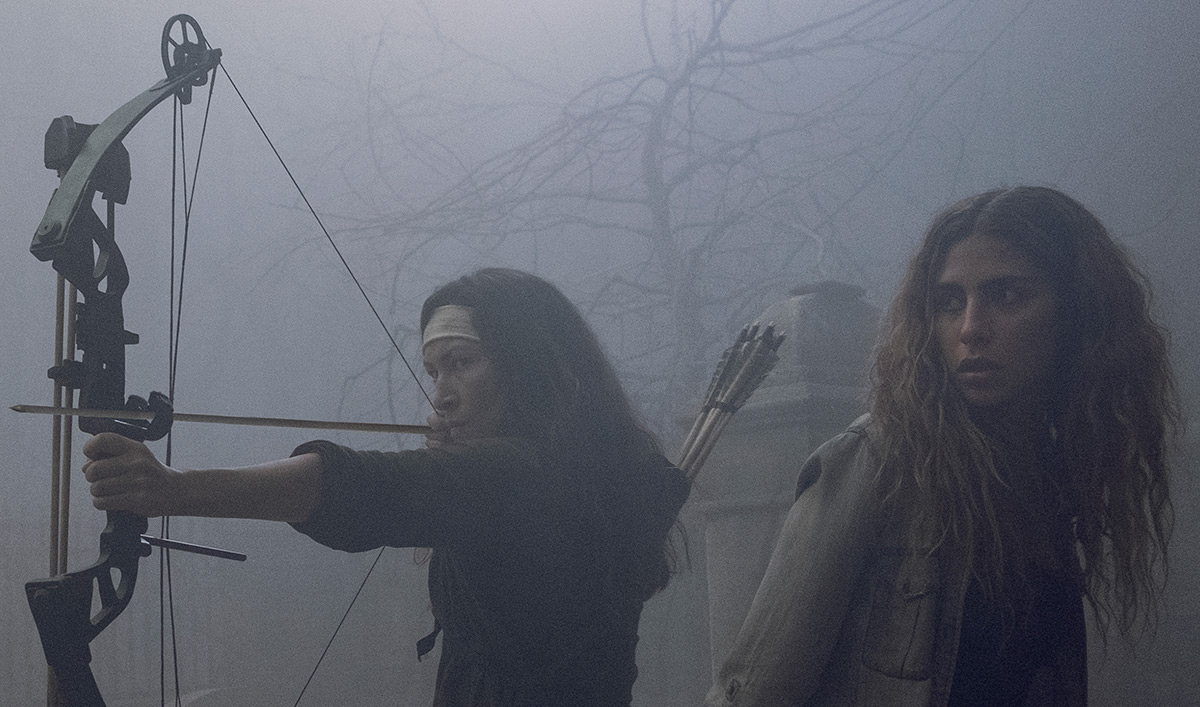 This week, TV Guide tries to figure out what's happening in the new Season 9 photos, while Digital Spy checks out the new Alpha trailer. Plus, Danai Gurira discusses the Whisperers with Jimmy Fallon. Read on for more:
• TV Guide views new photos from Season 9 ("which will feature the full-on arrival of new bad guys the Whisperers as well as a new adventure for Negan") and decides to "see what we can glean about what's coming up in the next handful of episodes."
• Digital Spy highlights a new trailer where the Whisperers are "instructed by their leader Alpha (Samantha Morton) to take out Michonne (Danai Gurira), Daryl (Norman Reedus) and the rest of the Alexandrians."
• According to ComicBook.com, Danai Gurira tells Jimmy Fallon that the Whisperers "function on a whole other level. It's like a psychological madness, how they figured out how to get through this apocalypse in a way that we don't know how to address. So they can come at us any old way, because they look like walkers."
• Ahead of the Midseason Premiere, Uproxx writes, "After two time jumps, the introduction of several more characters, and the death of another major presence (Jesus), The Walking Dead has found a creative resurgence and now, with a new threat looming, it's looking for some stability."
• Setting up a new clip of Daryl and Michonne, Den of Geek observes, "With Jesus dead and a new enemy stalking the communities, it'll be up to leaders like Michonne and Ezekiel as well as the loner Daryl to protect Alexandria, the Kingdom, and Hilltop from the Whisperers."
• Deadline reports that the Midseason Premiere became available for AMC Premiere subscribers on Feb. 3.
• Greg Nicotero, speaking with Atlanta Magazine about an interview where he called Alpha "the greatest villain The Walking Dead has ever seen," relates, "I got a text from Jeffrey Dean Morgan that said, 'Hey, motherf***er!' I'm like, dude, you know I love you. You know I love Negan, but the show has evolved and changed."
• ComicBook.com notes that Samantha Morton "will carry out her debut as Alpha in the upcoming Midseason 9 Premiere. From there, the AMC series is aiming to move at full speed straight through the Whisperer story, a highly-anticipated arc from Robert Kirkman's comics."
• Ranking AMC's best series, Paste writes, "The Walking Dead's success has already been massive for the marketability of horror on the small screen."
• FanFest spotlights Greg Nicotero's Instagram post that features a look at Alpha (played by Samantha Morton) and is captioned, "This one's for our killer fans!!!! I took this shot as a tribute to the comic! My girl Samantha."
• Discussing the effect on King Ezekiel of his relationship with Carol, Khary Payton tells ComicBook.com, "I think that it absolutely makes you a stronger person, and it takes a strong person to become more vulnerable. I don't think you can have one without the other."
• Nadia Hilker (Magna) teases to Metro.co.uk that Alpha is "probably one of the scariest characters television has to offer. She is super scary. [It] kind of reminds me of [The] Silence of the Lambs in a way, Anthony Hopkins."
• Dan Fogler tells FanFest about the upcoming Harvest Festival, saying, "At the festival, there is a little musical number that I sing in and I play the guitar which is very exciting."
Watch Season 9, Episode 8 now on amc.com and the AMC app for mobile and devices.
To get full episodes, behind-the-scenes video and more, sign up for the weekly Dead Alert.
Read More