Press
Angela Kang Talks New Episode With EW; THR on Season 10 Renewal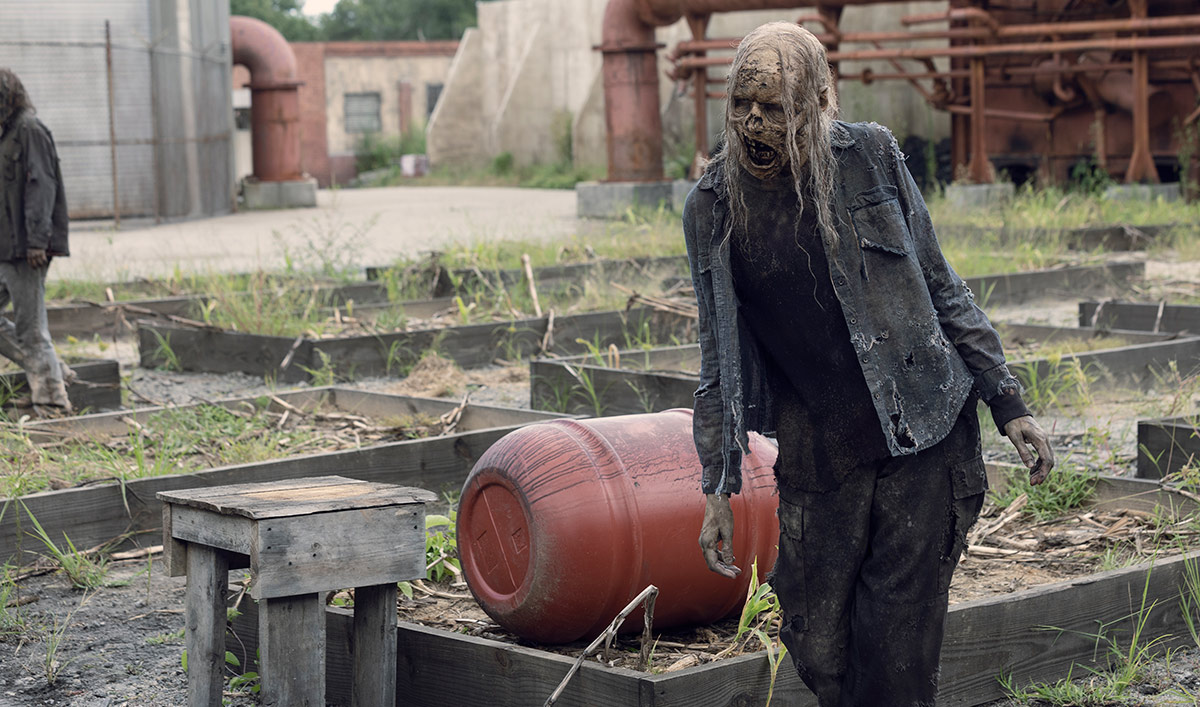 This week, Angela Kang talks about the Midseason Premiere with Entertainment Weekly, while The Hollywood Reporter reports on the Season 10 renewal. Plus, Greg Nicotero shares an easter egg from the latest episode with The Hollywood Reporter.
• Discussing the Whisperers with Entertainment Weekly, Angela Kang explains, "Our people are going to quickly find that they're up against sort of a crazy situation with a group where the leader is incredibly smart, formidable, just scary as all hell."
• Taking a cue from Angela Kang's Instagram, The Hollywood Reporter announces that The Walking Dead has been renewed for a Season 10 — and notes that the show is "the centerpiece of AMC's scripted roster."
• Explaining to The Hollywood Reporter that Negan dropped to his knees in the clearing where he killed Glenn and Abraham, Greg Nicotero says, "I thought we should go to the same clearing, because even if Negan just throws up the water and looks around, a viewer may recognize it."
• Cassady McClincy tells Entertainment Weekly that Lydia is "definitely terrified" when she's begging for her life, "but, also, strong and able to keep her wits about her. So I think she is a little complex."
• Talking about Alpha with The Hollywood Reporter, Greg Nicotero says, "We have had our fair share of villains on the show, but I remember reading the comic book and seeing that first image of Alpha with the shotgun. She had this weird, partially melted sagging skin and these human eyes. It was really chilling."
• According to IGN, Greg Nicotero has this to say about creating the Whisperers' look: "Listen, nine years we've been doing some great walkers and we're continuing to do so, but for me to be able to kind of open up our sandbox a little more and come up with some new characters and new tricks, it's been a lot of fun."
• Screen Rant quotes Angela Kang saying the Whisperers are "the most formidable group we've come across because they have the power of zombies behind them."
• "We will see a lot more of Magna and Yumiko functioning as a couple, and it's something that I fought really hard for and Nadia [Hilker] fought really hard for, to make sure we have that inclusion," Eleanor Matsuura says to Digital Spy about Yumiko and Magna.
• Nadia Hilker tells Metro.co.uk that Magna is "very unpredictable, she's an animal and you shouldn't get too comfortable with her. But she has a huge heart, and when she loves someone, she's a lion."
• BuzzFeed's list of TV characters created for specific actors includes Daryl (written in after Norman Reedus "auditioned for Merle and the creators loved him") and Sasha ("written specifically for Sonequa Martin-Green after she auditioned for Michonne").
• For recaps and reviews of Season 9, Episode 9, "Adaptation," check out 1428 Elm, The Atlanta Journal-Constitution, A.V. Club, Bleeding Cool, Den of Geek, Entertainment Weekly, IGN, IndieWire, Insider, Syfy Wire, TV Fanatic, TV Guide, TVLine, Us Weekly, Variety and Vulture.
Watch Season 9, Episode 9 now on amc.com and the AMC app for mobile and devices.
To get full episodes, behind-the-scenes video and more, sign up for the weekly Dead Alert.
Read More