Press
Angela Kang Previews Next Episode to EW; Forbes Extols Whisperers Intro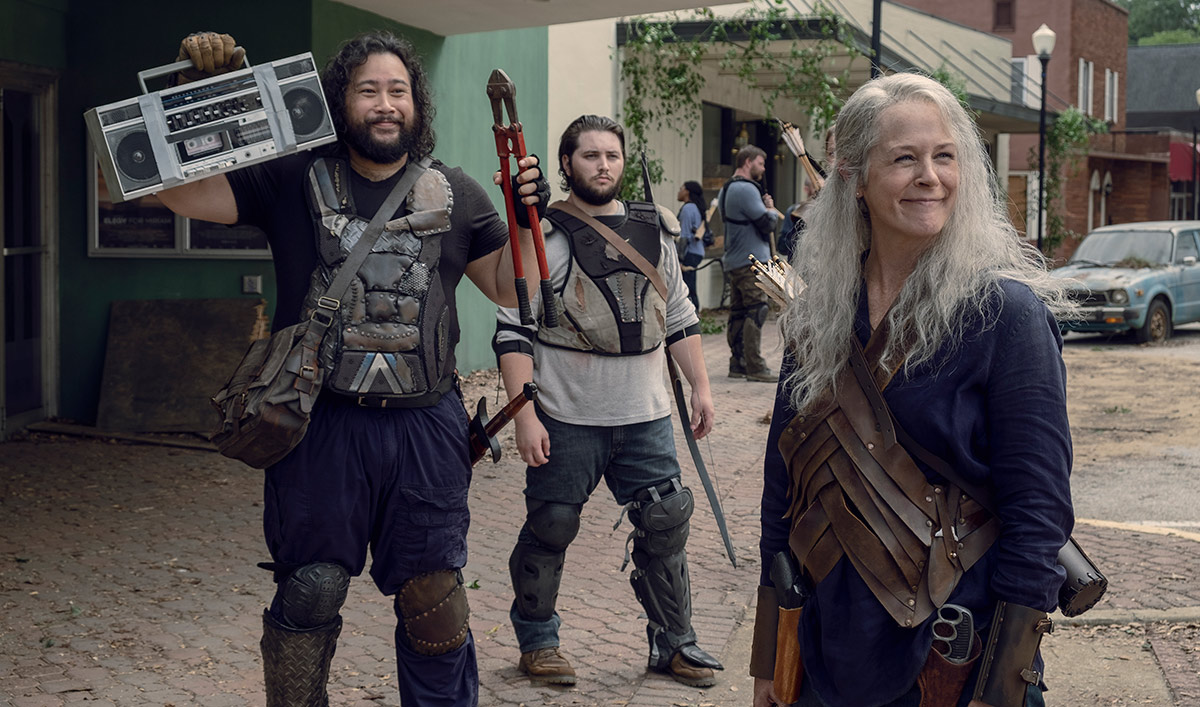 This week, Angela Kang previews next episode's happenings to Entertainment Weekly, while Forbes extols how the show has handled the Whisperers introduction. Plus, The Hollywood Reporter wonders if Daryl is about to get a romance. Read on for more:
• Teasing the next episode to Entertainment Weekly, Angela Kang says viewers will "get to know even more about the Whisperers — the way that they live. And there will be moments that are fraught with danger intention as they lead up a town on The Walking Dead. We will also get to meet another iconic character."
• Forbes asserts that "the introduction and the arrival of the Whisperers has been absolutely perfect in almost every way. The reveal of the skin-wearing villains who killed Jesus in a surprise attack at the graveyard was the best villain introduction in series history, more so than even Negan."
• The Hollywood Reporter speculates, "At long last, it's here: the Daryl Dixon (Norman Reedus) love story … maybe."
• Norman Reedus talks to Entertainment Weekly about the mutual respect between Daryl and Lydia, saying it's "the same way Alpha sees the mutual respect between Daryl and Alpha. He connects with both of them. How the season progresses, that sort of connection is going to go further and further and further."
• TV Guide observes that the latest episode "introduced a new mystery: What is that symbol painted on the back of a sign near the Kingdom?"
• Decider declares that the show's unpredictability "led directly into tonight's stand-out sequence, 65 seconds that were the most terrifying thing Walking Dead has done in years."
• The episode's director, Meera Menon, speaks with Insider about the Whisperer baby scenes, saying, "We were kind of always aware that that would be a kind of iconic moment of the episode because it's so horrifying."
• Angela Kang tells Insider that Michonne and Rick "were a committed couple to each other but were not officially married and they were both OK with that. For all intents and purposes, she was Rick's wife."
• Metro.co.uk notes that the now-deceased Jesus appeared in this week's episode, pointing out, "With Jesus (Tom Payne) killed off in the midseason finale, the show might have achieved a new revival record – bringing him back merely three episodes later for a flashback sequence taking place between the recent time-jump."
• One of the TV moments that BuzzFeed can't stop talking about is when The Walking Dead "gave us an episode completely devoted to Alpha's backstory and I think it's safe to say that she's one of the creepiest villains."
• Reflecting on playing Shane, Jon Bernthal tells WTF with Marc Maron that The Walking Dead was "kind of tailor made, it was right in my wheelhouse in showing something — I'd been doing like sitcoms and sh-t before that, stuff that I just don't think I was very good at, and I love that character, it was such a beautiful character."
• Flaunt profiles Katelyn Nacon, who says playing Enid after the time jump has been "really fun though and exciting to try and develop Enid into a young woman. Creating a feeling of maturity but still staying true to that young kid we use to know and love."
• Eleanor Matsuura tells Singapore's TODAY, "I'm really proud to be part of a group that's so diverse, so representative and so female heavy. The characters embodied by Danai [Gurira] and Melissa [McBride] paved the way and made it easier for new characters like Yumiko to continue [what they started]."
• Screen Rant lists the "most ruthless" characters on The Walking Dead, noting that the "many people who have shown up demonstrated early just how dangerous they were, though some were far more ruthless than others…"
• For recaps and reviews of Season 9, Episode 11, "Bounty," check out A.V. Club, Bleeding Cool, CBR, ComicBook.com, Den of Geek, Entertainment Weekly, Forbes, Gold Derby, IGN, Independent, IndieWire, Insider, io9, TV Fanatic, TV Guide, TVLine and Uproxx.
Watch Season 9, Episode 11 now on amc.com and the AMC app for mobile and devices.
To get full episodes, behind-the-scenes video and more, sign up for the weekly Dead Alert.
Read More