Press
EW Spotlights Whisperers Teaser; Forbes on Alpha Poster, Art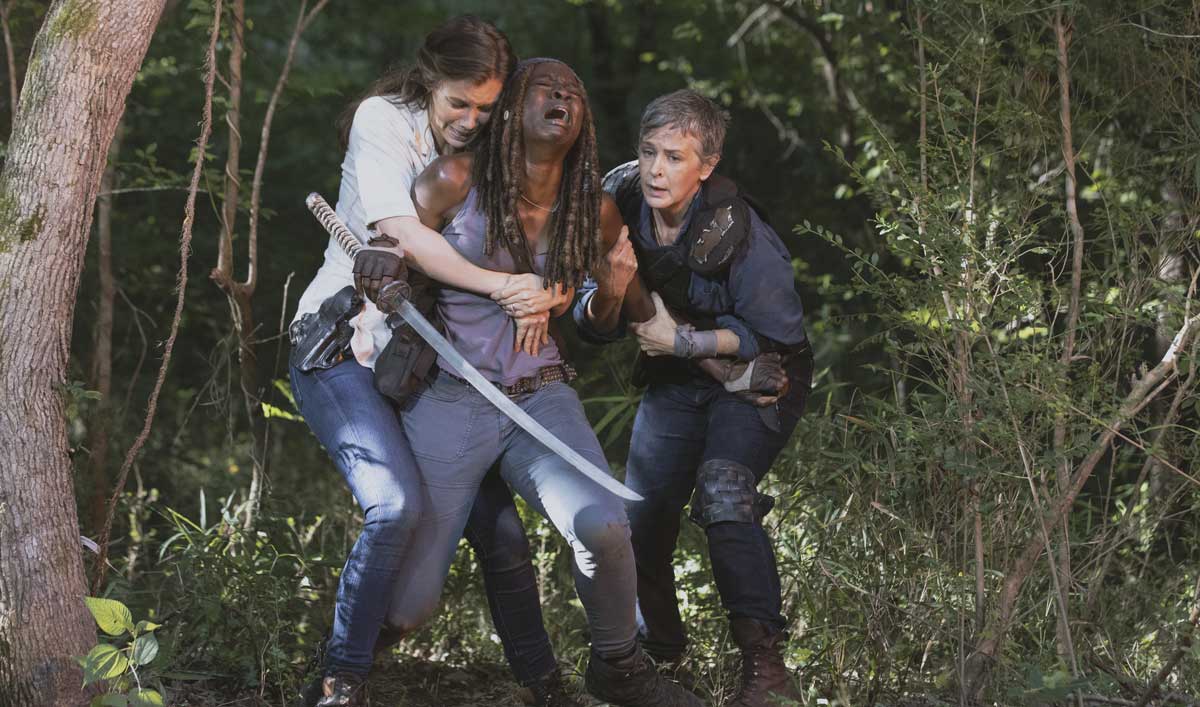 This week, Entertainment Weekly spotlights a creepy new teaser featuring the Whisperers, while Forbes takes a closer look at Alpha in a poster advertising the second half of Season 9. Plus, Angela Kang provides some intel on the Whisperers to EW. Read on for more:
• Entertainment Weekly has a look at Alpha in a trailer where she's stretching and sewing a zombie-skin mask to put on her own face. io9 says the teaser "totally unnerved me," while We Got This Covered dubs it "chilling" and "creepy."
• Ahead of the second half of Season 9, Forbes spotlights a poster and key art that feature Alpha (played by Samantha Morton): "I'd say the Whisperers are the most frightening bad guys we've seen since the cannibals at Terminus…"
• Entertainment Weekly posts a first look at Season 9's second half and learns from Angela Kang that viewers will learn more about the Whisperers "and their brutal survival of the fittest philosophy and how that really plays out in horrifying ways."
• Digital Spy showcases a tweet from AMC that shares "a poster of Negan's face, asking: 'Have you seen this man?' Alert: this man has been known to be dangerous. Proceed with caution."
• TV Guide reports that AMC will air a New Year's Eve marathon of The Walking Dead from 9AM to 5:30AM Eastern time.
• TVLine deems this Carl quote, addressed to Judith, one of the year's best: "You be good, OK? For Michonne, for Dad… You gotta honor 'im. Listen when he tells you stuff. You don't have to always. Sometimes kids gotta show their parents the way."
• ComicBook.com anoints Carl with this year's Most Tragic TV Death award: "The Walking Dead's shocking sendoff for Carl became a two-episode extravaganza. The only son of Rick Grimes (at the time) was revealed to have been bitten by a walker in the show's final episode from 2017."
• The ComicBook.com award for Best TV Guest Appearance goes to Jon Bernthal because Shane's return to the show "brought a nostalgic feeling to viewers as it recreated a scene from the show's first episode back in 2010. In it, Rick Grimes found a bit of closure in regards to his guilt for killing Shane back in the show's second season."
• Entertainment Weekly spotlights The Walking Dead as one of "2019's biggest TV shows."
• Syfy Wire considers Rick's beard one of the year's best: "Leaning into the whole silver fox vibe, this beard is pretty much the ideal length; cultivated without going full grizzle length."
• "All the women are really shown in a great way this season. So I think it's just going to bring a whole new flavor to the show and I think it's going to keep everyone as excited as they should be and want to be," Christian Serratos enthuses, ComicBook.com reports.
• CarterMatt reports The Walking Dead was one of the year's most tweeted-about shows, according to Twitter: "This may be the most discussion-worthy year we've seen to date for the AMC franchise, especially when you consider everything that happened in between losing Chandler Riggs and then also losing Andrew Lincoln from the cast."
• Cinema Blend names The Walking Dead one of the year's best horror TV shows, noting that it "transformed into something startlingly new and hopeful in Season 9."
• Inverse poses "five questions worth pondering that the AMC series needs to answer when it finally comes back next year."
• Katelyn Nacon tells Insider that Enid and Alden are "in limbo right now. So you'll see later on how they got there. So it's not finite. She doesn't call him her boyfriend, he doesn't call her his girlfriend."
• ComicBook.com spotlights an Instagram post from Rosemary Rodriguez, who "shared a new behind-the-scenes look at stars Andrew Lincoln and Norman Reedus during filming" of "The Obliged" (an episode she directed).
• Ross Marquand says not to expect romance for Aaron anytime soon, explaining, according to Metro, "Because now you've got the Whisperers, you've got all these other things you've got to worry about. I don't think he's worried about finding love or other things."
• ComicBook.com reports on Ross Marquand teasing some lost walker kills, saying that "we actually lost a few kills because of time. But there were some other kills that we both had — especially one that Tom [Payne] had that sticks out in my memory that was just so badass — but you know, timing. Hopefully they'll have it on the DVD extras."
• Asked why Dwight didn't kill Negan, Austin Amelio replies, "I think there's so many people that had Negan's back, it was almost like a Stockholm Syndrome sort of deal. I don't think it would have been smart for me to kill him," Fan Fest reports.
• According to ComicBook.com, Pollyanna McIntosh discusses what would happen if Rick's friends and family discovered he were still alive, saying, "I wouldn't like to be on the wrong end of Daryl, if you know what I mean. Or Carol, frankly. Or Michonne. Michonne has a little more nuance in her treatment of people, I think, then Daryl does."
• Christian Serratos reveals that Glenn and Abraham's death scenes were "the most challenging but also the most rewarding for, I think, all of us. It was very cold, it was very emotionally exhausting. A lot of us got physically sick," Uproxx reports.
Watch Season 9, Episode 8 now on amc.com and the AMC app for mobile and devices.
To get full episodes, behind-the-scenes video and more, sign up for the weekly Dead Alert.
Read More