Press
Angela Kang Talks Whisperers With ComicBook; Deadline Extols Dead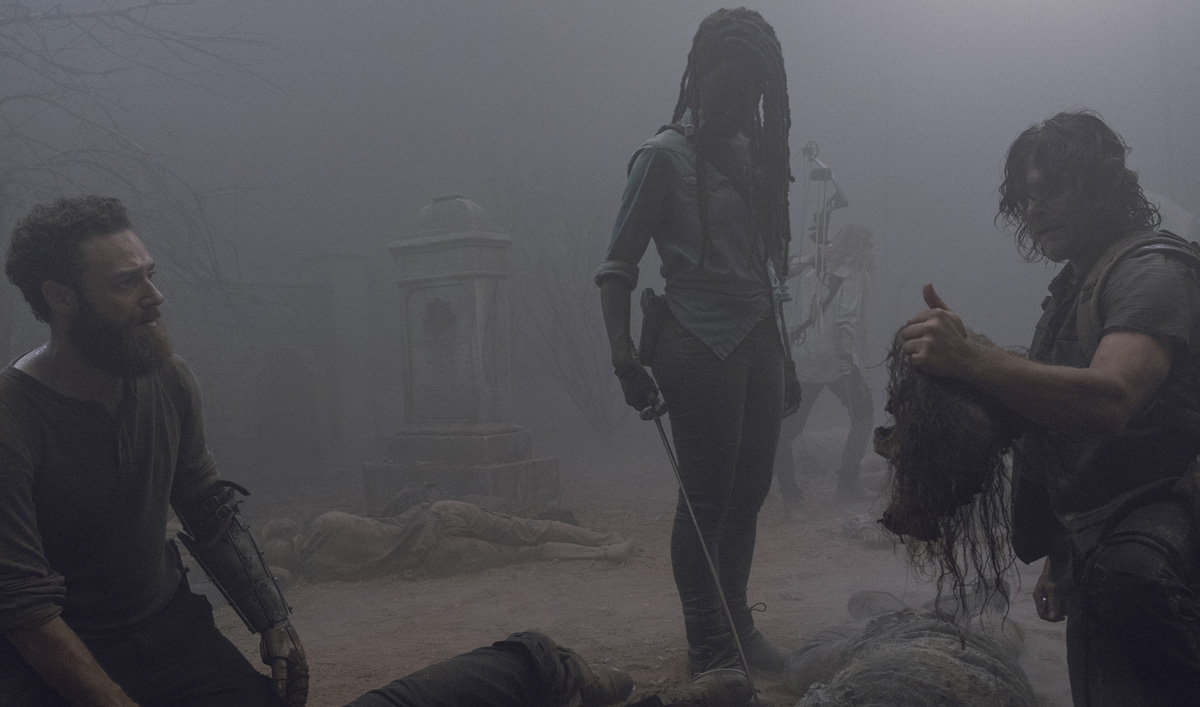 This week, Angela Kang discusses the Whisperers with ComicBook.com, while Deadline names The Walking Dead one of the year's best shows. Plus, We Got This Covered and CBR.com highlight new Whisperers promos. Read on for more:
• According to ComicBook.com, Angela Kang says this about the Whisperers: "I'm really excited about the cast we have. Samantha Morton and Ryan Hurst as Alpha and Beta. I just think they brought so much energy and intensity already to the process, like in such a great way. And I think we get to tell a bit of a story that is sort of a mystery."
• Deadline names The Walking Dead one of 2018's best, crediting Angela Kang with telling some of the show's "best stories in years" and impelling it to "jump through time to shift the whole axis of the show…to a much more horrifying core."
• We Got This Covered spotlights a new promo that teases the Whisperers and "opens with four walkers stumbling through the woods. One falls back, though, and slowly turns towards the camera, and behind the moldy skin can be seen a pair of human eyes. Yup, this guy's a Whisperer."
• In more Whisperers news, CBR.com checks out "a new promo foreshadowing a war between Alexandria and the new hostile faction of survivors known as the Whisperers."
• TV Guide advises watching The Walking Dead to live your best life this year by learning to lead your community, like Michonne: "This season saw Michonne (Danai Gurira) making the future hella female by prioritizing a charter — not a constitution — that governs a new civilization. It's a sure sign this show will outlive us all."
• TV Guide describes Lori's death as one of TV's most heartbreaking because it "tested her son Carl, who had to find the courage to shoot his own mother in the head so she wouldn't turn into a zombie. Her husband Rick was so distraught, he began to lose his sanity."
• CBR is anticipating The Walking Dead's Feb. 10 return because "the living will be forced to take on a terrifying quiet group of adversaries as Alpha and the Whisperers will (finally) make their on screen debut."
• Cinema Blend counts Carl's death as one of the most shocking on TV this year because his character was "pivotal to the show for the majority of the series, and many saw him as the future of the zombie apocalypse."
• Deadline counts Rick, Carl and Maggie as three of the most notable TV character exits of 2018.
• TV Insider ranks the "hilarious quotes and scenes" from the show, "despite all the societal collapse and main characters dying and utter chaos."
• Bloody Disgusting makes the case for "Evolution" as one of the year's best horror TV episodes, saying it "culminated in a dark, foggy battle in a graveyard that was one of the show's most downright terrifying sequences to date."
Watch Season 9, Episode 8 now on amc.com and the AMC app for mobile and devices.
To get full episodes, behind-the-scenes video and more, sign up for the weekly Dead Alert.
Read More