Press
Variety Laments Carl's Death; Fan Fest on Andrew Lincoln Christmas Greeting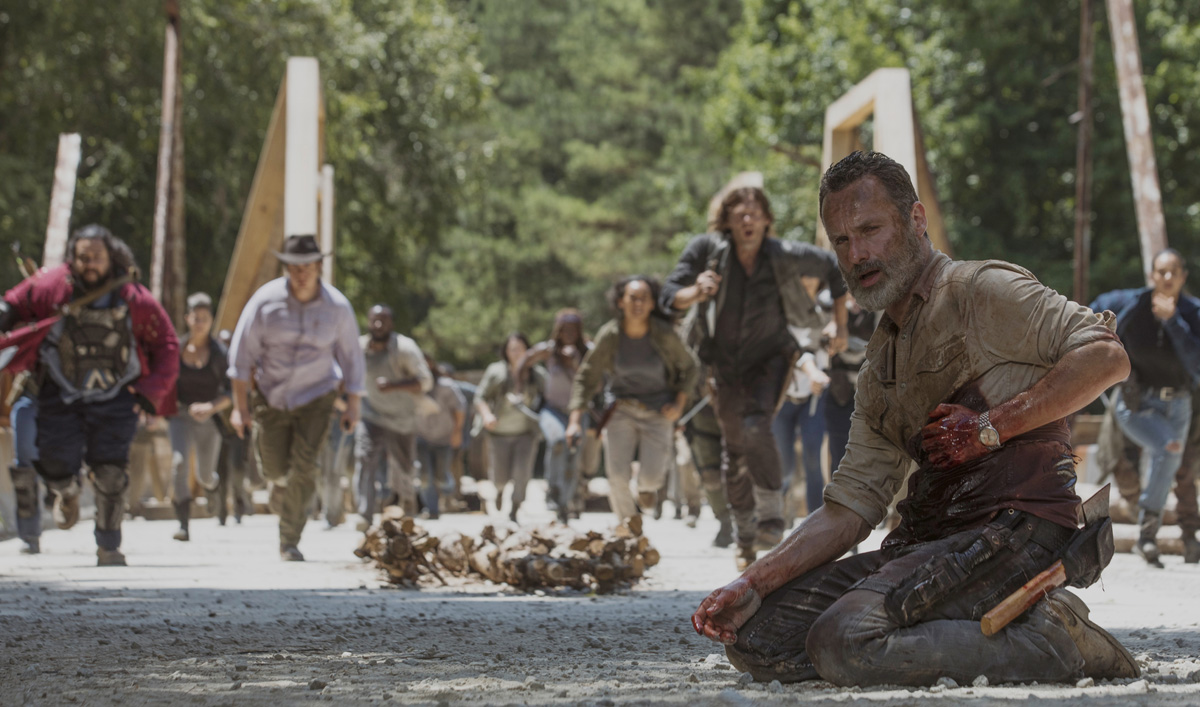 This week, Variety calls Carl's death one of the biggest on TV this year, while Fan Fest is amused by Andrew Lincoln's presence in a cast Christmas greeting. Plus, Deadline reports the show got a SAG Award nod. Read on for more:
• Variety deems Carl's death as one of TV's biggest in 2018, noting that "he seemed wise beyond his years in his final moments. And perhaps most importantly, he got to go out on his own terms, shooting himself in the church before he could turn."
• Fan Fest News spotlights a Christmas greeting from members of the cast that features one Andrew Lincoln, who says, "Hi, I'm Andrew Lincoln. I used to be on TV, on a small show called The Walking Dead. Have the best. Christmas. Ever."
• According to Deadline, The Walking Dead received a Screen Actors Guild Award nomination for Outstanding Action Performance by a Stunt Ensemble in a Comedy or Drama Series.
• Honoring 2018's best TV performances, BuzzFeed observes, "Andrew Lincoln's final moments as Rick Grimes reminded us why we fell in love with the show in the first place."
• TVLine says one of the year's coolest TV scenes occurred when "Jesus fought — in stylish slowed-down and sped-up fashion, no less — what he thought were mere walkers in a foggy graveyard… until one of them whispered a reprimand as it dodged his blow and stabbed him in the back."
• BuzzFeed is still not over the deaths of Carl ("This was easily one of the hardest TWD deaths EVER") and Jesus (who "survives in the comic books and plays an important role in building the future, so his death at the hands of The Whisperers was shocking to say the least").
• Katelyn Nacon tells Insider that Enid is not going to be "happy" that Negan escaped, saying, "She rather him be dead than be out of the jail."
• Business Insider reports that The Walking Dead was the most popular TV show this year on IMDb.
• According to Metro, Chandler Riggs says that if Carl was alive and Rick was dead, "I think Carl would definitely take on this, I guess, just the older brother role, and really take care of [his siblings], and do what he's been doing — or do what he was doing — for the years that he spent with Judith."
• Business Insider counts Lori's death as one of TV's most heartbreaking, noting that "the real tearjerker here is that her son Carl had to shoot her to prevent her from becoming a zombie."
• Asked about Carol burning the group of Saviors, Khary Payton replies, "You know she got fired up. What can I say? You don't mess with my woman," Fan Fest reports.
Watch Season 9, Episode 8 now on amc.com and the AMC app for mobile and devices.
To get full episodes, behind-the-scenes video and more, sign up for the weekly Dead Alert.
Read More