Press
Danai Gurira Warns Us of Whisperers; Ringer Frightened of Whisperers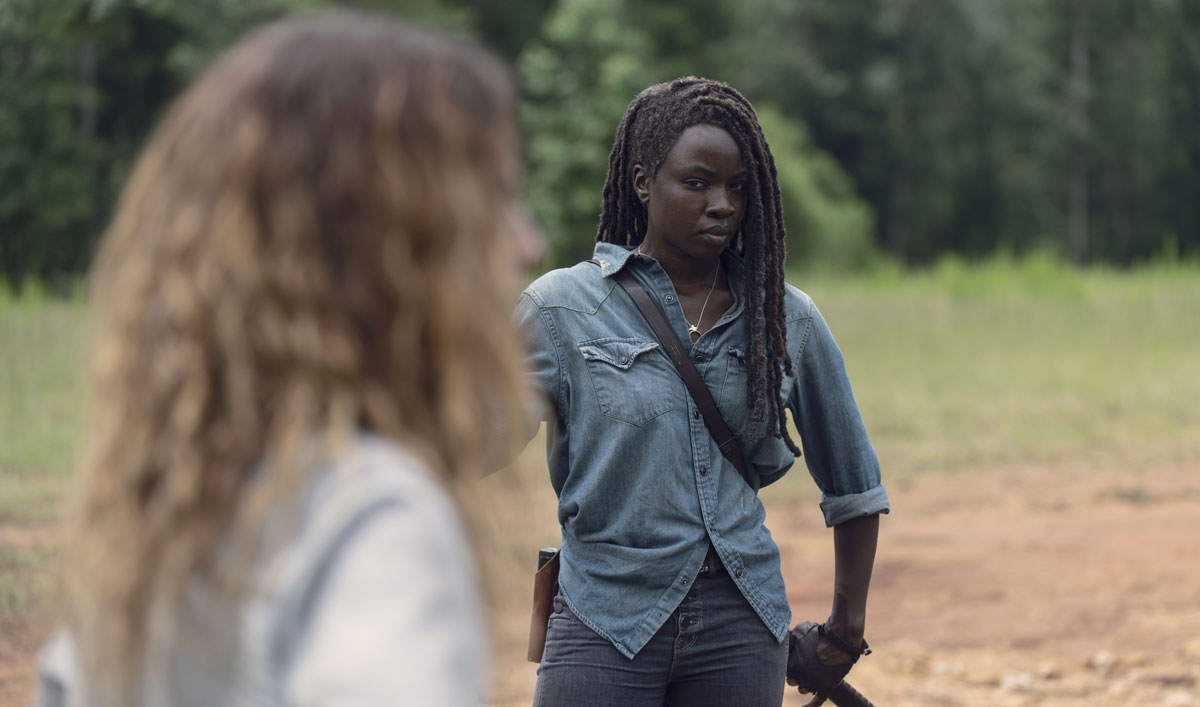 This week, Danai Gurira warns Us Weekly about the Whisperers, while The Ringer is already frightened of the new threat. Plus, Norman Reedus speaks with Dan Fogler's 4d Xperience about Andrew Lincoln's last scene. Read on for more:
• Danai Gurira tells Us Weekly, "The Whisperers are a little harder to see coming. They're a very new type of threat, and they bring a whole new type of issue to the floor that we've definitely never dealt with before."
• The Ringer deems The Whisperers one of TV's top monsters because they "provide something new: threat via zombie immersion, and the promise to lean into the horror elements of a show that's lacked genuine suspense for a while. (It also helps that their whispering is, frankly, quite unsettling.)"
• Norman Reedus tells Dan Fogler's 4d Xperience about shooting his last scene with Andrew Lincoln on the bridge: "I knew everyone was gonna run in and try to save him, but the deal was, because he and I are so tight on that show, I wanted to get there first and see that he's f—ed, there's no way he's going to get out of this."
• Insider calls The Walking Dead one of the year's most talked about shows: "The Walking Dead lost some major characters in 2018 — including Andrew Lincoln's Rick — and fans tuned in to see what would happen."
• Examining the TV show versus the comics, CBR.com points out "10 changes The Walking Dead made from the comics that made sure the two remained very different beasts."
• According to Insider, Seth Gilliam defends Father Gabriel, saying humorously, "No, Father Gabriel did not let Negan out on purpose. Father Gabriel slammed the f—ing gate shut and it locked. And there was a f—ing guard standing by."
• According to Fan Fest, Katelyn Nacon has this to say about Enid and Aaron: "Enid has kind of always been lost and searching for another father figure. (She had that in Glenn.) To find someone like Aaron who is so level headed and somebody she can actually look up to, he means a lot to her."
• Katelyn Nacon tells Insider, "Carl's letter, I know was really important to her [Enid] and I think it really affected the person that she is now, today, that we see after the time jump and everything."
• Fan Fest spotlights an Instagram post where Sarah Wayne Callies discusses joining The Walking Dead, saying, "i felt strongly about the material. i chose to listen to myself. and it changed my life. that decision gave me an incredible experience and some of my best friends in the world."
Watch Season 9, Episode 8 now on amc.com and the AMC app for mobile and devices.
To get full episodes, behind-the-scenes video and more, sign up for the weekly Dead Alert.
Read More