Press
Josh McDermitt Talks With EW; Angela Kang Looks Ahead With THR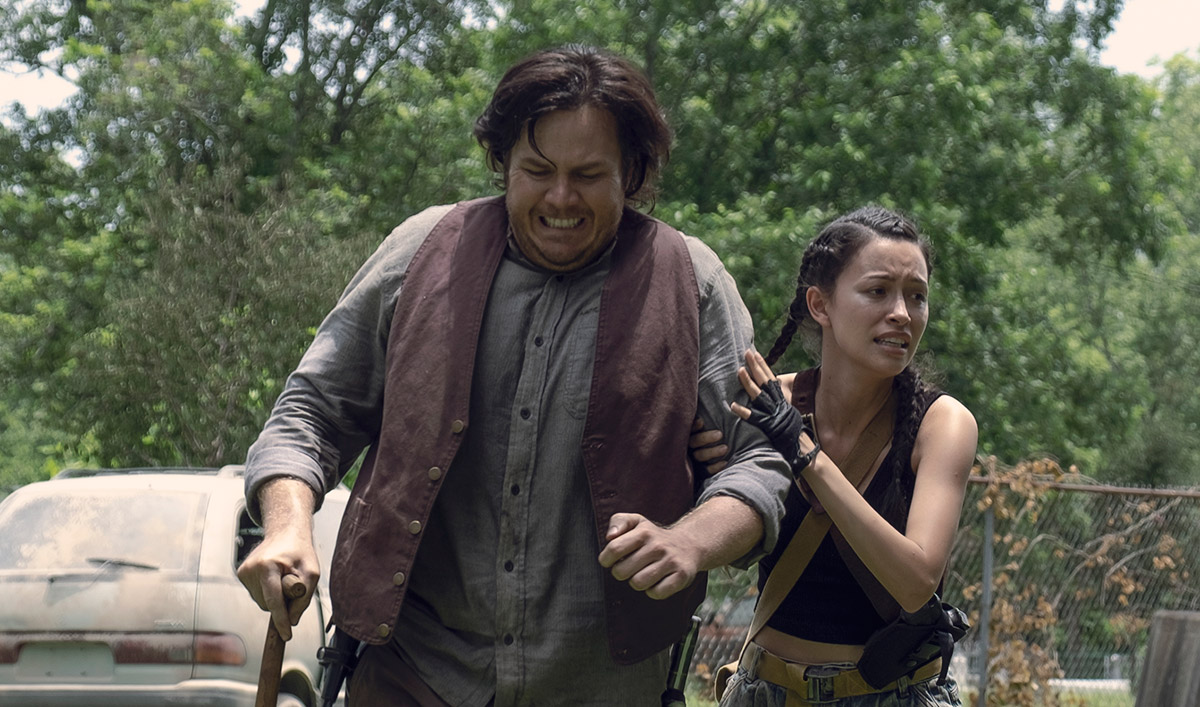 This week, Josh McDermitt talks about the Whisperers with Entertainment Weekly, while Angela Kang teases the rest of Season 9 to The Hollywood Reporter. Plus, THR takes an in-depth look at the Whisperers. Read on for more:
• Looking ahead, Josh McDermitt talks about the Whisperers with Entertainment Weekly and how Eugene is "going to try to figure out exactly how to survive, how to get free from these walkers that are on his tail and hopefully, since he's a man of science, figure out exactly how they are able to talk and how they're able to move faster…"
• The Hollywood Reporter interviews Angela Kang about the Whisperers, and she teases, "What I'll say is there are some twists and turns to this story, but there will be some answers by the time we get to the midseason finale. It opens up a Pandora's box of other things. Hang on: it's a really cool ride."
• The Hollywood Reporter trumpets the debut of the drama's newest enemy, noting that "the Whisperers represent one of the most significant and unique threats in Walking Dead history — and at long last, their moment to shine has arrived on the show."
• Angela Kang reveals to Entertainment Weekly that Rick and Michonne have a son named R.J., AKA Rick junior, (he is "part of what plays into some of the philosophy and decisions behind how Alexandria is run, which is a big part of the story going forward for the season") and that Michael Cudlitz is directing next week's episode.
• Angela Kang talks about Michonne and Rick's child with The Hollywood Reporter, saying, "We talked at the beginning of the season about what happens after war. One of the things you often see is baby booms. It's a sign of hopefulness. We wanted to show that Rick and Michonne were committed to each other, fully."
• Rotten Tomatoes speaks with Josh McDermitt, who is excited about Eugene's evolution: "He's more confident than he's ever been in his role as a survivor. He's using a knife — that's a very close-quarters weapon, and he's not afraid of the zombies when we first see him, this new iteration of him. He's able to go up and just handle business."
• ComicBook.com reports, "In its first episode without Andrew Lincoln and Lauren Cohan, The Walking Dead has removed the names of two of its longest running stars from its opening credits. Beginning with Episode 9×06, Daryl Dixon actor Norman Reedus is given top billing on the show."
• TV Guide talks about Eugene's new hair with Josh McDermitt, who says that "it feels good to have the option of combing my hair and not have as many people look at me and go 'Uh, does this guy know he has that haircut or should we tell him?'"
• ComicBook.com observes that a "six-year pacifistic streak came to an end on The Walking Dead Sunday when Carol (Melissa McBride) finished off Jed (Rhys Coiro) and the rest of the problematic Saviors."
• Uproxx observes that Henry travels with Carol to The Hilltop to begin working as an apprentice for Earl Sutton, thus taking on "the bulk of Carl's storyline" this season.
• ComicBook.com reveals the newest "surprising romance" this season: Father Gabriel and Rosita.
• TV Guide compiles a list of "what we know about Judith Grimes so far, other than the fact that she's clearly a badass already."
• The Hollywood Reporter observes, "While it's not likely that all of Carl's abandoned storylines will fall to Judith, it's a strong bet that a good portion of it will."
• "While I don't think Judith is leading The Walking Dead now, it seems very clear that she'll be the one taking up Carl's mantle, when previously some speculated that could be Enid or even an also-now-older Henry," Forbes predicts.
• Discussing the selection of Cailey Fleming to play Judith, Angela Kang tells Insider, "We were looking for the best actress and it just happens that she looks so much like Sarah Wayne Callies, who played her mother, and also bears a striking resemblance to Chandler [Riggs], her brother. It felt like all the pieces fell in place."
• Entertainment Weekly spotlights the show's new characters: "Meet Magna! Yumiko! Luke! Connie! And Kelly! And get introductions to the actors playing them," while Us highlights "everything to know" about them.
• Forbes is enthusiastic about Daryl's new dog: "Daryl has always wanted to be something of a lone wolf, so him getting a new friend that isn't human seems like a logical development for his character."
• Norman Reedus tells ComicBook.com the dog is "the smartest cast member we got. We just did a scene the other day that ended up being the opposite of what it was supposed to be because the dog just wanted to do something else, and it came out so much better. He'll probably be running the show."
• Digital Spy attempts to compile The Walking Dead universe's timeline: "All of the following has been officially confirmed on screen – which means that A LOT (seriously, a LOT) has happened to our Fear / Walking Dead pals over a two-year period."
• ComicBook.com points out that Aaron's prosthetic arm "differs from the device worn by fellow amputee Merle Dixon, who wore a prosthetic boasting a knife attachment, and that of Rick Grimes of the comic books, who wore a clawed prosthetic after having his right hand forcibly amputated by the villainous Governor."
• Speaking with Access, Jeffrey Dean Morgan says the rest of the season "feels like it almost has a Western vibe to it, and it's more on the road than it has been the last couple years. It's got a good feel."
• According to ComicBook.com, Michael Cudlitz says he "would have loved to have seen Abraham and Sasha actually be soldiers together for a little bit. I wanted to see what would have happened with that."
• Entertainment Weekly shares some observations from Andrew Lincoln's last day on set, "including Lincoln destroying a set, a big scene that never made it into the episode, and some original Walking Dead souvenirs."
• Digital Spy puts together a list of "the most probable candidates to follow Rick in landing a film (or films) of their own."
• Cinema Blend examines how the main characters look after the six-year time jump: "Some people look radically different, and others have us convinced that there's a fountain of youth other survivors are keeping for themselves."
• For recaps and reviews of Season 9, Episode 6, "Who Are You Now?," check out the Atlanta Journal-Constitution, Bustle, CBR.com, Cinema Blend, Entertainment Weekly, Forbes, Gold Derby, The Independent, Insider, Syfy Wire, TV Guide, TVLine, Uproxx, Us Weekly, Vanity Fair, Variety and Vulture.
Watch Season 9, Episode 6 now on amc.com and the AMC app for mobile and devices.
The Walking Dead airs Sundays at 9/8c. Click here to add a reminder to your calendar.
To get full episodes, behind-the-scenes video and more, sign up for the weekly Dead Alert.
Read More