Press
EW's Angela Kang Q&A; Michael Cudlitz Talks Directing With FanFest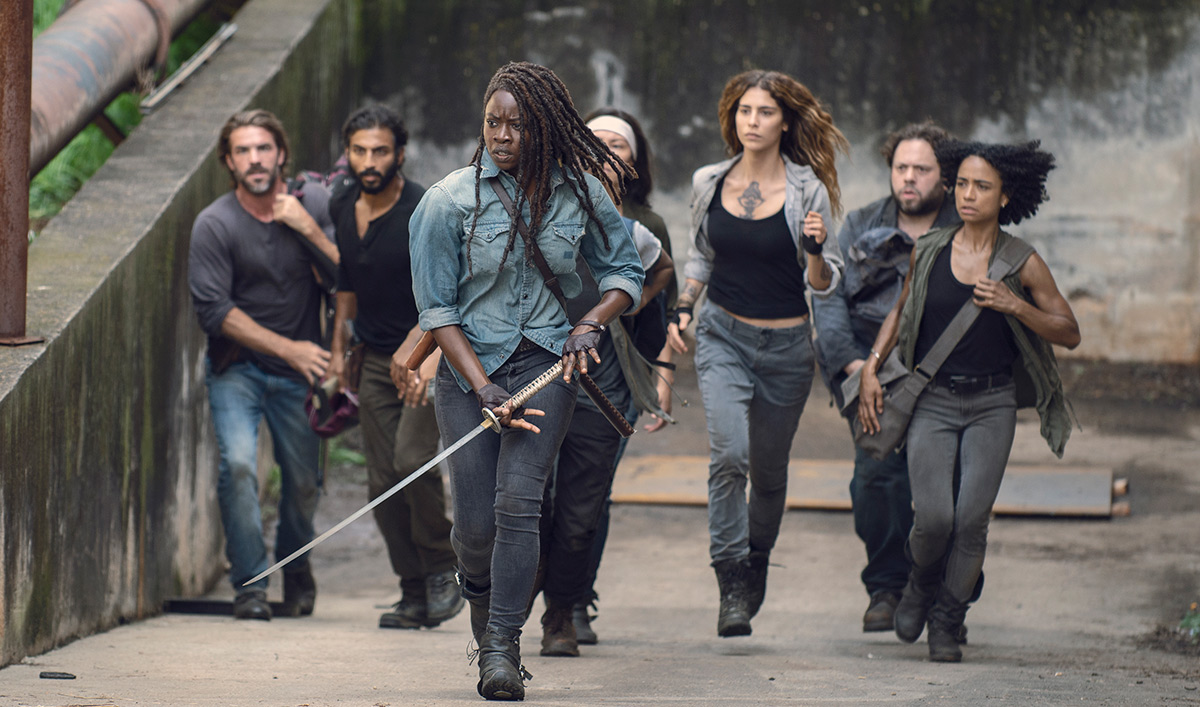 This week, Angela Kang teases next week's episode to Entertainment Weekly, while Michael Cudlitz talks to FanFest.com about directing this week. Plus, Forbes notes that every romantic relationship on the show is interracial or LGBT. Read on for more:
• Discussing the Midseason Finale with Entertainment Weekly, Angela Kang reveals that "there are some answers to questions that the audience may have about certain things. And it launches a whole other chapter yet in the story that we've been telling about what is happening with these walkers and I'm excited for people to see it."
• Talking about directing this week's episode, Michael Cudlitz tells FanFest.com, "The story is really one of the episodes that builds audience knowledge with the characters that we're getting to know. A lot of groundwork was laid in my episode."
• Forbes points out that "every single relationship on the show is either interracial or LGBT, a departure from the source material, due to some major changes, and a milestone for a show as popular as TWD."
• The Hollywood Reporter calls this week's cold open "a tight tale of terror. In the context of the Walking Dead comic books from Robert Kirkman and Charlie Adlard, it's even more menacing."
• Michael Cudlitz reveals to FanFest.com how he got C. Thomas Howell to cameo on the latest episode: "Tommy's a buddy of mine. We needed someone who could ride a horse and act. Apparently, it's a hard thing to find…It's not a common thing to have somebody be able to do those things, as far as gallop and speak."
• The Hollywood Reporter observes that, in the latest episode, it's confirmed that not only has Daryl "spent the past six years carrying a torch for his fallen friend, there's visual evidence to suggest something very serious happened during that search — not just for Daryl, but for Michonne as well."
• Cinema Blend notes that "the second time jump has added some depth to Daryl's narrative, and 'Stradivarius' shined a bigger light on where the character's headspace is at these days."
• Michael Cudlitz shares with Insider that Michonne's isolation is "tied to the 'X' that we see on her back, that we just revealed on Michonne's back. Now we see it on Daryl's back."
• TheWrap reports that Maggie "left the Hilltop with the mysterious Georgie during the big time jump that came at the end of Rick Grimes' final episode."
• TheWrap says that "we certainly should not expect any imminent developments with Georgie before the mid-season premiere. But with the way the show has diverged from the comics the last couple years, anything is possible."
• FanFest.com chats with Alanna Masterson about being directed by Michael Cudlitz, and she says, "It was nice to have him back in our world. There are some really great scenes he does, and the pace is different."
• Pollyanna McIntosh, speaking with TV Guide, says of Jadis/Anne, "I'm incredibly grateful that my character got to do something so important as she was leaving. And also that I didn't die."
• According to ComicBook.com, Norman Reedus reveals that Seven is the real name of his "canine co-star."
• Talking about Abraham and Glenn's deaths, Michael Cudlitz tells WGN Radio, "One of my biggest concerns when they were going to kill us together was that my death didn't take away from his death or diminish his death because he was one of the Atlanta originals."
• ComicBook.com points out that Mac Lintz, who plays Henry, "has real-life ties to the past" because he's the brother of both Macsen Lintz, who played Henry before the most recent time jump, and Madison Lintz, who played Sophia.
• For recaps and reviews of Season 9, Episode 7, "Stradivarius," check out the Atlanta Journal-Constitution, A.V. Club, Entertainment Weekly, Forbes, IGN, Insider, io9, Syfy Wire, TV Guide, TVLine and Variety.
Watch Season 9, Episode 7 now on amc.com and the AMC app for mobile and devices.
The Walking Dead airs Sundays at 9/8c. Click here to add a reminder to your calendar.
To get full episodes, behind-the-scenes video and more, sign up for the weekly Dead Alert.
Read More