Press
Andrew Lincoln Talks Exit With NYT; Variety on Upcoming Rick Films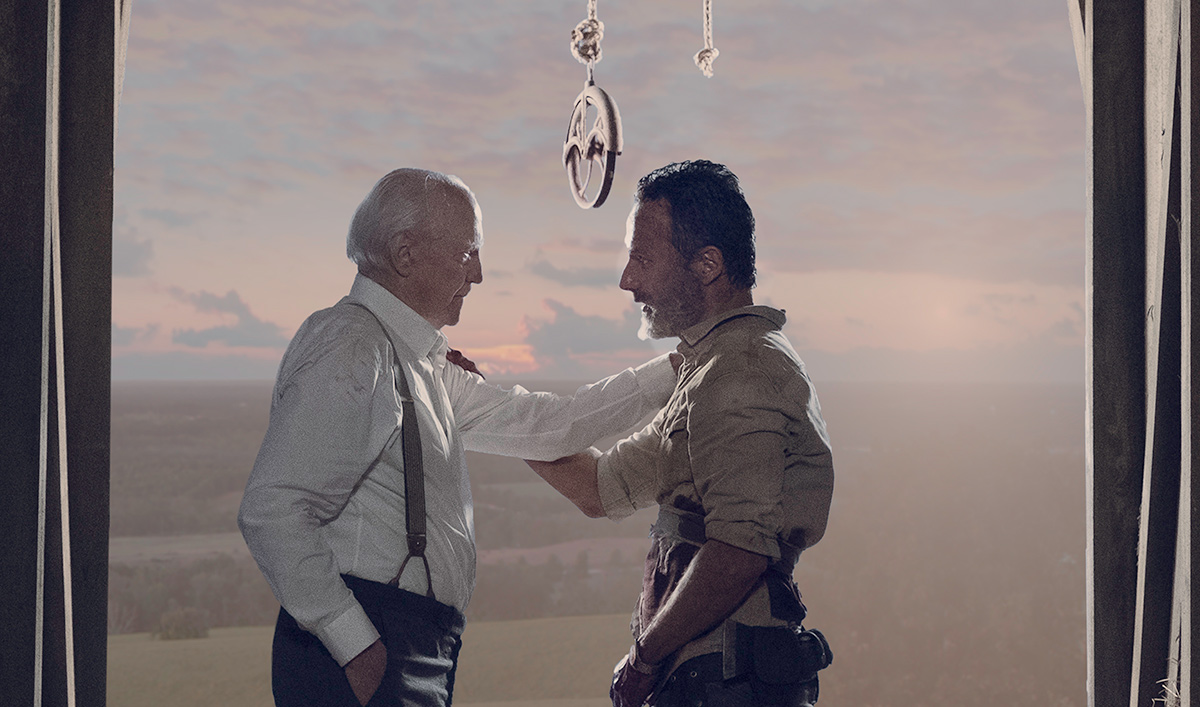 This week, Andrew Lincoln discusses his exit from the show with The New York Times, while Variety reports on the upcoming Rick Grimes movies. Plus, Andrew Lincoln tells The Hollywood Reporter about acting again with Jon Bernthal. Read on for more:
• Interviewed by The New York Times about Rick's exit, Andrew Lincoln says, "When Angela [Kang] pitched the idea to me, she said that we've been oscillating between antihero and hero for the last nine years, and I think we should probably finish with a heroic act. I said, 'That sounds like a great plan. I'm in.'"
• Variety reports that Andrew Lincoln "has signed on to play the iconic character Rick Grimes in multiple feature-length projects in development," to be written by Scott Gimple, at AMC. Deadline adds the Rick movies are among the first projects in development from Gimple as part of a multi-year plan for The Walking Dead Universe.
• Andrew Lincoln speaks with The Hollywood Reporter about filming with a Dead actor of yore: "To have [Jon] Bernthal show up with his Punisher hair straight from set felt both like so much time had passed and that no time had lapsed. We fell back into the same relationship. It was amazing to work with him…"
• Talking about the rest of Season 9, Angela Kang tells The Hollywood Reporter, "We start diving a lot into what has happened with these different communities as our other leaders, such as Michonne, Carol and Daryl, in his own way, are still rocked by the aftermath of [Rick's presumed death]."
• Angela Kang explains to Entertainment Weekly that Shane, Hershel and Sasha were chosen to come back because they were "some figures that could help [Rick] reflect on the things that he's been through on his journey through the series that will help him have the courage and the strength to keep going when his body just wants to shut down."
• Asked by Entertainment Weekly whether Maggie could return in Season 10, Lauren Cohan reveals, "Yeah, we have had creative story conversation about what could happen with the character."
• Angela Kang confirms to The Hollywood Reporter that Lauren Cohan is done for Season 9: "We definitely have some things up our sleeve that we'd love to do. A lot of that is just a scheduling conversation, so hopefully that will all work out, because I think mutually we would like to continue with Maggie's story, for sure."
• Scott Gimple tells Entertainment Weekly the upcoming films are "centered around Rick Grimes. We're going to tell the story of what happens after that helicopter flight, and these are going to be big, epic entertainments. Each are quality films."
• Entertainment Weekly chats with Andrew Lincoln, who says, "initially, I was kind of cautious about the callback aspects of the hallucinations, and then as soon as the guys walked up, it all made complete sense. And it was a brilliant and beautiful way to finish my tenure on the show."
• Vanity Fair observes, "Andrew Lincoln's final episode was an odyssey through time, with re-staged moments from Season 1 and callbacks galore. There were heart-to-hearts, memorable shots, and locations with special importance."
• CBR.com comments, "While the absence of Chandler Riggs' Carl Grimes is still acute, NuJudith's arrival fills a void that wasn't keenly felt until we met her…the narrative choice to make her an aggressive, fearless, capable little girl as opposed to sheltered precious cargo is noteworthy."
• TheWrap spotlights that the latest episode featured a "major development: the introduction of a new group of survivors."
• Talking with Entertainment Weekly about Andrew Lincoln's last day, Norman Reedus says, "To honor Andy, we still fight the good fight on this show, and try to tell the best stories we can, and give it 1,000 percent in his honor, as well as all the other people that have been on the show. But he asked us to do that."
• The Verge interviews Steven Yeun, who says The Walking Dead "taught me professionalism at a level that — I admired watching Andy Lincoln. That guy's the president of the universe. He's the classiest dude, and a family man, he knows what's important, he's wise, hardworking."
• Discussing Aaron's evolution, Ross Marquand says, according to ComicBook.com, "He's still pragmatic, but he's not as nice as he used to be. He's a little bit darker. Hopefully he continues to be darker and darker."
• Collider.com showcases storyboards that "were invaluable for the opening episode of Season 9."
• For recaps and reviews of Season 9, Episode 5, "What Comes After," check out Deadline, Den of Geek, Entertainment Weekly, Forbes, Good Morning America, IGN, TV Guide, TVLine, USA Today and Variety, Vulture.
Watch Season 9, Episode 5 now on amc.com and the AMC app for mobile and devices.
The Walking Dead airs Sundays at 9/8c. Click here to add a reminder to your calendar.
To get full episodes, behind-the-scenes video and more, sign up for the weekly Dead Alert.
Read More