Press
EW Gung Ho About Season 9 Premiere; TV Guide Talks to Greg Nicotero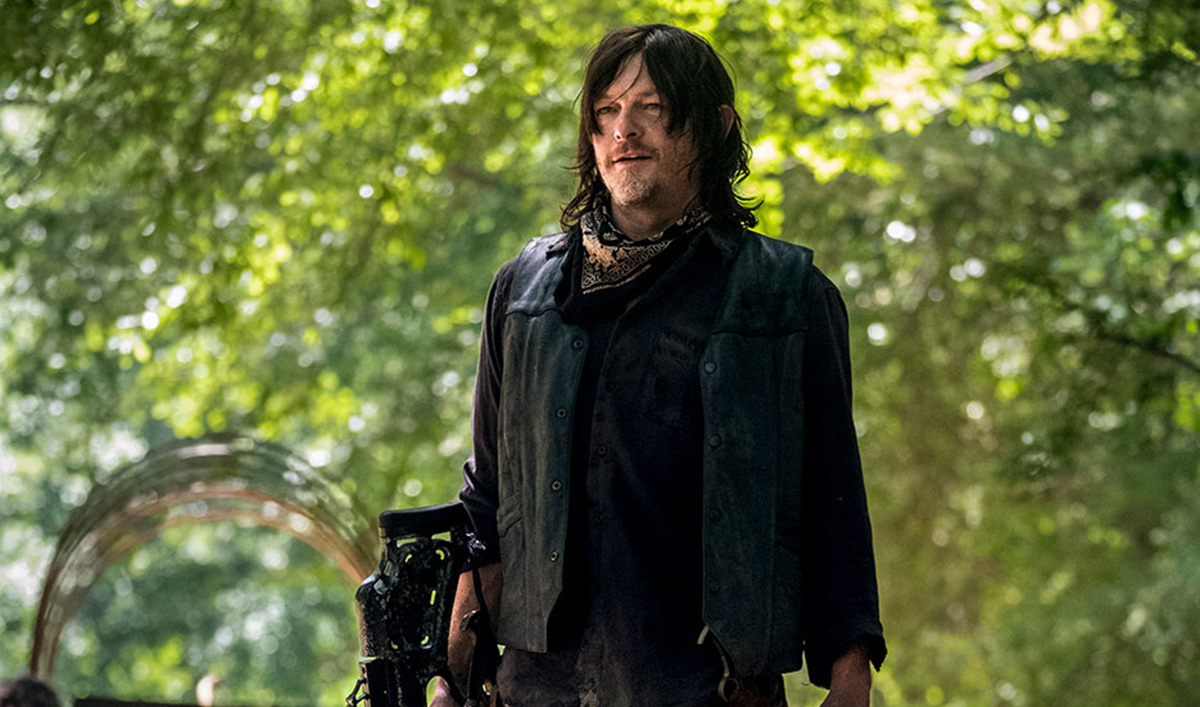 This week, Entertainment Weekly is enthusiastic about the Season 9 Premiere, while TV Guide talks Season 9 with Greg Nicotero. Plus, Andrew Lincoln tells EW he hopes to direct an episode next season. Read on for more:
• Entertainment Weekly asserts, "'A New Beginning' is the perfect title for the Season 9 Premiere of The Walking Dead: There's a new showrunner (Angela Kang), a new vibe (more humor, classic George Romero scares), new cast members (Brett Butler!), and a welcome time jump from Season 8 (R.I.P., Carl)."
• According to TV Guide, Greg Nicotero declares, "This season's all been about what's been going back to what made The Walking Dead great when we first started watching the show. I feel like it's very much back to the DNA that we love."
• Andrew Lincoln tells Entertainment Weekly he may be back for Season 10, saying, "I'm going back. I'm going back to shadow a director, and my intention is to direct next year."
• With Andrew Lincoln's imminent departure, Entertainment Weekly "asked 23 cast members that have worked closely with him over the years to write their thoughts to and about the departing star and the impact he made both on and off-screen."
• "There were a lot of conversations about the ways in which we create a satisfying story for Rick. What are the important things we've seen from Rick in the past? What is his legacy?" Angela Kang shares with The Hollywood Reporter.
• IndieWire proclaims that "the first three episodes of Season 9 are as strong as anything the show's done since the heyday of Season 4."
• Entertainment Weekly interviews Lauren Cohan, who says Maggie, at the start of Season 9, is "realizing that she has to rely on herself and she has to make a decision she believes in and let the chips fall where they may. What we're going to see in the first couple episodes is that she needs to take responsibility for the good and for the bad."
• ComicBook.com learns from Angela Kang that "we've still planned some more story with Maggie, Lauren [Cohan] wants to, it will be a little subject to her schedule but hopefully we have her back next season."
• Speaking about Michonne and Maggie's relationship, Danai Gurira says to Entertainment Weekly that other shows "don't really explore women who respect each other, who respect each other's power, each other's choices, respect each other in so many ways, but are not seeing eye to eye on major fundamental issues."
• Rolling Stone includes The Walking Dead on its list of the 10 best TV shows to see in October: "Andrew Lincoln has announced his intention to retire his TWD badge after this run of episodes, so we know his days are numbered — and viewers can be fairly certain that his won't be the only number called in this new round."
• ComicBook.com interviews Angela Kang, who says Scott Gimple has "been very great about just encouraging me to develop my own vision of the season. He's like, 'I can't tell you what to do, you're the showrunner. You are the one who knows the story better than anybody.'"
• According to Screen Rant, Angela Kang discusses her approach to Season 9: "I wanted to kind of try to aspire to recapture some of that feeling of the silences and just like those beautiful, wide landscapes and just the loneliness that can be in the world."
• Discussing Angela Kang's leadership, Melissa McBride tells ComicBook.com that "this whole season has taken on a very different feel from the very first episode, a lot more cinematic feel. The way she is using the landscapes, the way she's using props, the way all the partners are really taking hold of what it is they do, or they've created for instance."
• In this age of #MeToo, Melissa McBride tells the Los Angeles Times, "Carol gets a lot of fans that have survived abuse. They like to write and tell me about it and how much Carol has inspired them, found strength in her story."
• Speaking about Carol and Daryl to Skybound, Melissa McBride explains, "Whether I say she's pining for him, whether I say he has secret feelings, whether I say they're just best friends, whether I say maybe they already did have something. It's doesn't matter…it doesn't matter for them, whatever they are they have each other's backs."
• Speaking to TVLine, Scott Gimple says Negan "doesn't have any power, and he doesn't have any control. That's going to enable us to see these other sides of him when the facade comes down."
• Season 9 is "really heartfelt, it's really dangerous — it's a gut-wrenching, terrifying, really honest season. It's been great," Norman Reedus enthuses to ComicBook.com.
• Norman Reedus talks to Skybound about being directed by Michael Cudlitz in Season 9, Episode 7, saying, "It was nice being directed by someone from our group, you know? When you're in the field with someone who has become your brother there's a shared shorthand and you get it, you know it, what's corny and what's not."
• "I'm proud to be a part of a show that, even the comics that the show is based on, had the story values to put forth incredibly strong, powerful female characters. Michonne is from the comic book, and it can't get stronger than her," Scott Gimple tells Us Weekly.
• Speaking with Insider about Andrew Lincoln's final episode, Greg Nicotero says, "It's a magnificent episode. I don't want to get into it too much, because I don't want to really ruin anything. It's, the storytelling aspect of it, and his journey really, really touches upon some of the highlights of the show over the past eight years."
• ComicBook.com gets some clues on Rick's ending from Greg Nicotero, who says, "We wanted to give his story a send-off that people would know that we were paying tribute to his journey. It was really important to us. Him and I worked a lot on that story."
• "Peaceful times allow for quite a few new characters to show up and enjoy the fruits of everyone's labors, and Season 9 has already confirmed quite a few exciting new additions that comic fans were happy to hear about," Cinema Blend writes.
• Discussing Andrew Lincoln's impending departure with ComicBook.com, Norman Reedus explains, "Everybody on the show is gonna step up and elevate their game and fill that hole. I don't think there could be a new Rick."
• Norman Reedus says to CBR that he wants to stay until the show ends: "I started on Season 1 of the show, and I'd love to bookend it. I put so much effort into this."
• Jeffrey Dean Morgan tells ComicBook.com that Negan is "going insane. I think the four walls have closed in on him, so he's battling trying to keep some sense of sanity. And, it's not going well."
Watch Full Episodes of The Walking Dead on amc.com and AMC apps for mobile, Fire TV, XBox One, Apple TV, Roku and Chromecast.
To get full episodes, behind-the-scenes video and more, sign up for the weekly Dead Alert.
Read More