Press
Angela Kang Teases What's Next to EW; Norman Reedus Talks to TheWrap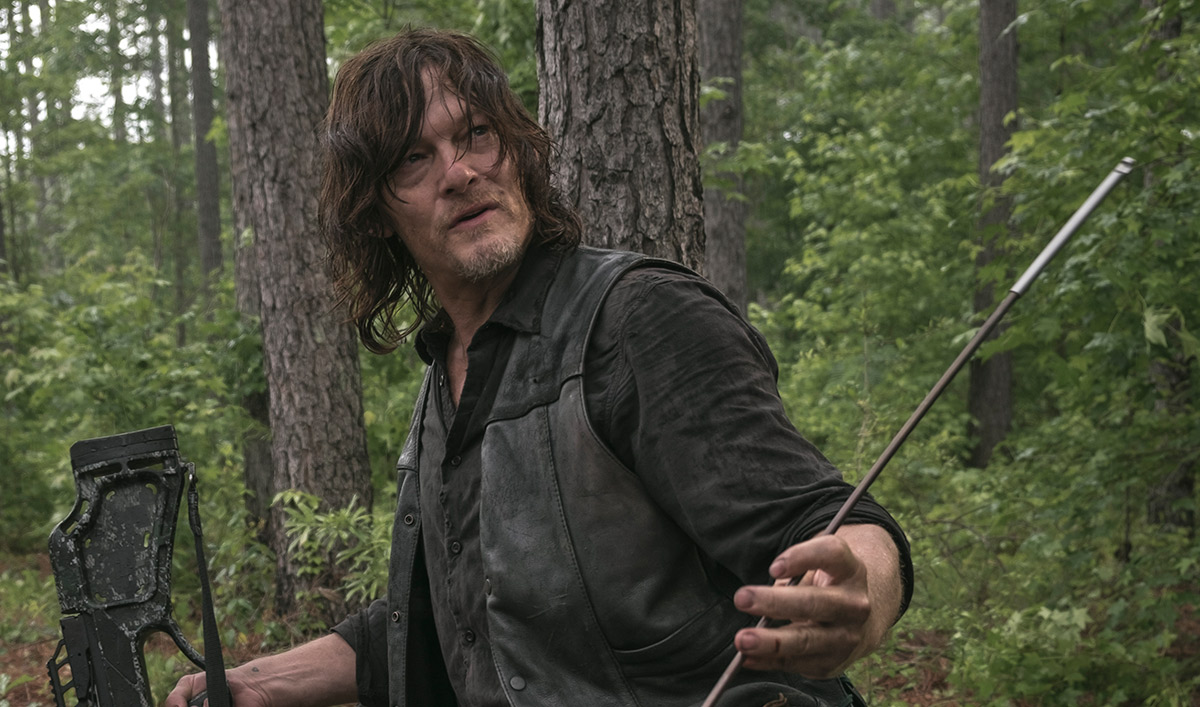 This week, Angela Kang teases to Entertainment Weekly what's coming up next, while Norman Reedus talks to TheWrap. Plus, Kang discusses the mysterious helicopter with The Hollywood Reporter. Read on for more:
• Looking ahead, Angela Kang tells Entertainment Weekly, "I'll say that we saw Maggie and Daryl resolve something at the end of episode 3, and that story plays out. Daryl pledged to help her in this, and that's gonna put him into some conflict with some of our other characters."
• Norman Reedus shares with TheWrap that Rick is "blinded by grief and all these other things, and he has to make this work and for all these reasons but he's not really listening to the people around him anymore. A lot of the stuff with Daryl is he just, he is like, dude you're not hearing me. Like you're not listening to me."
• Addressing the show's helicopter mystery, Angela Kang says to The Hollywood Reporter, "We're learning once again that the world is wider than our people think. There are more people out there that may have hostile intentions, or at least a different philosophy about how to survive."
• Forbes comments that The Walking Dead is "better than it has been in a while here in season 9. One of the reasons for that is the show is creating somewhat interesting mysteries, among them, who the hell is hunting down Saviors?"
• Bustle writes, "The Walking Dead usually doesn't pair major characters together without some purpose, so it will be interesting to see what happens between Father Gabriel and the trash leader formerly known as Jadis."
• ComicBook.com reports, "AMC has officially revealed Rick Grimes has only two episodes left in The Walking Dead," Episodes 4 and 5.
• Angela Kang tells The Hollywood Reporter, "The Walking Dead in general often deals with the idea of time, and losing the time we have. Particularly this season, there are stories we're playing with about the ways in which time heals wounds, or makes them worse; the ways in which as time moves on, the world becomes harder to navigate."
• Speaking with the BBC, Angela Kang says Rick's departure is "a very emotional story. We get to look back at some of the scenes that he's been dealing with ever since his story started on the show. We just see the incredible grit and determination he has. We also get to deal with some elements of mystery and surprise."
• Variety reports that the program at Scott Wilson's memorial included a Hershel quote: "You step outside, you risk your life. You take a drink of water, you risk your life. And nowadays you breathe, you risk your life. Every moment now you don't have a choice. The only thing you can choose is what you're risking it for."
• The Hollywood Reporter speaks with Jeffrey Dean Morgan, who says, "It's been hard the last couple of years with Negan kind of putting a damper on some of the fun for our other characters — and this year, it's a completely different spin, certainly."
• TV Guide points out the show's "longest-tenured" extra was killed between seasons: "Due to his old age and the multiple time skips in the storyline for Season 9, it was concluded amongst the cast and crew that an elderly character such as Bob Miller would have eventually passed away due to natural causes/old age."
• Michael Cudlitz tells TheWrap that the Season 9 episode he directed "helped establish the early roots of what some of these new characters will be, because, as everyone who watches the show understands, the early episodes where you learn a lot about the characters really do set the tone of how they are perceived and received from there on out."
• According to ComicBook.com, Angela Kang says of the new title sequence that "there's just a nice general macabre feel which we also undercut with images of greenness and growth — I like the tension that exists between those extremes. It feels very right for our story."
• Asked by Showbiz Junkies about Abraham's death scene, Michael Cudlitz relates, "I watched it once. It's pretty brutal. It's a pretty emotionally and visually brutal scene."
• Romper notes, "The quietest baby in the world has grown into a little girl with a flair for arts and crafts, with many young actors taking on the role as Judith aged."
• For recaps and reviews of Season 9, Episode 3, "Warning Signs," check out A.V. Club, ComicBook.com, Den of Geek, Entertainment Weekly, Forbes, The Hollywood Reporter, IGN, IndieWire, Insider, Newsweek, Syfy Wire, TV Fanatic, TVLine, Us Weekly and Variety.
Watch Season 9, Episode 3 now on amc.com and the AMC app for mobile and devices.
The Walking Dead airs Sundays at 9/8c. Click here to add a reminder to your calendar.
To get full episodes, behind-the-scenes video and more, sign up for the weekly Dead Alert.
Read More