Press
Angela Kang Talks Rick With THR; EW Asks Andrew Lincoln About Departure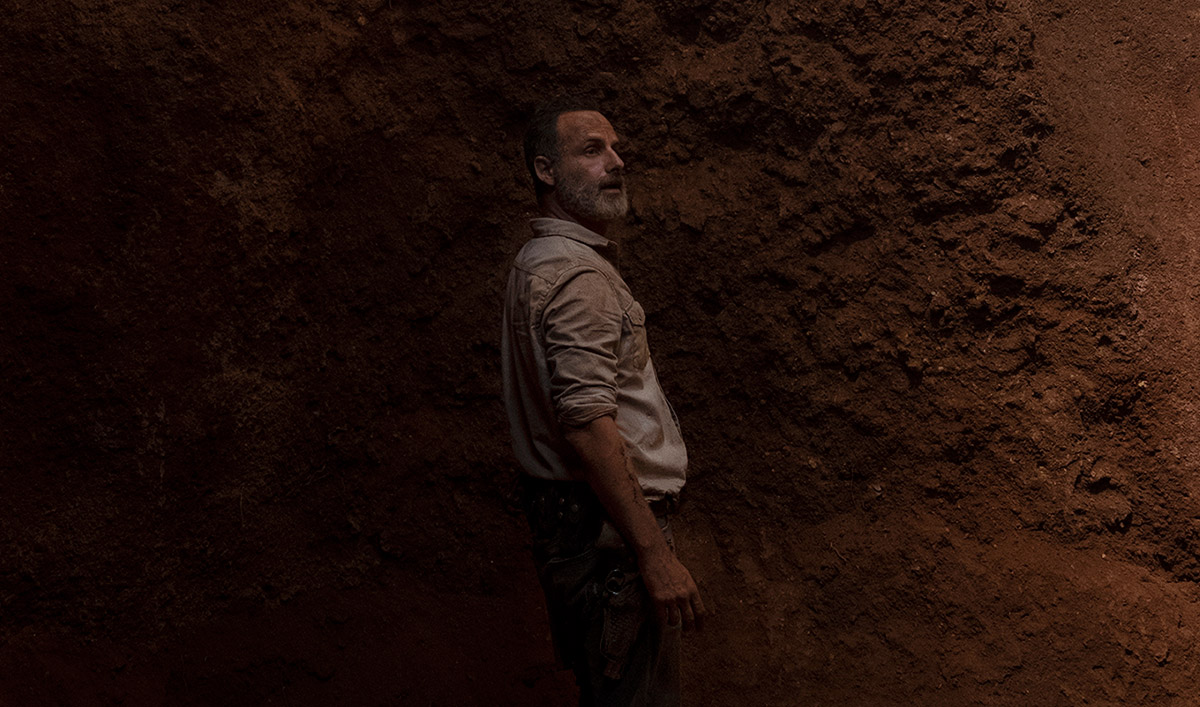 This week, Angela Kang talks about Rick's final episode with The Hollywood Reporter and Entertainment Weekly, while EW speaks with Andrew Lincoln about his departure. Plus, Norman Reedus weighs in on Daryl and Rick's big scene while chatting with Deadline. Read on for more:
• Calling Rick's final episode "pulse-pounding and epic," Angela Kang tells The Hollywood Reporter, "It feels like a giant season finale dropped in the middle of the season. It should be a fun one."
• Speaking with Entertainment Weekly about the final scene of this week's episode, Angela Kang explains, "It is the end of Rick Grimes' story on the series. How that plays out, I hope people will watch. We wanted to pay tribute to the fact that Rick Grimes is a character who he is a survivor. He will fight as hard as he can for the people that he loves."
• Discussing his departure with Entertainment Weekly, Andrew Lincoln says, "What I don't want to do is stay too long when I think the show will actually benefit from other people taking the reins and forging a new path. And that's what I think is happening now."
• Interviewed about Daryl and Rick's scene in the hole, Norman Reedus tells Deadline, "It was a big moment for the two of us in a lot of ways…The clasping of the hands and the pulling back out, it was like it meant a lot to Rick and Daryl but it really meant a lot to Andy [Lincoln] and me."
• Us Weekly showcases the next episode's trailer, commenting that "one of the most shocking scenes to see was Rick sitting side by side in his cop car with Shane, just as they did in the pilot, eating sandwiches."
• The Hollywood Reporter compiles "a quick primer on the most memorable times Rick should have died, but miraculously did not."
• Angela Kang shares with Entertainment Weekly, "There will definitely be some pieces that will be very familiar to people who are readers of the comics in terms of the introduction of the Whisperers and that story. But there will also be some surprises in the way that it plays out."
• Peter Jackson reveals to Vulture that he'd like to play a zombie on "one of his favorite shows," The Walking Dead: "You'd want to be a zombie that kills a principal cast member, to make a real impression."
• Interviewed by TV Insider about leaving the show, Andrew Lincoln says, "This is very much about completing something I'm very, very proud of. The overriding sense I had when I finished was great satisfaction."
• TooFab notes "it was the moments with Daryl, the white horse and the dramatic fall that left fans reeling and talking deep into the night. They'll have to sweat it out for another week to see if Rick survives his fall, and how he ultimately says goodbye to the show. For now, they're scared, angry, upset and touched all at the same time."
• According to ComicBook.com, Steven Yeun speaks with Larry King about Andrew Lincoln's imminent exit from the show: "I think the genetic make up of the show is also in the soul and heart of the individual actors. When you take a piece or move a piece, it alters it but I think the heart of it is still there.""
• Fan Fest sits in on Danai Gurira's interview where she talked about joining The Walking Dead, saying, "I could see that there was something so rich in this, and I was like, I want to be a part of this. It was a moment where I knew I had to pursue it with all I had."
• ComicBook.com reports on Josh McDermitt explaining, "If we're gonna see anything from the comics between Rosita and Eugene it's gonna be some of these larger themes that we're seeing in the comics."
• For recaps and reviews of Season 9, Episode 4, "The Obliged," check out A.V. Club, ComicBook.com, Den of Geek, Forbes, Insider, io9, Syfy Wire, TooFab, TV Guide, TVLine, Us Weekly and Variety.
Watch Season 9, Episode 4 now on amc.com and the AMC app for mobile and devices.
The Walking Dead airs Sundays at 9/8c. Click here to add a reminder to your calendar.
To get full episodes, behind-the-scenes video and more, sign up for the weekly Dead Alert.
Read More