Press
Angela Kang Talks Maggie With THR; HuffPost Interviews Ross Marquand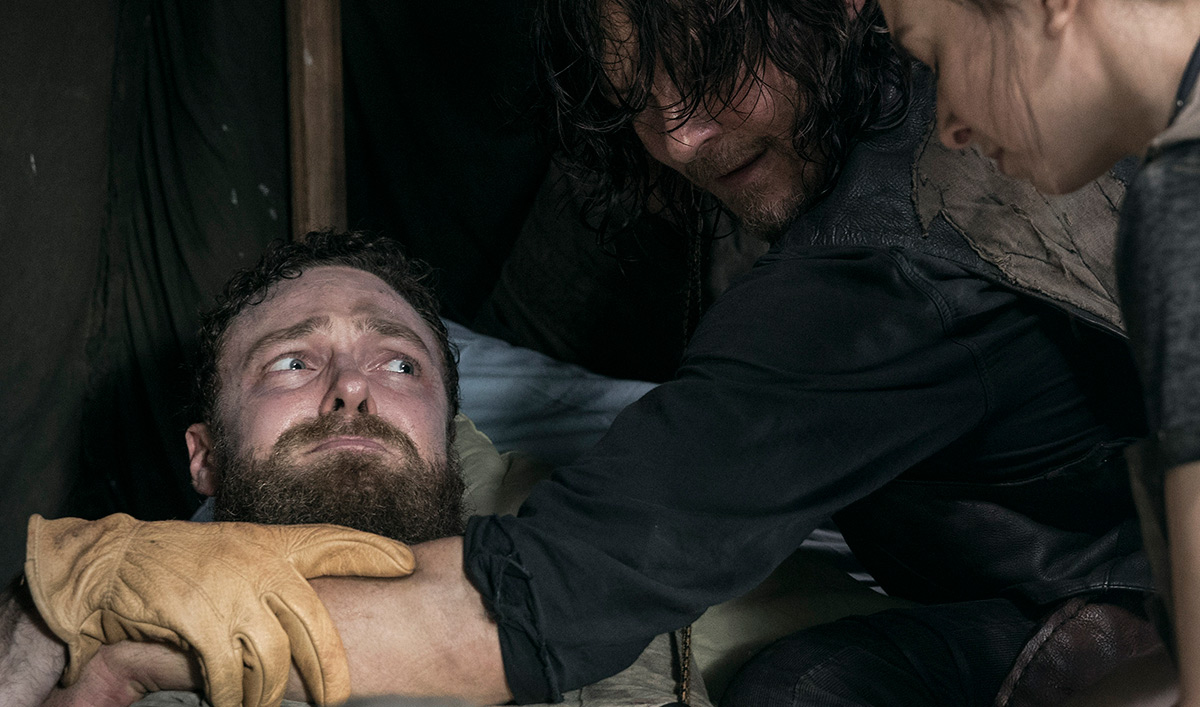 This week, Angela Kang talks about Maggie with The Hollywood Reporter, while Ross Marquand discusses Aaron losing a hand with The Huffington Post. Plus, Pollyanna McIntosh tells Bustle that Jadis is going by a new name. Read on for more:
• Asked by The Hollywood Reporter whether a conversation between Maggie and Jesus about Georgie is "the first step toward [Lauren] Cohan's coming exit," Angela Kang responds, "That's a fair suspicion."
• Interviewed by The Huffington Post about Aaron losing his hand, Ross Marquand says Aaron is "a very broken man, and I really love the challenge of playing Aaron not so much as this endlessly optimistic, diplomatic guy, but instead shifting into a darker head space."
• Ross Marquand explains to ComicBook.com, "When Angela [Kang] presented the idea to me at the beginning of the season, I thought it was fantastic. I love the idea of having the extra challenge."
• Discussing the decision to sever Aaron's hand, Angela Kang tells The Hollywood Reporter, "We loved the idea of someone who started the apocalypse without a physical disability now having to learn how to navigate that. The ways you can overcome something like that … it felt like a story that would work really well for Aaron."
• Pollyanna McIntosh tells Bustle that Jadis is now going by "Anne," who, in Season 9, is "doing her darnedest to be involved. Be useful, feel like she belongs there and still with the memory of everything that's happened to her. And it's not super simple, really?"
• ComicBook.com takes a look at the show's "newest coupling: Father Gabriel (Seth Gilliam) and Anne (Pollyanna McIntosh)."
• Cooper Andrews talks to Insider about Jerry kissing Nabila: "I was excited about it … just to know that Jerry isn't just shadowing Ezekiel all the time. It just kind of proves that this life that we're viewing is more than just trying to survive."
• Entertainment Weekly speaks with Angela Kang, who says Rick and Negan, "although they're in very different situations, in some ways also have very different ideas about what the world should be. What they have in common is that in some ways there are times when they feel like dinosaurs after the war."
• One of TVLine's quotes of the week is Maggie telling Gregory, "You wanna lead this place? You can't even murder someone right!"
• The Hollywood Reporter endeavors "to plant some flags in the ground — or heads on spikes, as it were — about which characters are worth worrying about as season nine pushes forward."
• Angela Kang explains to The Hollywood Reporter, "Each of these communities develops a very clear set of philosophies and ways of interacting with each other over time. That's been one of the rich areas to mine in season nine, as we see different characters rise to leadership — or reject it."
• Jeffrey Dean Morgan teases a Negan/Maggie confrontation to Us Weekly: "These two characters, her especially, have been waiting a long time to have a little one-on-one time. And Negan knows it. Negan knows that she's been looking for him and he's waiting on her."
• Angela Kang shares with ComicBook.com, "I think the work that Greg Nicotero and the visual effects group has done to create the looks for [the Whisperers]. What they have is some of my favorite stuff that I've seen so far in the show. So again, without giving too much away, I'm really excited for the fans to see that stuff."
• TV by the Numbers reports that the Season 9 Premiere was the No. 2 original cable show for adults aged 18-49 and the No. 4 original cable show in terms of total viewers, for the week of Oct. 1-7, according to Nielsen.
• Speaking with the Daily Star about Scott Wilson and his upcoming appearance, Greg Nicotero says, "One thing that I can say about Scott – aside from what a magnificent man he was, and a great actor – he got to see the scene that he filmed. I showed it to him when I was visiting him and he was overjoyed."
• Interviewed by Flickering Myth, Greg Nicotero explains, "We want to continue to do new things, and make the show feel unique. We are going back to the DNA of the show that the fans fell in love with years ago."
• After combing through the Season 8 Blu-ray, Den of Geek reveals "fifty nerdy details fans might enjoy knowing about The Walking Dead Season 8."
• For recaps and reviews of Season 9, Episode 2 "The Bridge," check out A.V. Club, ComicBook.com, Den of Geek, Entertainment Weekly, Forbes, IGN, IndieWire, io9, Syfy Wire, TV Fanatic, TVLine, Us Weekly, Variety and Vulture.
Watch Season 9, Episode 2 now on amc.com and the AMC app for mobile and devices.
The Walking Dead airs Sundays at 9/8c. Click here to add a reminder to your calendar.
To get full episodes, behind-the-scenes video and more, sign up for the weekly Dead Alert.
Read More