Press
Scott Gimple Talks to TVLine About Rick's Ending; Deadline Unveils Season 9 Art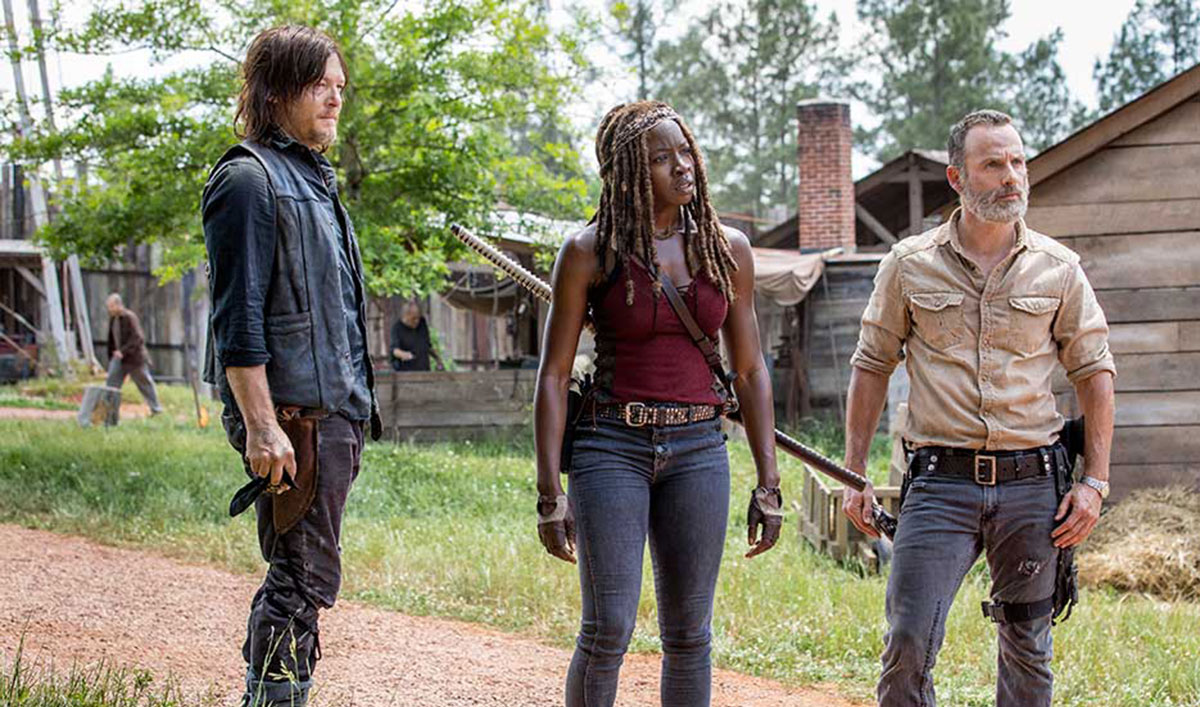 This week, Scott Gimple warns TVLine about Rick's ending, while Deadline unveils Season 9's key art. Plus, Skybound reports on some casting news. Read on for more:
• Discussing Andrew Lincoln's exit from the show, Scott Gimple warns TVLine, "There is brutality" to Rick's ending, "and there is grace… and a very epic aspect."
• Deadline unveils Season 9's key art, which features "Andrew Lincoln's Rick Grimes front and center, with Carol (Melissa McBride), Michonne (Danai Gurira), Maggie (Lauren Cohan) and Daryl (Norman Reedus) in the background amidst a decayed D.C. and that familiar recurring helicopter."
• Referring to the new key art, The Hollywood Reporter declares of Rick that "it's certainly disconcerting to see the man bathed in red light. It's also alarming to see him wearing his sheriff's hat for the first time in a good long while, as it's more commonly associated with Carl, who wore the hat more or less through his dying moments."
• Skybound reports that Brett Butler and John Finn will play Tammy Rose and Earl, two major characters from The Walking Dead comic.
• TheWrap showcases a new trailer that "teases Rick Grimes' final episodes, and we'd be lying if we said it didn't make us a little emotional."
• According to E!, The Walking Dead, Norman Reedus, Danai Gurira, Lauren Cohan and Andrew Lincoln have all been nominated for People's Choice Awards.
• ComicBook.com reports that the Season 9 Premiere will have an extended runtime of nearly 90 minutes, airing from 9 p.m. ET through 10:26 p.m. ET.
• TVLine checks out the new set of Season 9 cast portraits, which "paint a sunnier picture of the upcoming episodes, shedding bright light on everyone from [Andrew] Lincoln's embattled protagonist to Norman Reedus' stoic Daryl."
• ComicBook.com notes, "Of all of the character portraits released, many are focusing on Eugene's. Rick might have shaved his head, Aaron may have grown a beard, but it's Eugene's long hair that has people talking."
• Focusing on the show's new logo, which is not decaying, Insider learns from Angela Kang, "The solid stone letters overgrown with greenery in the Season 9 logo reflects the fact that we're jumping into a new chapter of the story where our characters are rebuilding and nature is thriving — for better and worse."
• ComicBook.com spotlights a new Season 9 promo that focuses on "the oldest surviving characters on the series and the helicopter which will be coming into play."
• TV Insider takes a look back at "the most notable departures from the AMC hit, and what these actors have been up to since leaving Rick's group."
Watch Full Episodes of The Walking Dead on amc.com and AMC apps for mobile, Fire TV, XBox One, Apple TV, Roku and Chromecast.
To get full episodes, behind-the-scenes video and more, sign up for the weekly Dead Alert.
Read More