Press
Forbes Hails Season 9 Premiere; EW Spotlights New Trailer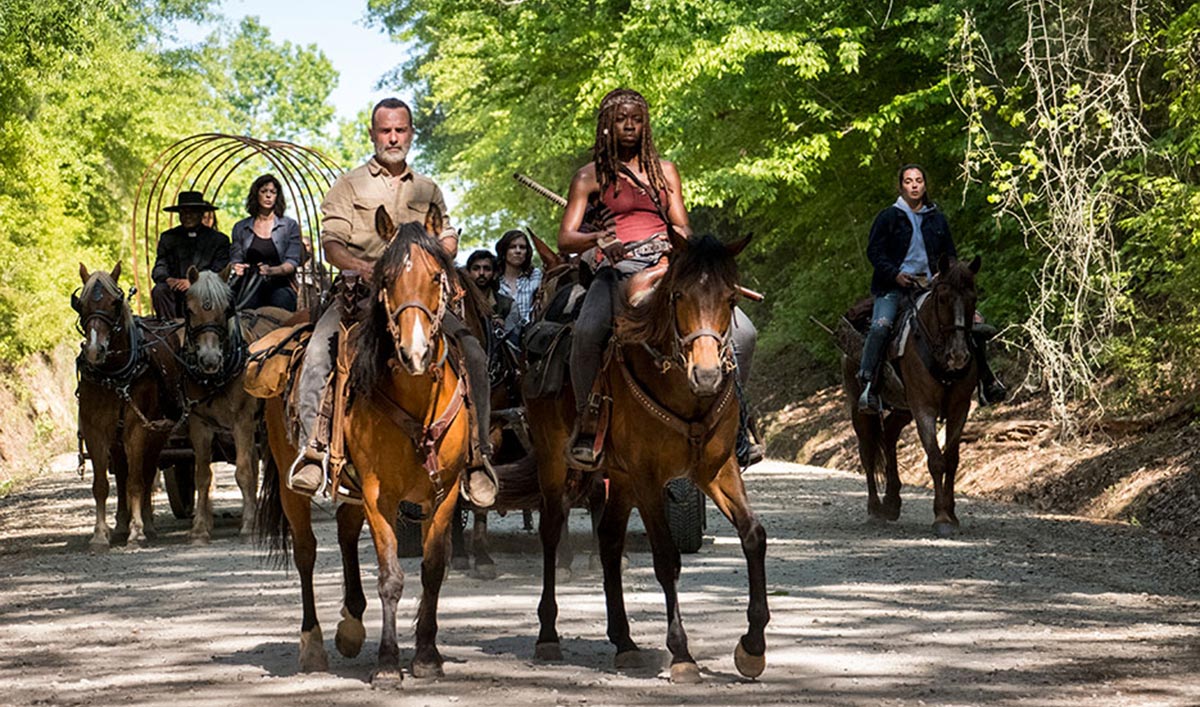 This week, Forbes hails the Season 9 Premiere, while Entertainment Weekly spotlights a new trailer. Plus, TVLine gets the scoop on Rick and Michonne from Scott Gimple. Read on for more:
• Previewing the Season 9 Premiere, Forbes enthuses, "I've watched the first episode of The Walking Dead's ninth season and I can confidently say that it's the best episode since Season 6 and better than many in that season as well."
• "There's a big change coming on The Walking Dead in Season 9. But is that a good thing? That appears to be the question at the heart of this exclusive brand-new trailer for the upcoming season, which premieres Oct. 7," Entertainment Weekly says. ComicBook.com notes that the trailer features new footage.
• Discussing the new season, Scott Gimple tells TVLine, "The way it's written and the way Andy [Lincoln] and Danai [Gurira] play it, Rick and Michonne just feel like a very tight couple. It's something to see. Their scenes together are very special."
• Looking ahead to Season 9, ComicBook.com declares, "This front half-season includes a jaw-dropping third episode that delivers some of the finest mystery and drama the show has ever seen in its eight-year run, making for a Walking Dead that will again make you count down to Sunday nights."
• CBR.com says the Season 9 Premiere "is enough of a breath of fresh air to breed optimism about Season 9 and [Angela] Kang's leadership."
• ComicBook.com gives five reasons to watch Season 9, remarking, "It's not enough to say that The Walking Dead is returning to its glory days — at least through three episodes — or that it's at its best in years. It's a brilliant and revitalized return but many potential audience members will need a bit of convincing."
• For its part, Undead Walking cheers, "If there was one word to describe The Walking Dead's ninth season it would be 'change,' and in this case, the change is so good."
• "Though The Walking Dead only has Andrew Lincoln for a short period of time in Season Nine, it may be some of the best story, performances, and excitement in years. [Angela] Kang is making good use of his final days while wisely building the characters who will continue in his wake," ComicBook.com cheers.
• Deadline checks out "another glimpse into the new reality of things with a series of photographs unveiled today of both of the new episodes and BTS."
• Discussing the new season, Andrew Lincoln tells TV Insider, "A lot of the energy, certainly from Rick's point of view, is driven by grief and not letting Carl's death be in vain."
• TVLine reports that the show's panel at New York Comic-Con next month will be moderated by Chris Hardwick and feature Andrew Lincoln, Norman Reedus, Danai Gurira, Melissa McBride, Jeffrey Dean Morgan, Angela Kang, Scott Gimple, Robert Kirkman, Gale Anne Hurd, Dave Alpert and Greg Nicotero.
• According to The Hollywood Reporter, Andrew Lincoln has been honored with a People's Choice Award nomination in the category of best Male TV Star of 2018.
• ComicBook.com interviews Melissa McBride , who says, "I think what we see of Carol is a whole new rebirth from the woman that she was when we met her, to the woman that she is now, and I don't think there's any going back."
• Norman Reedus tells ComicBook.com that The Walking Dead now "feels like a Western, but at the same time it's scarier, it's more emotional, it's more heartfelt. There's no posturing. No one's posturing."
• With Lauren Cohan set to star in an ABC drama, Greg Nicotero shares with Insider, "We really wanted to focus, and concentrate on a great story for Maggie, knowing that she was going to head off and do this show. But to be really honest, there, I think that it's safe to say that that could be left open-ended."
• Hypable laments, "It would have been nice to get more of Richonne simply being in love and rebuilding this broken world before Rick's exit…But, we love them so much that we will take what we can get, even if we are dreading that inevitable episode when Rick is no longer our leader."
Watch Full Episodes of The Walking Dead on amc.com and AMC apps for mobile, Fire TV, XBox One, Apple TV, Roku and Chromecast.
To get full episodes, behind-the-scenes video and more, sign up for the weekly Dead Alert.
Read More