Press
Variety Reports Dead Wins Saturns; EW on Danai Gurira Explaining Michonne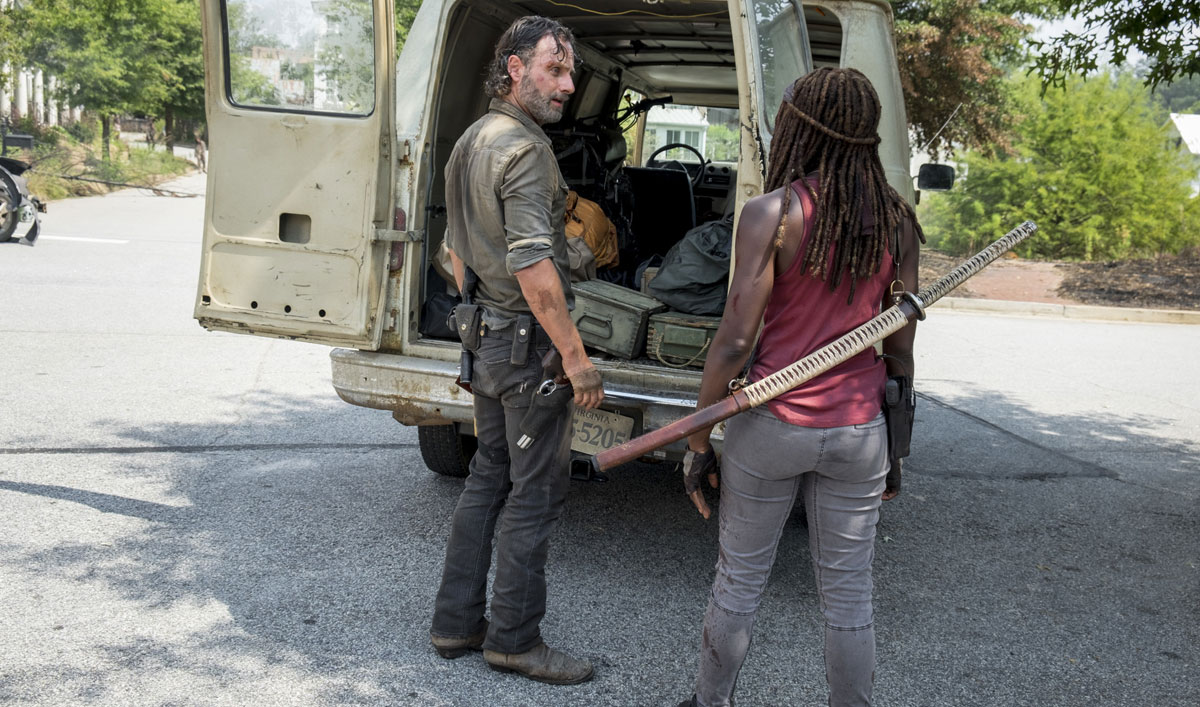 This week, Variety reports that The Walking Dead won two Saturn awards, while Entertainment Weekly looks at Danai Gurira's comments on Michonne. Plus, Digital Spy checks out all the times the show was referenced on Fear the Walking Dead. Read on for more:
• According to Variety, The Walking Dead won two Saturn awards, for Best Horror TV Series and Best Younger TV Actor for Chandler Riggs.
• Danai Gurira compares Michonne to "women in Liberian war, [who] turn themselves into their own weapon, into their own army, and find a whole different kind of strength in themselves, as a result," Entertainment Weekly says.
• Digital Spy has a tally of "every time Fear the Walking Dead has referenced its parent show."
• TheWrap's round-up of the TV history's most bone-chilling moments includes Negan killing Glenn: "The shocking, barbaric send-off spurred legions of reaction videos that featured stupefied viewers and screams of disbelief."
• Asked by Syfy which character from The Walking Dead he'd like to come out on top, Chandler Riggs replies, "Oh man… I'm rooting for Michonne, I'm rooting for Michonne."
• Answering a query about his reaction to Carl's death, Chandler Riggs says, according to ComicBook.com, "I was like, 'oh, okay, there's huge explosions, there's solar panels being blown up, churches blown up, houses exploding.' I was like, 'okay, that's pretty cool, I'm satisfied.'"
• According to ComicBook.com, Chandler Riggs says there were three different versions of the Season 7 Premiere and "three different versions that we shot. Versions where Glenn and Abraham died, and then another version where Maggie and Aaron died, and another one where Aaron and Eugene died."
• With Season 8 coming to Blu-ray on Aug. 21, IGN showcases the "exclusive artwork and packaging" that Target, Best Buy and Walmart are featuring.
• UPI reports that a new The Walking Dead augmented reality mobile game called The Walking Dead: Our World, featuring characters from the show, will be available for download on July 12.
Watch Full Episodes of The Walking Dead on amc.com and AMC apps for mobile, Fire TV, XBox One, Apple TV, Roku and Chromecast.
To get full episodes, behind-the-scenes video and more, sign up for the weekly Dead Alert.
Read More