Press
Angela Kang Shares Rick Story Arc With Deadline; THR on Dead's Return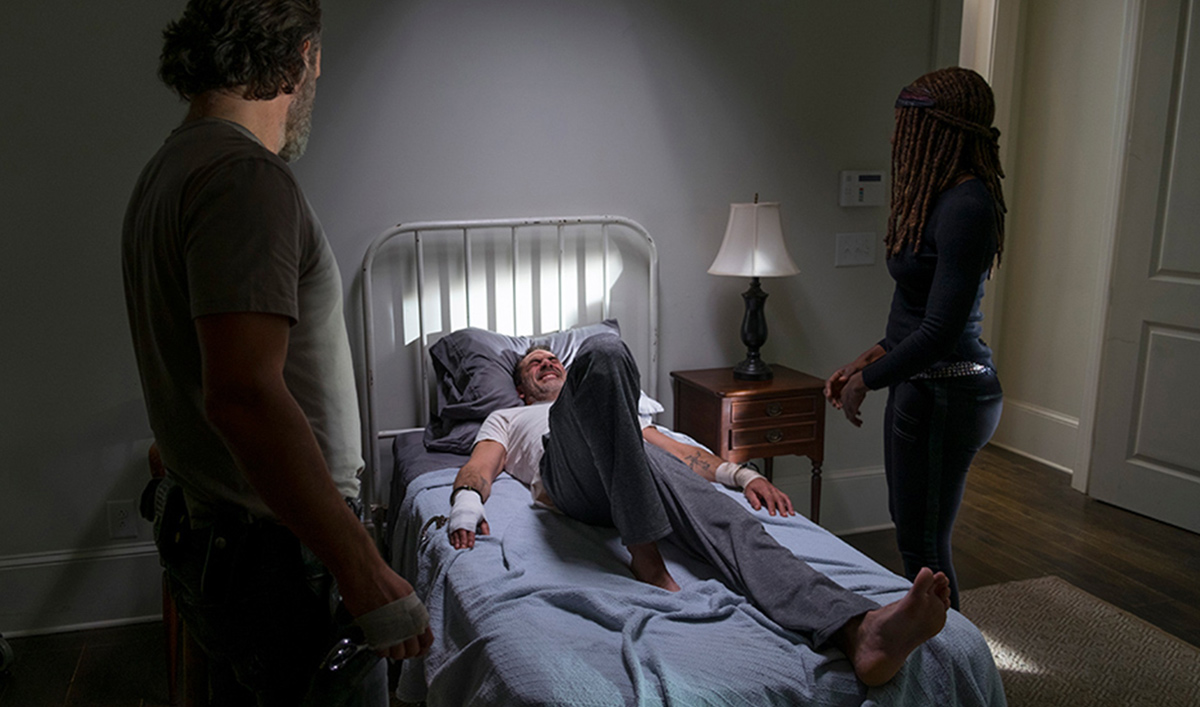 This week, Angela Kang talks about Rick's upcoming storyline with Deadline, while The Hollywood Reporter announces Season 9 will debut on Oct. 7. Plus, USA Today talks about Andrew Lincoln leaving the show. Read on for more:
• Angela Kang shares with Deadline that "we've got a great story for Rick. He is in a place where he made this unexpected decision at the end of last season to let Negan live, and we'll now see what is the next phase of things for him."
• The Hollywood Reporter announces that Season 9 will debut Oct. 7 at 9 p.m.
• Reporting that Andrew Lincoln is leaving the show, USA Today quotes the actor saying, "This will be my last season playing the role of Rick Grimes. I love this show. It means everything to me. I love the people who make this show."
• Digital Spy quotes Angela Kang saying that "we're telling a story about where he's [Rick] at after the incredible soul-crushing loss of his son Carl, his really surprising decision to save Negan at the end of the war and [exploring] what are the after-effects of that and how we build from that."
• Variety showcases the Season 9 trailer, which depicts Rick and the survivors "assembling infrastructure in their new society, as well as conversations with an imprisoned Negan. The trailer also showed tensions running high as supposedly reformed saviors clash with other survivors…"
• Danai Gurira explains to TV Guide that Maggie and Rick's relationship is "more fraught because it's people who love each other and it's people who want to be on the same page, but really, really aren't. It's family. It's a family feud, which is actually much in some ways scarier, and it feels much more volatile."
• Angela Kang promises Entertainment Weekly that "we're gonna show a lot of stories about leadership with Maggie, with Michonne, with Carol. And they're gonna go toe to toe with each other and with our men."
• According to Vulture, Andrew Lincoln proclaims, "My relationship with Mr. Grimes is far from over, and a large part of me will always be a machete-wielding, Stetson-wearing zombie slaying sheriff's deputy from London, England."
• Commenting on Andrew Lincoln's impending departure, Norman Reedus says, according to Parade, "We're going to see real depth this year. It's like we're shooting a Western with feeling. But you can't take Rick's place. It's impossible."
• Norman Reedus teases to Variety that a "big part of the first half of the season is Rick's been sort of blinded by this desire to build something in honor of his son and that's taking him on a destructive path not only for him but for the group in Daryl's eyes."
• /Film has an account of the show's Comic-Con panel, noting that The Walking Dead is "no longer a show about pure survival, but a show about how messy rebuilding civilization in the wake of total devastation can be."
• Samantha Morton is joining Season 9 as Alpha, the leader of the Whisperers, while Brett Butler will play a character named Tammy Rose and Dan Fogler will play a survivor named Luke, Variety reports.
• TheWrap breaks the news that Nadia Hilker has been cast as Magna — "a tough as nails survivor who has been living on the road" — in Season 9.
• Speaking with The Hollywood Reporter about adapting the comics for TV, Robert Kirkman says, "You've got this brilliant staff of writers who are coming up with new ideas and different ways to work with the material, and that's energizing to me."
• ComicBook.com quotes Angela Kang saying that Season 9 will "see some sides of Negan that we've never seen before. I mean, Jeffrey [Dean Morgan] is f—ing amazing. You know, Negan is Negan and Negan likes to stir up trouble sometimes, so we will play with those stories."
• Emily Kinney tells Glide Magazine that Season 5's "Slabtown" was physically challenging because she had to fall down an elevator shaft and "you're filming at all different angles, you're doing it over and over, and we were in these sort of braces so that we wouldn't actually be falling."
Watch Full Episodes of The Walking Dead on amc.com and AMC apps for mobile, Fire TV, XBox One, Apple TV, Roku and Chromecast.
To get full episodes, behind-the-scenes video and more, sign up for the weekly Dead Alert.
Read More