Press
TV Guide on Season 9 "Reboot"; THR's Intro to New Showrunner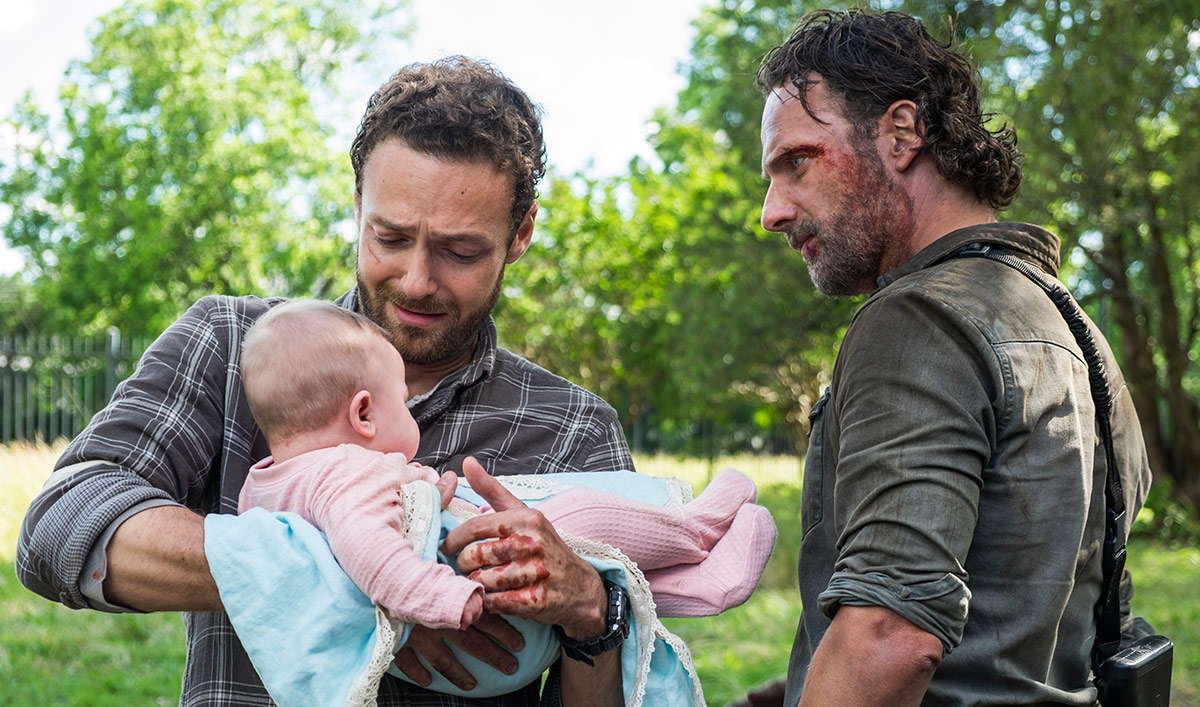 This week, TV Guide talks about The Walking Dead's Season 9 "reboot," while The Hollywood Reporter introduces the new showrunner, Angela Kang. Plus, Scott Gimple shares what Season 9 might be like. Read on for more:
• "With a new showrunner and new characters stepping into the limelight, The Walking Dead is poised to be a show more focused on creating life than destroying it," TV Guide states.
• The Hollywood Reporter shares some intel on The Walking Dead's new showrunner, Angela Kang, noting, "Kang's fingerprints are all over the recently concluded eighth season, writing or co-writing multiple episodes including the finale."
• Discussing Angela Kang taking over as showrunner, Andrew Lincoln tells ComicBook.com, "There's a renewed vigor, vitality, energy, and just vision that's happening that is reminiscent, and certainly for me, of the pilot episode."
• Characterizing Season 9 to TVLine, Scott Gimple says, "Sort of a sophistication comes into play. It's going to be a very, very different season with a very, very different drive."
• According to The Hollywood Reporter, Scott Gimple explains that Season 9 "feels like an evolved show. [The past eight seasons] very much lived in the world that Rick began with. It was so informed by the pilot. It just takes this quantum leap forward in the stories we're telling."
• Vulture speaks with Scott Gimple, who previews, "There's a great deal of ambition to the story that Angela [Kang] wants to tell, but I think that's very exciting for people, just feeling the difference."
• Scott Gimple tells TVLine that Season 9 isn't about "just regular, everyday survival, which they've become quite adept at. It's what to do with that. Now they're going after civilization."
• Pressed by The Hollywood Reporter about whether Jeffrey Dean Morgan will return as a series regular, Scott Gimple says, "I don't know if I have confirmed it elsewhere, but I think it's a damn good bet."
• TV Guide shares "what we know so far about the next 16 episodes of AMC's flagship horror drama."
• ComicBook.com reports on a tweet from Norman Reedus that read, "No, I'm not turning on brother Rick. Everyone chill."
• TVLine compliments Lauren Cohan's performance in the Season 8 Finale, noting that when Rick didn't kill Negan, Cohan "let loose a performance that was as raw and painful as a scab being torn from a Glenn-sized wound."
• Josh McDermitt shares his assessment of the Season 8 Finale with TV Insider: "I mean it's a pretty epic finale. It's a nice tie-up. It kind of brings everything together, and I think just my reaction was joy. I was happy. I'm happy to get out of the war."
• CBR.com points out that "Rick actually ensures Negan's life is spared so that he can live out his days imprisoned in Alexandria. This is done to honor Carl's last wish and unite everyone against the real threat: The ever-present walkers."
• Seth Gilliam tells Syfy Wire he'd like Tyreese and his hammer to return because "I love the character of Tyreese. I love the gentle giant. I think he faced some similar issues that Father Gabriel is facing in terms of what does it take to maintain his humanity."
• Greg Nicotero answers Entertainment Weekly's burning questions about the Season 8 Finale, including "Is that massive herd we saw and Rick referenced near the end of the episode an intentional hint of the comic book villains the Whisperers and what may be coming in season 9?"
• Andrew Lincoln talks to Entertainment Weekly about putting Rick's deputy sheriff's uniform on again: "It was mad! It was crazy! I shaved, and then dyed my hair — because it's been a while. [Laughs] They had to take out the uniform a little bit — because I've been working out so much. [Laughs]"
• Scott Gimple shares with Entertainment Weekly what was cut from the Season 8 Finale: "There was some really cool stuff with Negan at the Sanctuary sort of addressing the troops and seeing some of his own conflicts about what they're facing. There was a lovely exchange between Rick, Michonne, and Maggie that was about the future."
• In a webchat with The Guardian, David Morrissey explains that the Governor "had great depth and complexity. Not just a cardboard baddy. A lot of my inspiration for the role came from the books written by Robert Kirkman and Jay Bonansinga."
• Bloody Disgusting reports that Hallmark is offering holiday ornaments of Daryl and a zombified Merle in its 2018 collection.
Watch the latest episode now on amc.com and AMC apps for mobile, Fire TV, XBox One, Apple TV, Roku and Chromecast.
To get full episodes, behind-the-scenes video and more, sign up for the weekly Dead Alert.
Read More