Press
THR Interviews Steven Ogg; EW on Andrew Lincoln's Finale Thoughts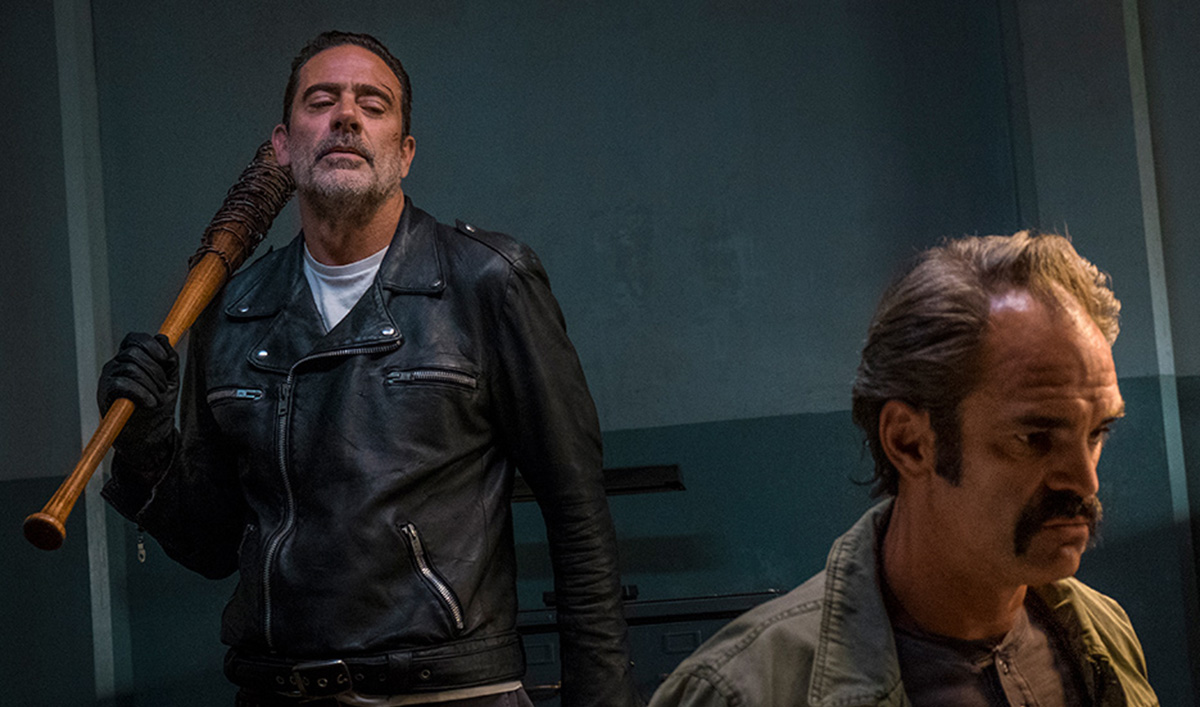 This week, The Hollywood Reporter interviews Steven Ogg about Simon's demise, while Entertainment Weekly gets Andrew Lincoln's thoughts on the Season 8 Finale. Plus, EW has a finale preview. Read on for more:
• Interviewed by The Hollywood Reporter about Simon's death at Negan's hands, Steven Ogg says, "Jeffrey [Dean Morgan] really sold it, choking me out. He went for it. That was one of the most psychotic moments we've ever seen Negan in."
• Andrew Lincoln shares his thoughts on the Season 8 Finale with Entertainment Weekly: "I would say this is a smorgasbord. I think you've got everything in this one. It's quite an unusual structure, but it's very emotional, I hope, because that's what I felt [while filming]. It's epic."
• Entertainment Weekly spotlights a Season 8 Finale preview video, where "we see the Saviors preparing to go to war."
• TV Guide focuses on Carl's letter to Rick, calling it "a heartfelt vision of the future, wherein Carl makes the case that Rick can help provide a sense of safety and normalcy for the people from the Kingdom, Hilltop and even the Sanctuary because they all deserve it."
• Meanwhile, The Hollywood Reporter also has Carl's letter to Negan, as "transcribed from Michonne's recitation."
• Steven Ogg tells ComicBook.com that Simon "all of the sudden, he became this right hand man."
• Den of Geek decides to "reminisce about a handful of The Walking Dead's most memorable and shocking character deaths right from day one."
• Discussing Jadis and Rick's relationship, Pollyanna McIntosh tells Insider, "I think it's about more than just an attraction. I think there's more going on here and all will be revealed."
• Sonequa Martin-Green tells Essence about how much she admired Sasha's story arc: "I came onto the show [with] Sasha very closed off, very pragmatic, very rough with this really thick barrier. I wasn't open for connection. Then I got broken down in the best way by these people in my circle, by love and romance."
• CBR.com reports that the "most memorable one-liners of The Walking Dead's most infamous villain will be collected in The Quotable Negan, an upcoming book by series creator Robert Kirkman."
• For recaps and reviews of Season 8, Episode 15, "Worth," check out Deadline, Entertainment Weekly, GoldDerby, Insider, MarketWatch, The New York Times, Rolling Stone, Rotten Tomatoes, TVLine and Us Weekly.
Watch Season 8, Episode 15, "Worth," on amc.com and AMC apps for mobile, Fire TV, XBox One, Apple TV, Roku and Chromecast.
To stay up-to-date on all the latest news about The Walking Dead, sign up for the weekly Dead Alert.
Read More