Q&A
(SPOILERS) The Walking Dead Q&A — Pollyanna McIntosh (Jadis)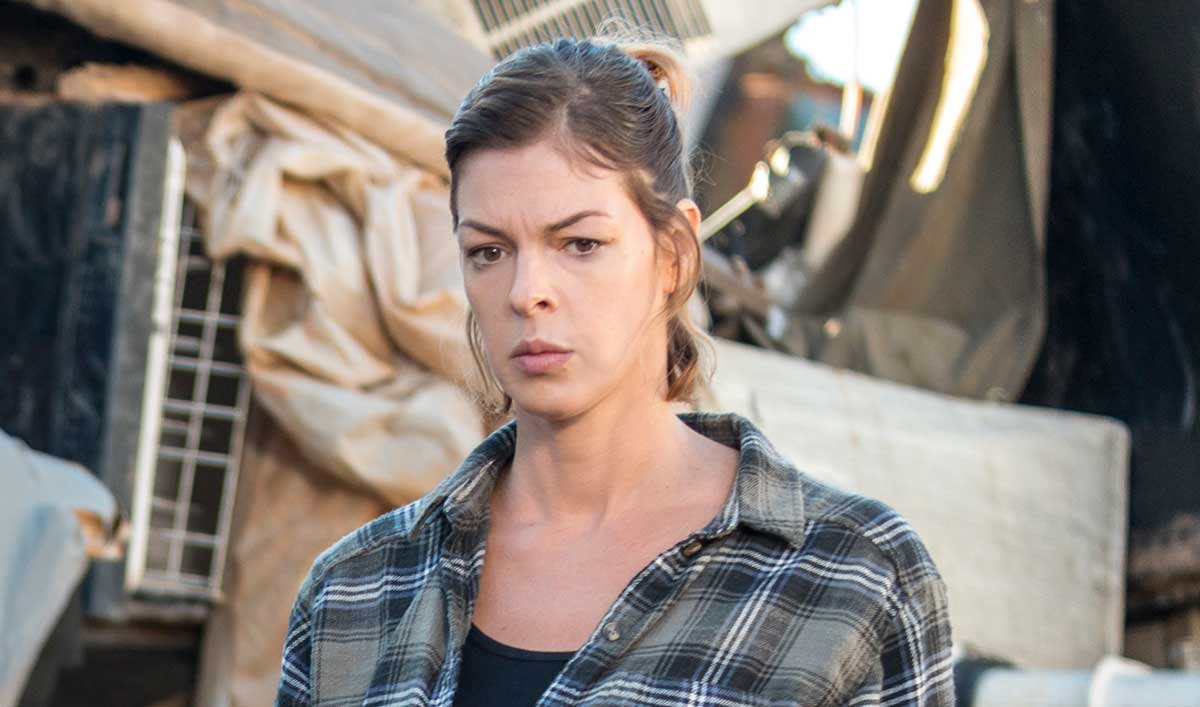 Pollyanna McIntosh, who plays Jadis on AMC's The Walking Dead, talks about holding Lucille and how her character uncovers Negan's vulnerable side. 
Q: We're seeing a more vulnerable side of Jadis, given what she's been put through. How did you enjoy pulling back those layers of her tough exterior?
A: It's just a dream for an actor to get to go from one place to the other and to get a chance to really reveal what's underneath a character. It was all very emotional for me, to be honest. Even watching Episode 10 and seeing all my people get lost in that way was really heartbreaking. It's weird because you forget how much of the character's pain you hold inside of you. It's a strange joy, but that's what we live for – to really convey those emotions on screen.
Q: When you're stripped of everything in this world, is that a dangerous mindset to be in? What's keeping her grounded now?
A: It's a question that's still open at this point. There's a perceived strength in revenge and retribution. I think we've all felt that when anger overtakes and seems to give you some kind of strength because the upset is not a favorite emotion. Sometimes it's easier to feel anger and put that into something that feels productive, like revenge, than to just feel the incredible pain and loss. As Jadis is trying to get that strength back through revenge and give Negan that comeuppance for it, she's forced to reckon with the pain and the loss because of his sharing of his own. She's at a lost point. She doesn't know what to do or how to go forward.
In Episode 10, she decides to take care of her people in this practical but smart and disgusting way. [Laughs] It's a testament to her mind. Even in this place of incredible loss, she can still create and still figure out this way to do them justice and stop them from becoming what everyone in this world hates and fears becoming.
Q: What was it like acting in such a sentimental scene with Jeffrey Dean Morgan in Episode 14? Did it humanize his character a bit?
A: It's a bit of a crazy turnaround. It was such a crazy scene and Jeffrey kept going, "What the hell is going on?!" [Laughs] As the character in the moment, I'm forced to see his humanity and reckon with our similarities rather than our differences. I don't think he'll be her best pal or anything, but it was certainly the first time she'd ever seen any heart in him. After Carl's death, a lot of people were talking about Negan's humanity in that moment as well. It's all very intriguing.
Q: Were you aware of the Lucille backstory or did it come to you as a surprise just like it did for Jadis?
A: I knew that B.B. King named his guitar Lucille and I knew that the bat was based on that – that was my understanding of it – so it wasn't a surprise to me, but it was the first time I put that information together with the man in front of me. That was very new. To imagine Negan with a wife in the real world… That must have been a hell of a woman! [Laughs]
Q: Did you enjoy your time holding Lucille?
A: I don't tease Jeffrey. I teased Andy [Lincoln] about wearing his boots, but even then, it was only a little bit because I know how attached you get to things of your characters… Those boots have gone on for eight seasons. Wardrobe was constantly repairing them and he just would not let them die. I thought, "If they fall apart on my feet, he's going to kill me!" With Jeffrey, no. I would not. I ain't going to mess with that!
Q: Did you expect Jadis to let him go? Does she trust that he will make things right?
A: These are extreme circumstances. Jadis found herself, to her own surprise, letting that go… It isn't even revenge because he didn't even do it. She can just let it go and hope that will feel better – and that's what you're looking for, isn't it? You're looking for peace and release and relief from what you're feeling already… I don't know if she trusts he'll make it right or if she even cares because of the feeling of futility of the whole thing. I don't know that the guarantee of Simon getting punished is the most important thing. In Jadis's mind, Negan is easy to read and I think she believes him. He's probably pissed off enough at this point to make it right anyway. Perhaps, going forward, maybe Negan now owes her something and isn't that a handy position to be in?
Q: Jadis shows off a new pet walker in this episode. Any behind-the-scenes bits you can share about it?
A: It was really gnarly. I'm so grateful that Greg [Nicotero] and his team still surprise audiences because it's been a long time and they are just killing it – literally! [Laughs] That creature attached to the cart did feel very visceral. With these prosthetics, you can tell that the feel of it is fleshy and you could see the metal through it. It was also a real bugger to push around in that muddy ground. We had wires to keep it from getting too close to Jeffrey, so everything had to be precise. It felt like another character. It was incredibly made and it was moving as an animatronic. Greg is so passionate and it's wonderful to watch him work and bring such incredible gore. I love these new weaponized and mechanized zombies. It's a whole new world.
Read an interview with Melissa McBride, who plays Carol.
The Walking Dead airs Sundays at 9/8c. Click here to add a reminder to your calendar.
Watch full episodes of The Walking Dead on amc.com and AMC apps for mobile, Fire TV, Xbox One, Apple TV, Roku and Chromecast.
To get more exclusive interviews with the cast, sign up for the weekly Dead Alert.
Read More