Press
Scott Gimple Talks Seasons 8 vs. 9 With THR; Vulture on Rick's Negan Plan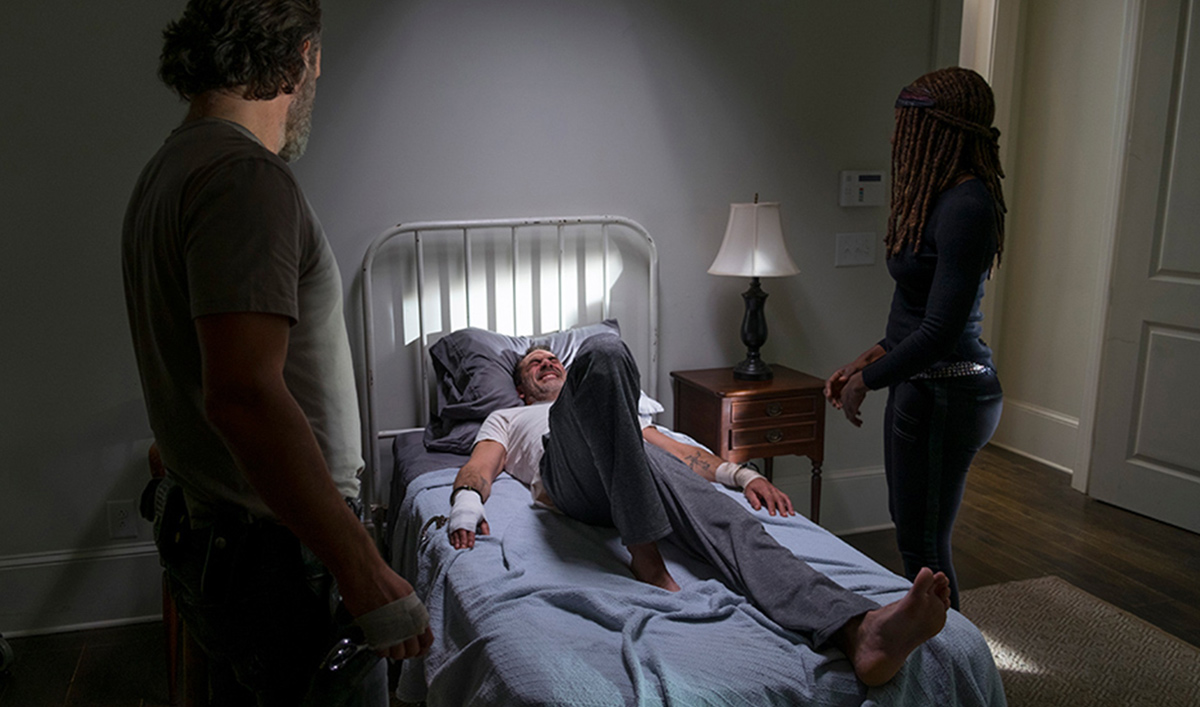 This week, Scott Gimple talks about the differences between Seasons 8 and 9 with The Hollywood Reporter, while Vulture examines Rick's plan for Negan. Plus, ComicBook.com gets Austin Amelio's thoughts on Dwight. Read on for more:
• The Hollywood Reporter interviews Scott Gimple, who says, "We knew for a long time that this season was, in many ways, the end of a chapter of the show. The differences that people will be seeing in Season 9 and beyond are going to be pronounced."
• Scott Gimple, talking about the new showrunner, Angela Kang, promises Variety, "The newness of the narrative is driven by her vision. She's putting different things forward that we haven't seen before. And she's also been working on the show since Season 2, so she knows it inside and out."
• Discussing the Season 8 Finale, Scott Gimple tells Deadline, "The conclusions for pretty much all the characters have played out and the weight of really eight seasons was on it."
• Vulture explains Rick's plan for Negan, that "Negan will spend the rest of his life in a cell, a living symbol of the savage life they're leaving behind for good."
• ComicBook.com speaks with Austin Amelio, who says Dwight "would really like to see Negan die. I think with everything, he would like to see that dude go. That guy just tortures him, mentally, physically, emotionally, spiritually."
• Bustle opines that Eugene "somehow provides the biggest surprise — and the biggest redemption arc" in the Season 8 Finale.
• ComicBook.com highlights how The Walking Dead "revealed Jadis' real name in the midst of all of its narrative threads wrapping up in the Season Eight Finale's final moments."
• Variety writes about how The Walking Dead "has emerged as a prime showcase for television craftspeople who still use old-school techniques — including the sculptors, painters, designers and other artists responsible for its award-winning makeup and effects."
• Insider points out which stars of The Walking Dead "received their big break on the AMC show."
• ComicBook.com shares that McFarlane Toys will introduce a new line of The Walking Dead figures that includes a 7-inch Maggie.
• For recaps and reviews of the Season 8 Finale, "Wrath," check out CBR.com, Chicago Tribune, Deadline, Empire, E! Online, Geeks of Doom, GoldDerby, Insider, MarketWatch, The New York Times, TV Fanatic, TV Guide, TVLine, USA Today, Us Weekly and Vanity Fair.
Watch Season 8, Episode 16, "Wrath," on amc.com and AMC apps for mobile, Fire TV, XBox One, Apple TV, Roku and Chromecast.
To stay up-to-date on all the latest news about The Walking Dead, sign up for the weekly Dead Alert.
Read More