Press
Norman Reedus Teases Season Finale to EW; THR on Carol's Story Parallels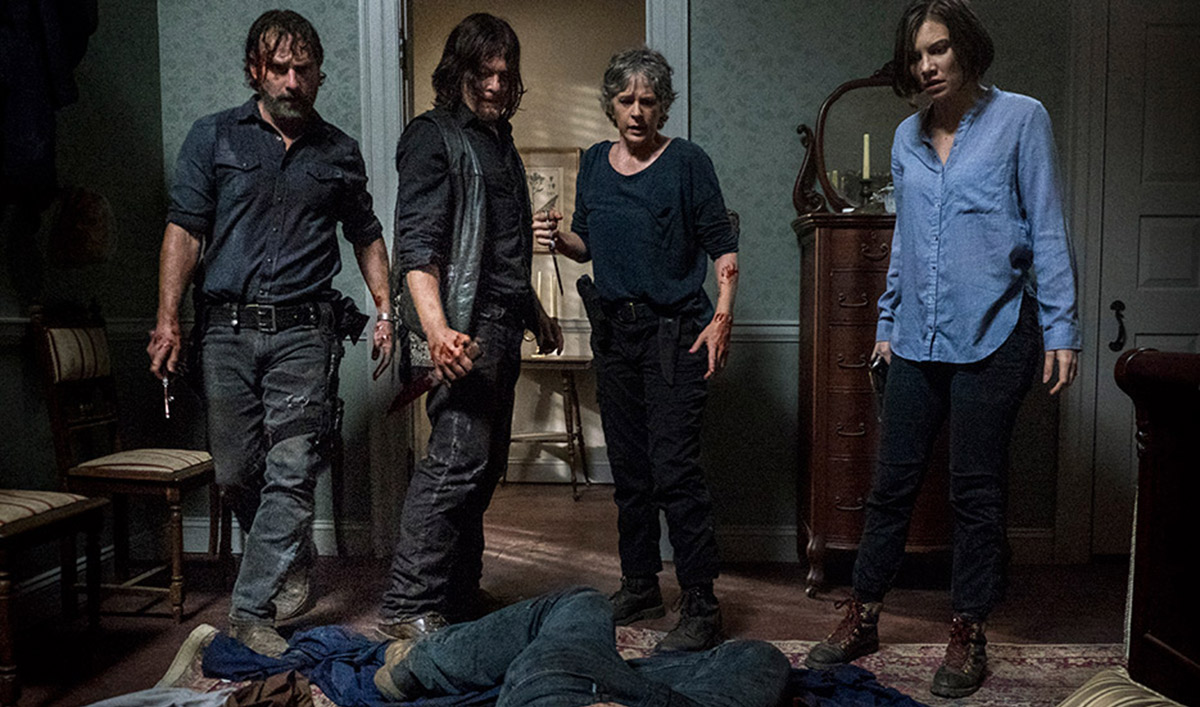 This week, Norman Reedus drops Season 8 Finale hints to Entertainment Weekly, while The Hollywood Reporter looks at the parallels between two Carol storylines. Plus, EW speaks with Jason Douglas about Tobin's death. Read on for more:
• Norman Reedus shares what intel he can about the Season 8 Finale to Entertainment Weekly, saying, "There are probably four, maybe five, different directions that the show could've ended on and it went in all of them. It's very satisfying."
• The Hollywood Reporter lists how the "story between Carol and Henry mirrors the story between Carol and Sophia in some alarming ways."
• Entertainment Weekly interviews Jason Douglas, who talks about Tobin's death, saying he was pleased that "the writers thought enough of Tobin to say, let's not just off him in kind of a forgettable way, but let's really make it memorable — I don't think I could have asked for a better ending for my character on the show."
• Scott Gimple promises to TVLine that the Season 8 Finale will "see a resolution of the war. It might not be what people are expecting. It might not be what some of the characters even want. But it is a conclusion, and they have to deal with its aftermath."
• Melissa McBride talks to ComicBook.com about a scene in this week's episode featuring Lauren Cohan, Andrew Lincoln, Norman Reedus and her: "It did [feel like the old days] for a minute. Yeah, it did, but it was just under such horrible circumstances."
• Speaking to BBC about the gory effects he's responsible for on The Walking Dead, Greg Nicotero says, "It's almost like a magic trick. We're using misdirection, we're using sleight of hand and different things."
• ComicBook.com reports that the Season 8 Finale will have an extended running time, from 9:00 pm ET through 10:10 pm ET.
• According to Cinema Blend, Danai Gurira says that, when juggling her roles as Marvel's Okoye and The Walking Dead's Michonne, it "helps that one needs me bald and the other one needs me wigged, so it really works out."
• Heaping praise on Angela Kang, who will be The Walking Dead's showrunner starting with Season 9, Greg Nicotero tells Metro.co.uk that she's "written a lot of our great episodes and she's been with us since Season 2 so I think she's got a great voice."
• Melissa McBride tells ComicBook.com how much she'll miss Lennie James, saying, "I love his eyes are so soulful and it's always a remarkable thing to work with him. So present, always so present as Morgan."
• Speaking about the Season 8 Finale with Fandom, Greg Nicotero teases, "Our group's pretty confident in where they're headed in that episode, but the tone shifts pretty dramatically."
• For recaps and reviews of Season 8, Episode 13, "Do Not Send Us Astray," check out the Chicago Tribune, Cinema Blend, Den of Geek, Entertainment Weekly, The Guardian, Independent, Nerdist, Rolling Stone, Syfy Wire, TVLine, TVMovieFix.com and Us Weekly.
Watch Season 8, Episode 13, "Do Not Send Us Astray," on amc.com and AMC apps for mobile, Fire TV, XBox One, Apple TV, Roku and Chromecast.
To stay up-to-date on all the latest news about The Walking Dead, sign up for the weekly Dead Alert.
Read More