Press
EW's Greg Nicotero Q&A; Jayne Atkinson Talks to Insider About Georgie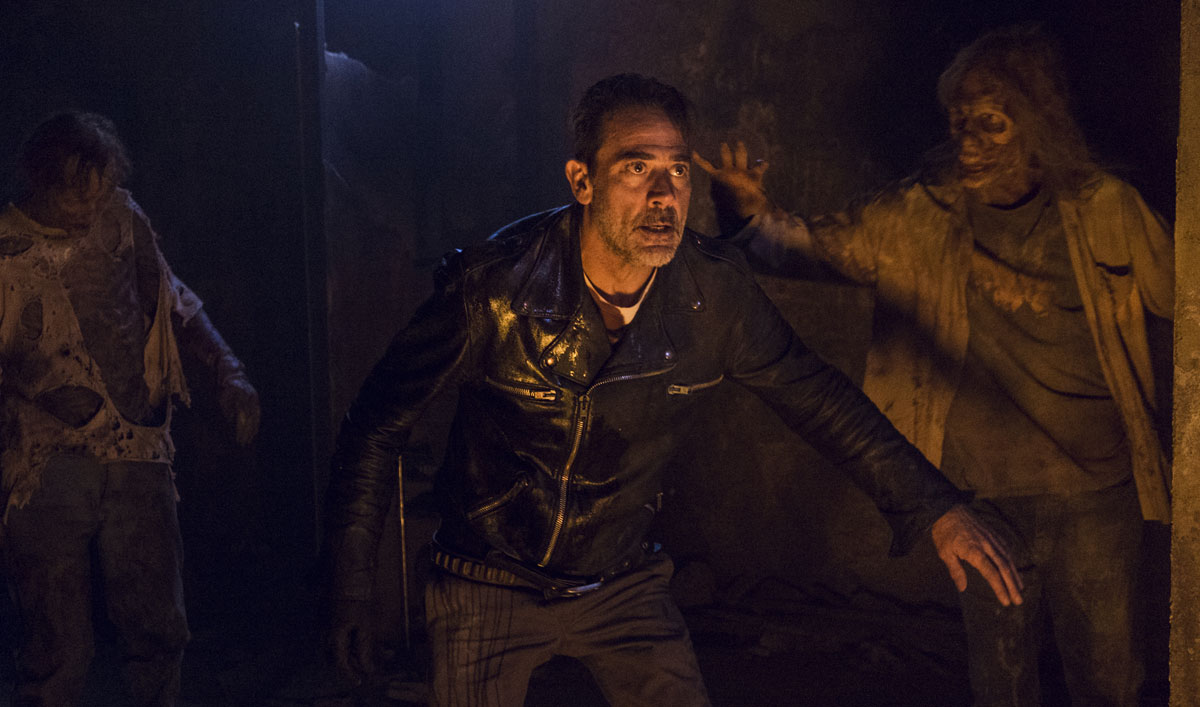 This week, Greg Nicotero does a Q&A with Entertainment Weekly, while Jayne Atkinson speaks with Insider and other publications about her role as Georgie. Plus, TV Guide writes about its favorite scene in the latest episode. Read on for more:
• Entertainment Weekly talks to Greg Nicotero, who discusses Rick and Negan's confrontation, saying, "It was a great opportunity for us to have zombies coming out of the darkness, seeing these zombies on fire, and still having these two characters fighting."
• "I believe that she is looking for where she can plant the seed of hope and I believe she chooses Hilltop very, very deliberately," Jayne Atkinson says to Insider about Georgie.
• Jayne Atkinson tells Entertainment Weekly that Georgie's "ultimate goal is, as I'm calling it, an inoculation of hope into a world that she sees has been destroyed and is barren of hope."
• CinemaBlend speaks with Jayne Atkinson, who says of Georgie, "I made decisions that wherever she's from, she is not surviving, she's thriving. She has created a world where she's from where she's safe, and she has knowledge."
• TV Guide spotlights how Rick gave Negan "a good smack with Lucille, before needing to turn his attention to the walkers filling up the room. Zombies were on fire, Rick was swinging Negan's woman around, and Negan was wondering just how crazy Rick was… it made this one of the season's better scenes."
• Scott Gimple discusses Morgan's crossover with TVLine, saying, "The story we had planned for this season very much [aligned] with the idea of Morgan going on to Fear. This is very much The Walking Dead's Morgan story. But it's just, at its conclusion, where he was at really opened the door emotionally for him to enter the world of Fear."
• TVLine reports that some movie theaters will host screenings of The Walking Dead's Season 8 Finale followed by Fear the Walking Dead's Season 4 Premiere on Apr. 15.
• ComicBook.com features a poster — depicting Rick and Madison separated by Morgan — for the double feature, which is being billed as "Survival Sunday."
• TV Guide calls Danai Gurira's role as Michonne "the ultimate training for her performance" in Black Panther and lists seven of Michonne's "standout" attacks.
• Variety reports that The Walking Dead has received seven Saturn Award nods, the most of any TV show, for Best Horror TV Series, Best Actor (Andrew Lincoln), Best Supporting Actor (Khary Payton), Best Supporting Actress (Danai Gurira and Melissa McBride), Best Performance by a Younger Actor (Chandler Riggs) and Best Guest-Starring Performance (Jeffrey Dean Morgan).
• Entertainment Weekly reports that Michael Satrazemis is "in a year-round apocalypse," in his own words, because The Walking Dead's director of photography and sometime director has joined Fear the Walking Dead as a directing-producer while continuing his duties on the original show.
• Inside Pulse interviews Seth Gilliam, who says, "It's been a great arc that the character's been on. I actually thought that he was a device to get someone else killed in the beginning, in particular I thought it would be Tyreese, coming to the priest's rescue."
• Flickering Myth spotlights a new Glenn action figure, "which is based on the likeness of Steven Yeun."
• According to ComicBook.com, Robert Kirkman, pointing out that Mexico has already appeared in Fear the Walking Dead, explains, "I wouldn't be surprised if we eventually do something internationally in the TV space."
• BuzzFeed's list of 17 unscripted moments includes when Danai Gurira "improvised an entire scene where Michonne killed a bunch of walkers. The director didn't yell cut, so she kept on going until they were all dead."
• The Hollywood News learns from Chandler Riggs that his favorite episode was Season 4's "After," the "infamous pudding episode. Just because I got a whole episode to myself where I got to delve into my character and show what he could do."
• For recaps and reviews of Season 8, Episode 12, "The Key," check out Bleeding Cool, Chicago Tribune, GoldDerby, MarketWatch, Rolling Stone, Syfy Wire, TVLine and Vulture.
Watch Season 8, Episode 12, "The Key," on amc.com and AMC apps for mobile, Fire TV, XBox One, Apple TV, Roku and Chromecast.
To stay up-to-date on all the latest news about The Walking Dead, sign up for the weekly Dead Alert.
Read More