Q&A
(SPOILERS) The Walking Dead Q&A — Chandler Riggs (Carl)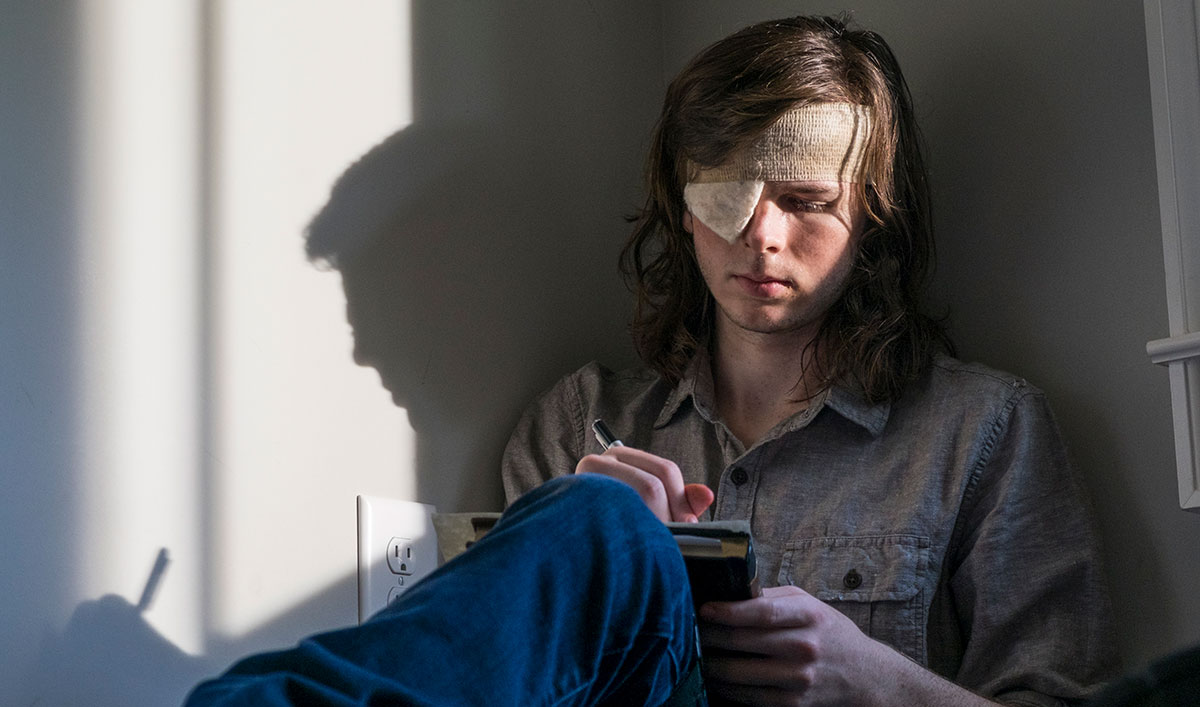 Chandler Riggs, who plays Carl Grimes on AMC's The Walking Dead, talks about spending half his life on set and saying goodbye in the Season 8 Mid-Season Premiere.
Q: How emotional was it filming Rick and Carl's extended goodbye?
A: Luckily, that was one of the first scenes we did in the episode. So, it wasn't like a weird, final goodbye kind of thing, but it was still a really heavy scene for all of us. We tried to stay lighthearted throughout it. It was a beautiful setting. It was probably the most gorgeous sets that we've had on the show, but there was ash everywhere because we actually did blow out that building! We'd be crying and when we went to blow our noses, we'd see a bunch of black coming out… I'm really happy with how that whole scene turned out. It wasn't fun to shoot, but I'm happy with the writing and how it ended.
Q: What was it like for you to say goodbye to your character after all this time?
A: I've been on the show since I was 10. Almost half of my life has been on this show. It's hard to remember what life was like before the show. Trying to adapt to life without the show is super weird as well. Saying goodbye to everyone was really hard – not just to the cast members but to the crew who have been there since the first season and who I don't know when I would see again.
Q: Anything special to commemorate your departure from the show?
A: We had one of those dead dinners and it was good. I think that was definitely less sad for me just because I had so much to look forward to. My attitude towards it definitely helped. On my last day, they gave me one of the hats Andy [Lincoln] wore in Season 1 and a shirt I wore in Season 1.
Q: Looking back, what's been your favorite episode of the show?
A: Ah, man. [Laughs] Probably 409 with the infamous pudding scene. I got to do so much in that episode. It was kind of like "my" thing and I got to really show off what I could do. That was really fun.
Q: Why was it so important that Rick know the Saviors didn't kill Carl?
A: I'd always thought that if Carl was going to die, it would be a crazy fight with gunfire and explosions and everything, but for that to happen, it would have to be the Saviors' fault – and if it was the Saviors' fault, then Rick would really want to kill Negan. Carl's goal here is not to portray Negan as the bad guy. There is a good part in Negan that Rick needs to find.
Q: What did you make of Carl's fantasy? Is it possible?
A: I honestly was super surprised to find out that it was Carl's fantasy. When we were doing the flash forward in Episode 1, I was like, "Man, this is going to be awesome!" I didn't expect it to be Carl's dream. The fantasy being Carl's, I think, makes him more of a wise and intricate character. He sees what life could be like versus Rick just killing Negan. Carl's idea is a life beyond that and a life where everyone is living happily – not just the Saviors being dead, but them being a part of Alexandria and Hilltop and joining forces to fight the common enemy and not each other.
Q: What is it like to be watching this show as a fan now?
A: It's definitely weird not knowing what's going to happen. I've always speculated with the fans about what's going to happen on the show because I just enjoy watching it. I still enjoy reading the comics. It'll be cool with this different view. I've always tried to see it from a fan's perspective, but really seeing it from this view will be exciting.
Watch full episodes of The Walking Dead on amc.com and AMC apps for mobile, Fire TV, Xbox One, Apple TV, Roku and Chromecast.
To get more exclusive interviews with the cast, sign up for the weekly Dead Alert.
Read More