Press
EW's Andrew Lincoln Q&A on Carl's Goodbye; BuzzFeed Reacts to Trailer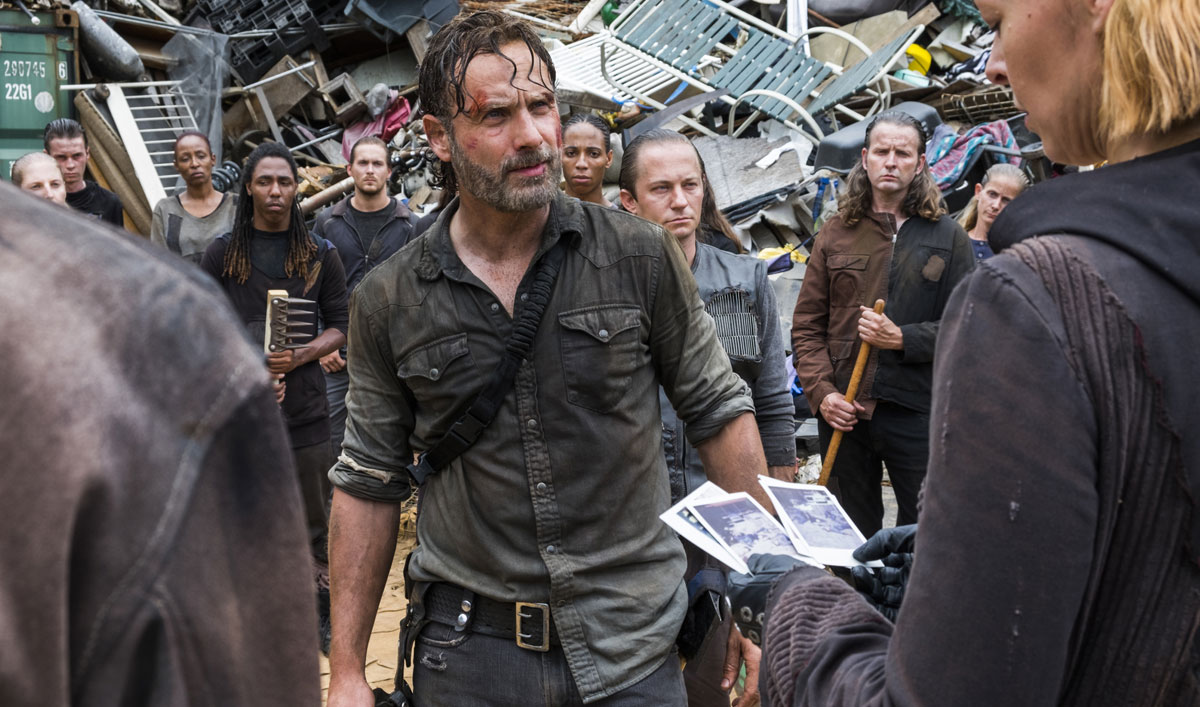 This week, Andrew Lincoln talks about Carl's farewell with Entertainment Weekly, while BuzzFeed combs through a new Season 8 trailer. Plus, TV Guide highlights Daryl's most memorable kills. Read on for more:
• Discussing Carl's farewell, Andrew Lincoln tells Entertainment Weekly, "Usually, things happen and people are ripped from you in this world that we inhabit. Thankfully, there was some sense of catharsis on this one, because we got to leave it all out on the screen."
• BuzzFeed is "finally getting a glimpse" at the second half of Season 8 with a new trailer and shares it, along with annotations.
• TV Guide spotlights Daryl's "most memorable murders and mercy-killings," including "tragically having to put down Merle to shooting an arrow into Morales' throat like it ain't no thing cuz it ain't no thing."
• TVLine checks out two photos from the Midseason Premiere, including one where Carl is seen writing a letter, and speculates that "the words that Carl chooses — being among his last if not his very last — are sure to have a profound effect on the letter's recipient."
• According to ComicBook.com, Norman Reedus, revealing he's named Daryl's crossbow, says, "Well, secretly I call it Marianne, because that's my mom's name."
• ComicBook.com reports on the synopsis for the Midseason Premiere, titled "Honor": "Rick faces new difficulties after a battle. Meanwhile, the fight continues in other communities as core members face hard decisions."
• International Business Times views another trailer for Season 8's second half that "shows some of the scenes that the fans can see as the story moves forward."
• As reported by ComicBook.com, Robert Kirkman promises viewers "there's a lot of great stuff from the comic that will be adapted into the show in Season 9 or beyond. Comic book fans might be excited about the possibility of the Whisperers showing up in the show. I'm not confirming that, but I definitely would not rule it out."
• ComicBook.com spotlights a new Season 8 poster featuring Rick and Negan that reads, "Two Teams, One last stand. Finish this fight."
• The Telegraph ranks The Walking Dead one of the most terrifying TV shows of all time, noting that it "tends to steer away from trad horror tropes, instead concentrating on twisted power games, suspenseful set-pieces and occasional bursts of manic gore-spattered violence."
• Interviewed by Australia's The Music about characters like Abraham who have died on the show, Michael Cudlitz says, "People miss us; they miss these iconic characters. They wonder how they would have dealt with what's going on now, and I think people like to play 'what if.'"
• Robert Kirkman confirms that Rick is "definitely not in a coma, I promise. Like, he'd wake up and Negan would be the plumber. He'd be like, 'Oh, you were there. It was so weird.' Yeah, that'd be awful," ComicBook.com reports.
Watch the first half of Season 8 on amc.com and AMC apps for mobile, Fire TV, XBox One, Apple TV, Roku and Chromecast.
To stay up-to-date on all the latest news about The Walking Dead, sign up for the weekly Dead Alert.
Read More