Press
EW Interviews Norman Reedus; Lennie James Talks Morgan With TV Insider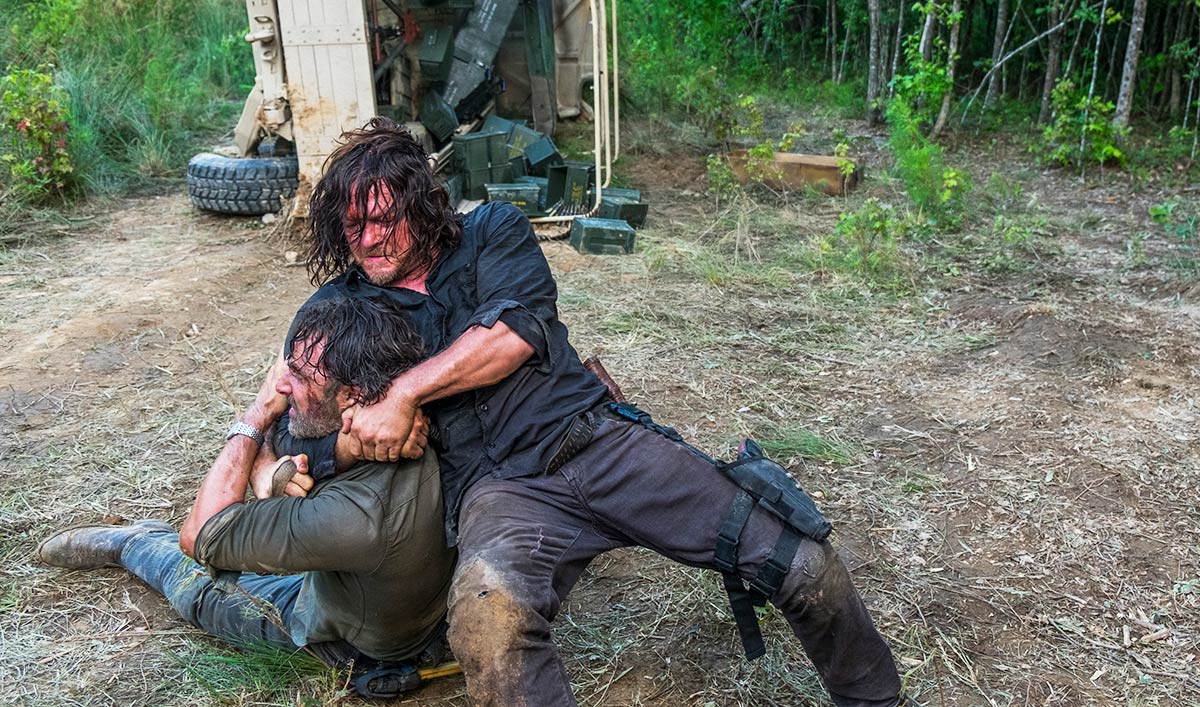 This week, Entertainment Weekly interviews Norman Reedus about his favorite upcoming storyline, while Lennie James talks Morgan's journey with TV Insider. Plus, Scott Gimple previews the Midseason Premiere to TVLine. Read on for more:
• Norman Reedus tells Entertainment Weekly that his favorite storyline going forward involves Daryl and Dwight: "We all do horrible things in this world and Dwight did a bunch of crappy stuff and Daryl gets it, and Daryl knows that Dwight's operating from a place of fear."
• Although he's moving to Fear the Walking Dead, Lennie James reveals to TV Insider, "Morgan's journey, his story, hasn't finished yet on The Walking Dead. You'll see quite a bit of him in the next eight episodes—and you'll see quite a bit of Morgan and Carol."
• Scott Gimple previews the Midseason Premiere, "Honor," for TVLine, calling it "very tragic, it's very honest, and it's a very, very intimate last few hours for Carl."
• "I don't know, there's something in the air, that I feel that it's not quite the end yet for Rick and Morgan," Andrew Lincoln says to Entertainment Weekly while musing about Morgan crossing over to Fear the Walking Dead.
• TV Guide provides a 63-second recap because it's been "a few months since the show took a break, and while you probably remember how in the final moments of the Midseason Finale Carl revealed that he had been bit by a walker, you might not remember everything that came before that."
• Greg Nicotero promises Entertainment Weekly that there's an upcoming episode "where we did our first fully nude walker. We've never done that before."
• Tom Payne tells TV Guide, "I always thought that Carl was the future of the show. It's kind of a story told through his eyes — which is what's happening in how the storyline is playing out now."
• HuffPost interviews Danai Gurira, who says, "I adore Chandler [Riggs], and [for] Michonne, Carl is her healer. Everything she and Rick do is to protect Carl, so this is kind of the worst nightmare realized for him to reveal [the bite] at the end of the last episode."
• Reviewing the Midseason Premiere, "Honor," Den of Geek calls it "emotional, packed with action and some particularly gory bits, and a few interesting twists that will undoubtedly keep fans talking until the Season Finale."
• CinemaBlend declares that the Midseason Premiere "successfully incorporated many elements that The Walking Dead generally excels at."
• ComicBook.com showcases two new Season 8 posters, one that "calls for Rick Grimes to finally "Kill Negan" and another depicting Negan "with 'Kill Rick' stamped across his face."
• ComicBook.com calls Negan "one of the most talked about characters on television, in part because of how he talks" and highlights his seven best lines.
Watch the first half of Season 8 on amc.com and AMC apps for mobile, Fire TV, XBox One, Apple TV, Roku and Chromecast.
The Walking Dead returns Sunday, February 25 at 9/8c. Click here to add the premiere to your calendar.
To stay up-to-date on all the latest news about The Walking Dead, sign up for the weekly Dead Alert.
Read More