Press
ET on Carl's Shocking Death; The Guardian Lauds Season 8 Episode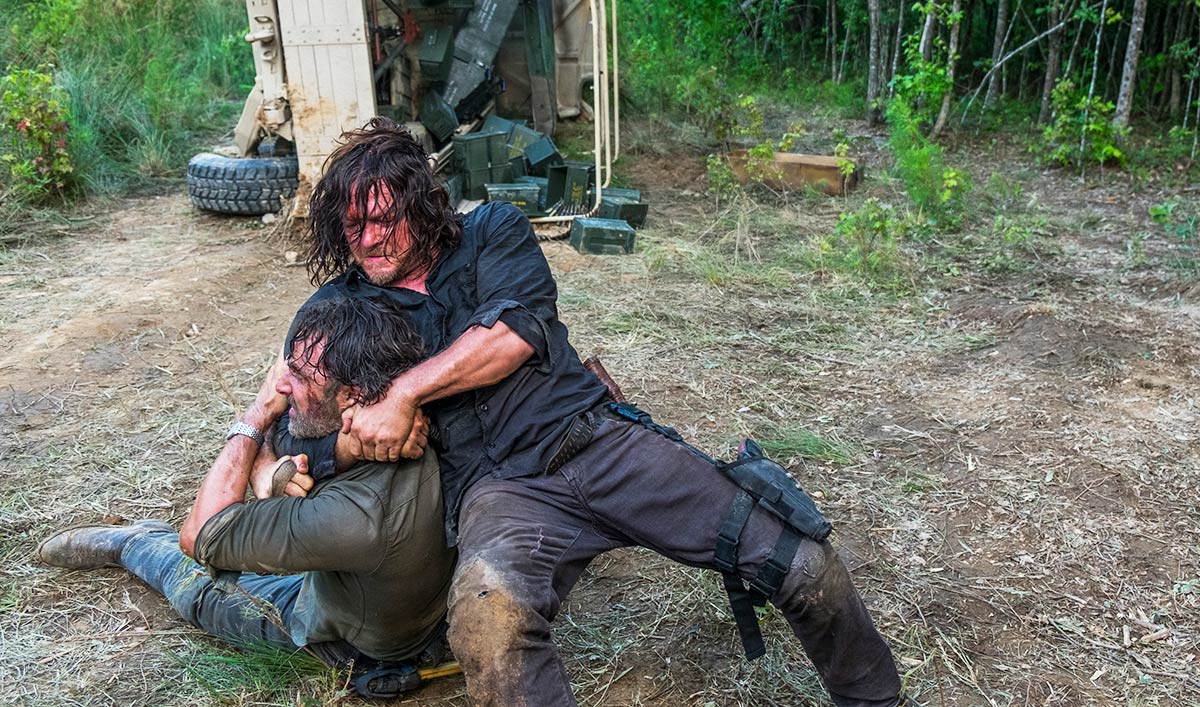 This week, Entertainment Tonight calls Carl's death one of the year's most shocking TV twists, while The Guardian is a fan of a Season 8 episode. Plus, Scott Wilson (Hershel Greene) discusses the show with the Atlanta Journal Constitution. Read on for more:
• Entertainment Tonight chooses Carl's death as one of 2017's most shocking TV twists, calling it "a sad moment for fans, leading many to wonder how Carl's comic storylines will be handled in the series. We thought Carl was untouchable, but we were wrong. You got us!"
• The Guardian names Season 8's "Some Guy" one of the year's best TV episodes: "A crash-bang-wallop of an episode that shocked the show back into action and saw the end of another beloved character."
• Scott Wilson tells the Atlanta Journal Constitution, "A lot of The Walking Dead shows were shot more or less like a Western, particularly the first episode I was in. Other episodes were shot with that Western scope, that Western feel."
• ComicBook.com announces that The Walking Dead is nominated for the ComicBook.com Golden Issue Awards in these categories: Best TV Actor (Lennie James), Best Villain (Jeffrey Dean Morgan's Negan), Most Tragic Death (Shiva and Sasha) and Best Episode (Season 7's "Bury Me Here").
• Adweek says The Walking Dead was 2017's most-watched shows for the year among 18- to 49-year-olds, according to Nielsen's live-plus-7 stats.
• ComicBook.com reports, "To celebrate the upcoming season, The Walking Dead's official Twitter account shared [a] new poster that mashed up Negan with Jim Carrey's version of The Grinch. The resemblance between the two is uncanny, to say the least."
• Digital Spy has "questions and plot points left dangling by the Midseason Finale, so we've rounded them up and offered some theories for your reading pleasure."
• Waxing nostalgic, ComicBook.com writes, "Carl's looming demise has us looking back at the one-eyed teen's top ten scenes."
• In a similar vein, ComicBook.com honors Steven Yeun by "recalling Glenn's five best moments in the zombie apocalypse."
• Dread Central notes how "several characters from Sesame Street have been zombified, resulting in images that will no doubt make some of you laugh while others might be horrified at what their childhood characters have gone through."
Watch the first half of Season 8 on amc.com and AMC apps for mobile, Fire TV, XBox One, Apple TV, Roku and Chromecast.
To stay up-to-date on all the latest news about The Walking Dead, sign up for the weekly Dead Alert.
Read More