Q&A
(SPOILERS) The Walking Dead Q&A — Tom Payne (Jesus)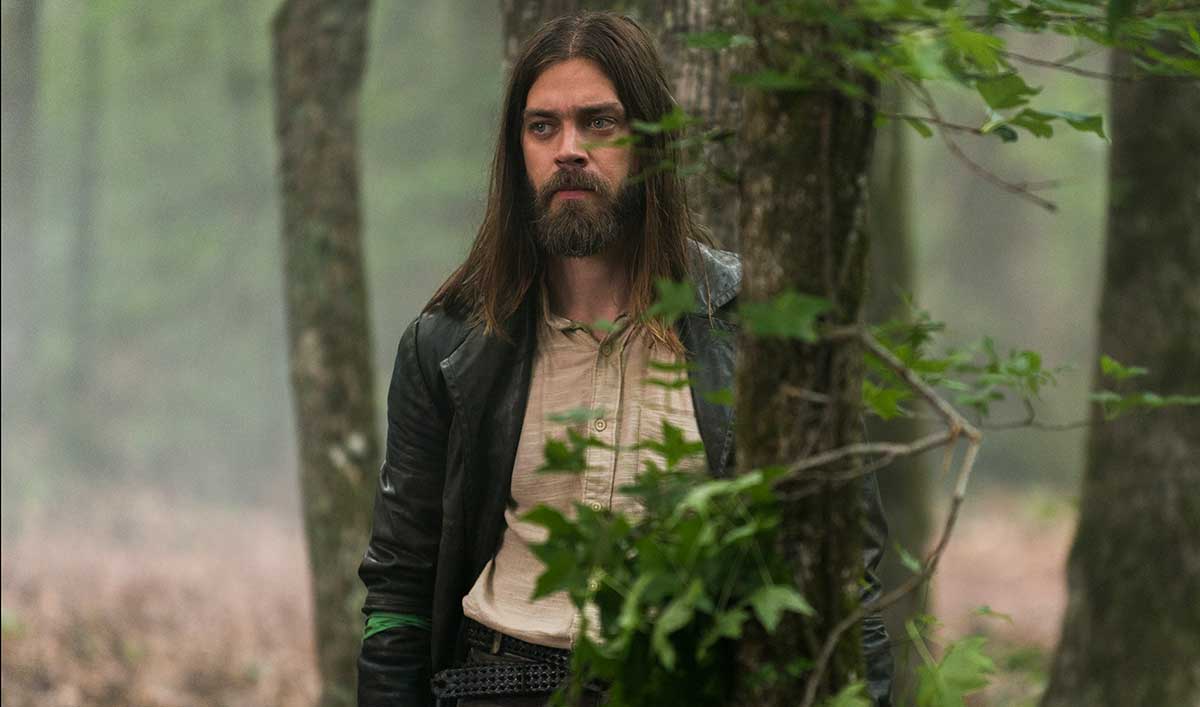 Tom Payne, who plays Jesus on AMC's The Walking Dead, talks about how big the world really is, navigating his character's moral compass and squaring off against Morgan (Lennie James). 
Q: Do you ever think back to Jesus's introduction to the show and his introduction of this bigger world? Did he even know it was this big?
A: I don't think he knew the size of the Saviors. When Rick group arrives and says, "Hey we can take care of this problem," Jesus is like, "OK sure!" He didn't know how big Rick's group was or how powerful they were, so he let them get into that. That was the beginning of where we are now. I don't think he feels responsibility. He's certainly the one that opened up the rest of the world to everyone, but I don't think he was aware – just like Rick's group wasn't aware – that this was the beginning of a much bigger deal.
Q: It was Jesus that advocated for building a relationship with the Alexandrians. Are there any regrets over this decision given where his community is now?
A: I don't think there are any regrets. His job at the Hilltop was to find different communities and to go out and make those connections. It worked for a while. It worked with the Kingdom. That's what he still stands for. It's been sidetracked with the Saviors, but he's always looking towards a better future. Things aren't always going to go the way you want them to go and this is a particularly dark path that the story's gone down, but his vision for the future is more communities working together.
Q: How would you describe Jesus's moral compass amid this all-out war against the Saviors? What about compared to Maggie?
A: Jesus has been tested a lot this season. He's testing himself. He decided to get involved and be a part of the group and bring his voice to the group. He hasn't really been a loud voice at the Hilltop, but he saw an opportunity with Maggie and some kind of connection there to help out. I think he recognizes how much she's been through. He doesn't want her to damage herself further, so I think he's there to try and stop things from getting even darker – if that's even possible. With the Saviors, there's a chance for redemption and a chance to be the better person in the situation. Once everyone starts killing everyone else, it's very difficult to judge who's on the right side of the argument. In bringing the prisoners back to the Hilltop, he gives Maggie a chance to take a higher ground and make a better moral choice… All he can do is appeal to her conscience. It's a scary thing. On set, when I stood in front of all those guys even as Tom, I realized, "Wow. This is a lot of people. This is a big decision. This has the potential to go wrong," but he's going to stick up for what he believes is right.
Q: How did his "We have to make sure what's left is worth what we've lost" line land on you?
A: He's definitely appealing to Maggie's sense of right and wrong in that instance. As it stands, he hasn't really lost anyone in the way that Maggie has. So, that's quite a manipulative line in a sense, but he's not using it to be manipulative. It's very true. Is this worth it? Is this just a complete massacre? You need to have achieved something more than killing people.
Q: What's it like for Jesus to have Gregory at the Hilltop? Is he wary of Gregory's true stance given some of his recent decisions?
A: Gregory has always been an annoyance. He can't even do the wrong thing right. [Laughs] I think Jesus feels a little bit sorry for him because he knows Gregory is just so scared. He's a weasel because of that and will do what he has to. He's leaving Gregory up to Maggie and the prison is the best place for him. He doesn't deserve to die. He needs to understand that we need to all be working together.
Q: What was it like filming those fight scenes against Lennie James in Episode 3? You guys didn't use stunt doubles!
A: It was very tiring! I'm used to filming and doing stuff over and over, but nothing quite as physical as that. That was a new feeling of aches and pains, but it was very, very cool. We trained hard and I was really excited. To be able to do that and to do it with Lennie was really fun because he's another character who knows what he's doing. All the fights end up being quite scrappy, so it's new and interesting to have two characters who know what they're doing. My character's not trying to hurt him. It's more Morgan attacking Jesus and Jesus doing the least he can to keep the situation under control. When Morgan puts the stick to his throat, I didn't realize quite how close the stick was. I watched it and was like, "Holy crap!" Actually, I haven't spoken to Lennie about that yet! [Laughs] There's some really good behind-the-scenes footage… and you can see how much we got into it.
Read a Q&A with Seth Gilliam, who plays Gabriel.
Watch full episodes of The Walking Dead on amc.com and AMC apps for mobile, Fire TV, Xbox One, Apple TV, Roku and Chromecast.
To get more exclusive interviews with the cast, sign up for the weekly Dead Alert.
Read More