Q&A
(SPOILERS) The Walking Dead Q&A — Seth Gilliam (Gabriel)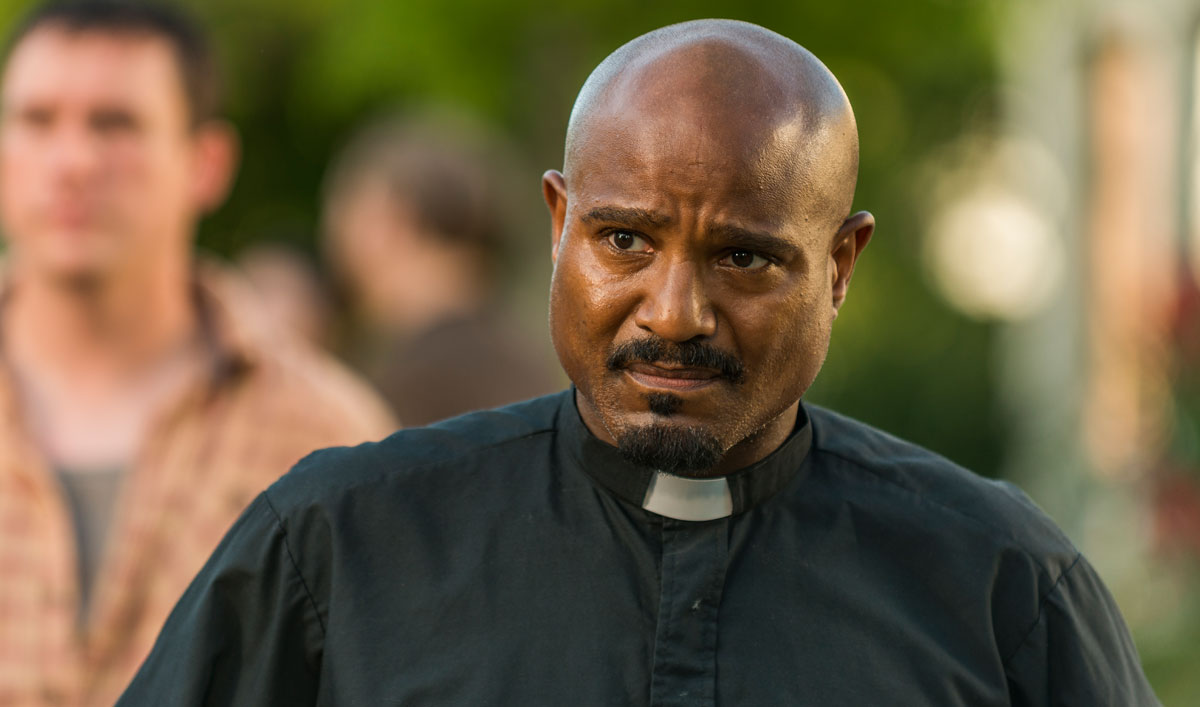 Seth Gilliam, who plays Father Gabriel on AMC's The Walking Dead, talks about his character's moral compass, being trapped with Negan and smearing guts on himself yet again.
Q: Gabriel ends up trapped with Negan after trying to save Gregory. Is his moral compass an asset or a hindrance in this world?
A: I admire his ability to try to still find the good in this world. I think the moment that Father Gabriel loses that, we've kind of lost him as a character.
Q: Has Gabriel been looking for a purpose throughout his journey? Has he found it in taking Negan's confession?
A: That's what's driving him now and is exactly why he's still alive — what is the point of the life he's got left? I think trying to take Negan's confession is more of a way in which he feels like he's got some purpose. If he's going to die in that moment, then one more soul can possibly be saved.
Q: Was hearing some of Negan's emotional backstory as new to you as an actor as it is for Gabriel?
A: Yes, it was. I don't read the comics, so I don't know what his backstory is… I didn't have any idea what it was or what motivates him as a character. I thought Jeffrey [Dean Morgan]'s playing of it was beautiful. I think it's important to be able to see this is a multifaceted character. He's not just some kind of cardboard cutout villain. Once you get to see what people's motivations are and once you can see a little bit more of their humanity, it's hard to hate them. And that's one of the things Father Gabriel is able to do — draw a little bit of humanity out whereas other characters haven't been able to do that so far in the story.
Q: Negan, of all people, condemns Gabriel for locking his congregation out of his church. How did that land on you given Negan's history?  
A: [Laughs] I thought it was a little cheeky, but I also thought it was kind of a funny moment. I had a blast working with Jeffrey! He keeps things very light. He keeps it moving pretty fast. He's exceedingly charming and he's very gracious and giving as an actor.
Q: Does smearing guts on yourself to travel through a herd get any easier? Is it almost like a rite of passage on this show?
A: [Laughs] I think it is kind of a rite of passage, but I don't know that it gets any easier. It is really, really gross. They bring out a bucket of guts for us to grab into and it's just the nastiest thing — the consistency, the vicious liquid — it's just really gross, man. It's not something I ever want to actually get used to. And it was a lot of guts. They went a little crazy with it. I felt about 30 pounds heavier.
Q: What's it like for someone like Gabriel to see how Negan's men serve him at the Sanctuary and thank God he's around?
A: I think it's horrifying for Gabriel to see the level of commitment that the people have to Negan and the way they hold him up as some kind of deity. It's a horrible moment for Gabriel.
Q: Gabriel and Negan ultimately save each other's lives, so how would you describe their dynamic at this point?
A:  I think it's pretty cool that at one point, each guy saves the other guy. It's like some kind of bizarre Batman and Robin kind of a thing. It's pretty cool. Since Negan is yielding Lucille, I think he'd have to be Batman in this situation.
Read a Q&A with Khary Payton, who plays King Ezekiel.
Watch full episodes of The Walking Dead on amc.com and AMC apps for mobile, Fire TV, Xbox One, Apple TV, Roku and Chromecast.
To get more exclusive interviews with the cast, sign up for the weekly Dead Alert.
Read More