Press
Ross Marquand Talks to THR; EW Interviews Jordan Woods-Robinson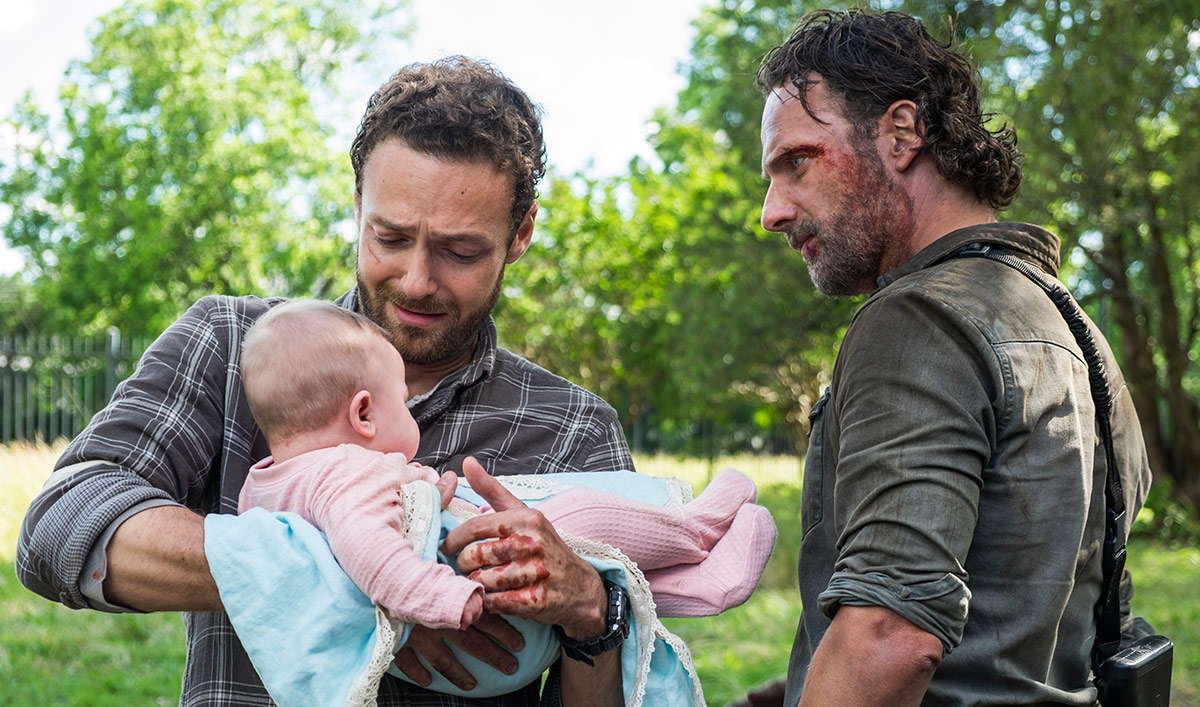 This week, Ross Marquand talks to The Hollywood Reporter about Eric's death, and Jordan Woods-Robinson discusses Eric's decision to fight with Entertainment Weekly. Plus, Greg Nicotero speaks with Newsweek about the show's ability to cross political divides. Read on for more:
• Ross Marquand opens up about Eric's death to The Hollywood Reporter, explaining, "I think it's beautiful that this death has obviously shattered him, but he won't let it define him. He's going to move past it. He's going to gain strength from his boyfriend's death."
• Entertainment Weekly interviews Jordan Woods-Robinson (Eric), who talks about why Eric decided to fight Negan: "Sasha's death for Eric was a big turning point, and then also just saying yes, I'm going to fight alongside Aaron and I am going to be there and it's going to be hard and it's going to be tough."
• Greg Nicotero tells Newsweek that The Walking Dead transcends political divides because it "asks you to contend with your own mortality, which is the one thing none of us are ever going to outsmart. You'll never trick it, you'll never figure it out, we're not gonna cure it, and there's no resolution but death."
• TV Guide speculates, "Trouble will brew between Rick and Daryl if Rick sticks to his newfound sense of mercy (which he probably will). Our favorite boys are no longer on the same page."
• Waxing lyrical about Michonne and Rick, TV Insider calls them "the beasts of the battlefield yet sweetly vulnerable in their precious moments alone."
• Entertainment Weekly reports that AMC and Lot18 are presenting The Walking Dead Wine Collection, "which features three different blends named after fan-favorite characters Rick Grimes, Daryl Dixon, and Negan."
• Cleveland.com spotlights Morgan and Jesus' fight, including AMC's "awesome behind the scenes look at the fight; including how complex Morgan's final stick move was that nearly took out Jesus' throat."
• Uproxx revisits the various places where the survivors have landed, saying that "as the survivors continue to chase their bliss in Season 8 we thought we'd look back at the near-havens and rank each based on quality of life."
• Greg Nicotero assures ComicBook.com that the quicker pace of the season's first few episodes continues, saying, "The pace stays right on par with where we start."
• Katelyn Nacon explains Enid's loyalty to Maggie and Carl to Screen Rant, saying, "I think that she's going to do anything to help them and she's going to do anything that's going to, you know, help their community prevail."
• News.com.au speaks with Katelyn Nacon, who says Enid is a good role model for young girls: "There are so many strong female characters and so many role models now. Very brave young women who won't be the damsel in distress."
• Digital Spy takes a trip down memory lane, saying, "here's what the cast looked like in their first seasons, compared to how they look now."
• UndeadWalking.com interviews Jake Kearney, who talks about fans hating him for playing a Savior who throws a grenade at Carol: "Just think that I was going to be a part of a small cliffhanger in The Walking Dead's 100th episode, made it worth the hate!"
• For recaps and reviews of Season 8, Episode 3, "Monsters," check out Atlanta Journal-Constitution, CarterMatt, ComicBook.com, Den of Geek, Forbes, Gold Derby, MarketWatch, Movie Pilot, The Telegraph, TV Insider, TVLine, Uproxx, Us Weekly and Vanity Fair.
Watch Season 8, Episode 3 on amc.com and AMC apps for mobile, Fire TV, XBox One, Apple TV, Roku and Chromecast. Watch Season 8, Episode 3 of Talking Dead.
To stay up-to-date on all the latest news about The Walking Dead, sign up for the weekly Dead Alert.
Read More