Press
Norman Reedus Talks Brawling With EW; THR Interviews Seth Gilliam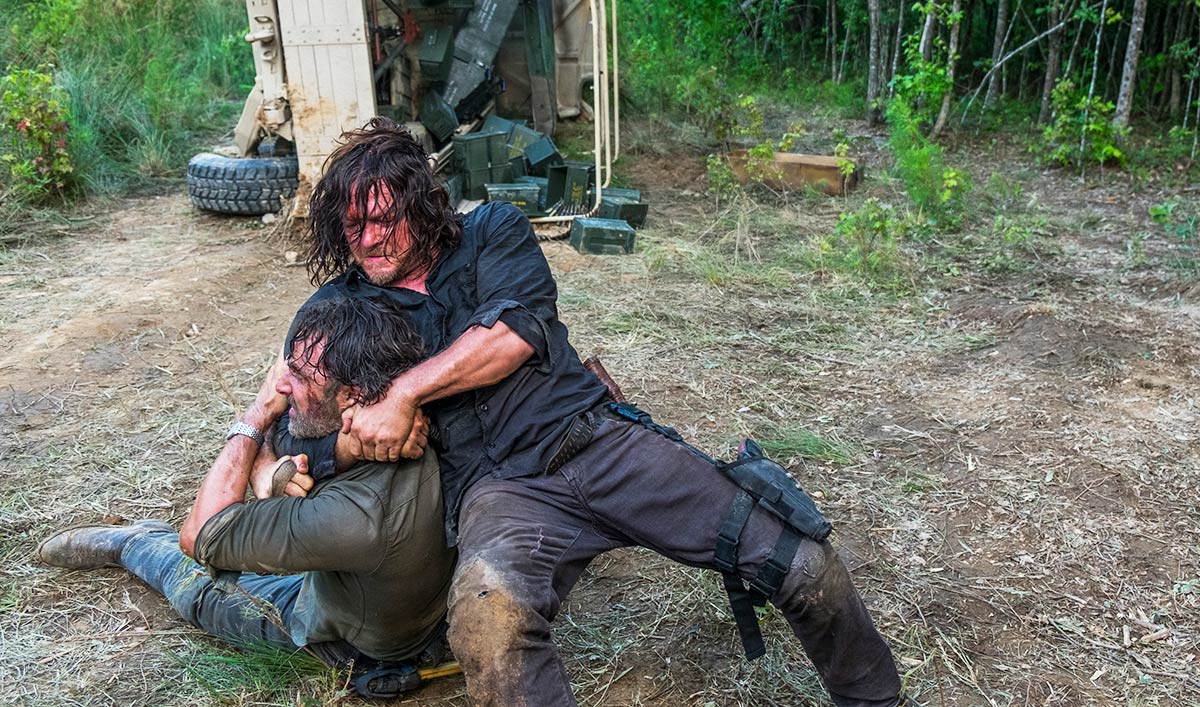 This week, Norman Reedus talks brawling with Andrew Lincoln with Entertainment Weekly, while The Hollywood Reporter asks Seth Gilliam about Father Gabriel's fate. Plus, TV Guide discusses Rick and Michonne's relationship. Read on for more:
• Discussing Daryl and Rick's brawl, Norman Reedus tells Entertainment Weekly, "I love in that episode there's that one scene after the fact, and we're both kind of talking to each other, barely, but not looking at each other, and I love that scene. That's one of my favorites."
• Asked by The Hollywood Reporter about what's next for Father Gabriel, Seth Gilliam replies, "It's a journey of self-discovery. That's about as much as I can say without ruining it."
• Yahoo interviews Seth Gilliam, who says, "I [initially] thought that Father Gabriel would be gone after two or three episodes; I thought that he really was gonna be a device to get someone else killed, that someone with his makeup would not be able to survive in this world."
• Seth Gilliam teases to Insider that Father Gabriel "definitely looks feverish. It's one of those things that we'll have to see how it plays out."
• TV Guide comments, "The Walking Dead's best lover-fighter duo Rick (Andrew Lincoln) Michonne (Danai Gurira) swiftly come to mind when thinking about unshakable bonds, because there are, 4,862 images of them back-to-back, taking on the cruel world."
• TVLine applauds, "It doesn't get a whole lot rawer or more heart-rending than the work that Khary Payton did in The Walking Dead's 'Some Guy.'"
• Discussing The Walking Dead with A.V. Club, Jon Bernthal says the show was "a total group effort. Nobody knew what it was going to be. I think Andy Lincoln, he's the best leading actor I've ever worked under. He's got unbelievable work ethic and drive and kindness and graciousness. I learned a ton from him."
• Atlanta Magazine recommends visiting Senoia, Ga. for the Touring Dead Walking Tour: "You'll travel the streets of Woodbury, visit the gate at Alexandria, and maybe even meet Rick, Carl, or Negan (or maybe just a drooling, decomposing extra)."
• ComicBook.com reports that Jon Bernthal, "who plays the Marvel Cinematic Universe's Frank Castle in The Punisher, carried over a tradition from his old zombie show: death dinners."
• Skybound interviews Lee Norris, who says of his character Todd's death, "I don't think it gets much cooler than when Daryl takes you out. Norman was actually telling me that I was one of the better kills this season in his opinion because of the dead-on shot to the head."
• For recaps and reviews of Season 8, Episode 5, "The Big Scary U," check out A.V. Club, Chicago Tribune, ComicBook.com, Digital Spy, Insider, io9, Rolling Stone, TV Insider, TVLine, Uproxx, Us Weekly, Variety, Vulture and Yahoo.
Watch Season 8, Episode 5 on amc.com and AMC apps for mobile, Fire TV, XBox One, Apple TV, Roku and Chromecast.
To stay up-to-date on all the latest news about The Walking Dead, sign up for the weekly Dead Alert.
Read More