Press
Khary Payton Talks Shiva With EW; Yahoo Interviews Melissa McBride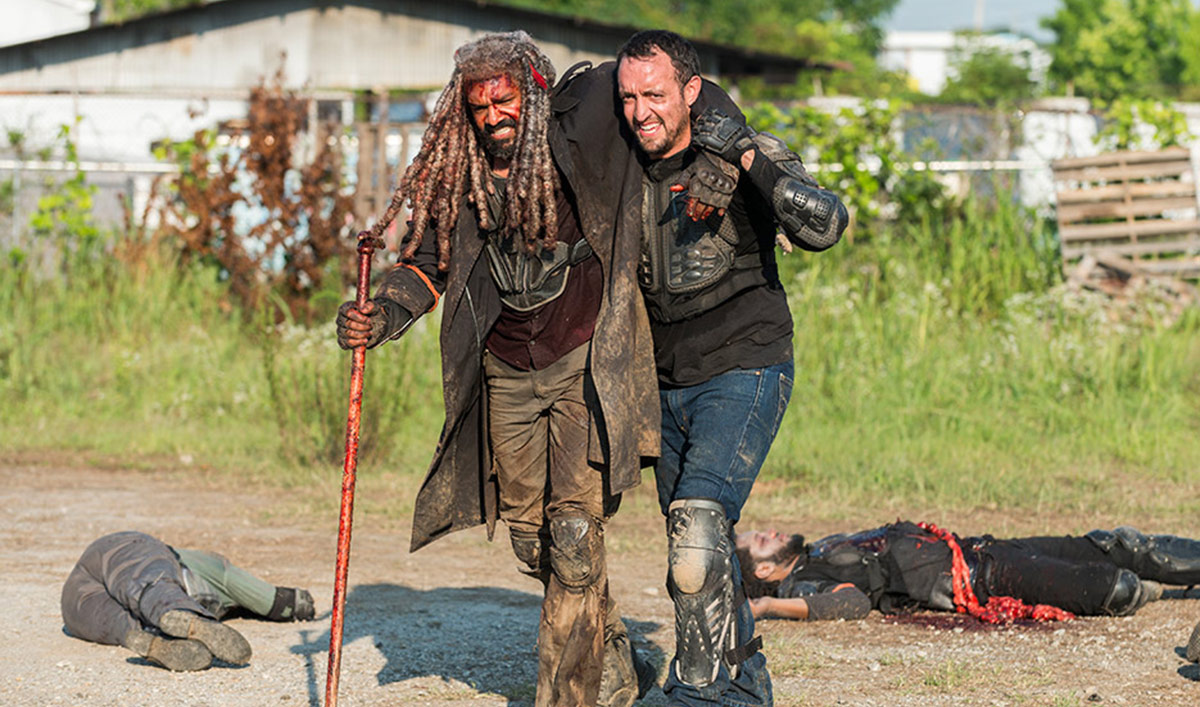 This week, Khary Payton discusses Shiva and death with Entertainment Weekly and The Hollywood Reporter, while Yahoo interviews Melissa McBride about the latest episode. Plus, TV Guide calls Shiva's demise the show's worst since Glenn. Read on for more:
• Entertainment Weekly interviews Khary Payton, who describes Shiva as "the embodiment of what the Kingdom is to Ezekiel. She is this rare, beautiful creature that somehow is surviving and thriving in this dark and hellish place, and that's what the Kingdom is."
• Khary Payton tells The Hollywood Reporter that, in the wake of the episode's carnage, Ezekiel "just has to find his way back. That's what this show is about. It's about how much of yourself can you keep in the most dire of circumstances? We're about to find out with Ezekiel."
• Discussing Ezekiel, Melissa McBride says to Yahoo that Carol "understands where he's coming from, definitely, but she doesn't think that he quite understands, really, what he's getting into. But she knows he's got to keep the morale up."
• TV Guide calls Shiva's death "easily the show's most heartbreaking since Glenn (Steven Yeun) died in the Season 7 Premiere."
• TV Insider lists the "five things 'Some Guy' got exactly right."
• Recapping the latest episode for Entertainment Weekly, Josh McDermitt writes, "What started out as an episode of hope and inspiration quickly devolved into pain and brokenness with the loss of the Kingdom's soldiers and beloved team mascot, Shiva, the friendly tiger."
• TheWrap notes that fans are mourning Shiva's death, which was "a huge tragedy for Ezekiel, who was already experiencing a major emotional breakdown before he watched his best friend get eaten by the undead."
• Talking to ComicBook.com about Ezekiel's reaction to Shiva's death, Melissa McBride says, "I felt his frustration and not being able to go and save Shiva. And I remember Lori, Sarah Wayne Callies's character, holding me back under the car when Sophia went over the edge."
• Cooper Andrews (Jerry) tells the Atlanta Journal Constitution, "I get this question all the time: 'How could he be so happy in the apocalypse?' It's not the apocalypse for him. This is the new world. This is how life is now. He'll find the optimism where he can, the light in every dark side."
• The Hollywood Reporter features a clip from the next episode, "The Big Scary U," where "Negan holds Lucille close by, of course, but he also has Seth Gilliam's Father Gabriel for company."
• Replying to a question from TheWrap, Tom Payne explains that "absolutely there could be a love interest that turns up [for Jesus], but I think certainly at the beginning of the season that's not foremost in his mind, or anyone else's mind. There's more important things on the table."
• Playing "1 Has 2 Go" with Billboard and choosing between Rick, Maggie and Daryl, Emily Kinney says, "Maybe I'll say Rick — just because it's been from his point of view for so long, maybe it would be a nice change, and I wonder who would be the leader?"
• Speaking with Parade, The Wall Street Journal's Paul Vigna explains why the show is successful: "In portraying these very average people week after week, showing their struggles, showing what they've figured out they need to do in order to survive, what you end up with is a very, very rough template of how you survive difficult times."
• Asked about Carol and Daryl's relationship, Melissa McBride explains to ComicBook.com, "They obviously care very deeply for one another. He's the most important person to her."
• Listing the show's biggest traitors, TV.com says "the pressing danger of Season 8's war means everyone's running on survival instinct, and true natures will be laid bare. Who'll have his or her team's back, and who'll just do whatever to survive, by any means necessary?"
• ComicBook.com reports that the Midseason Finale on Dec. 10 will run for 88 minutes, almost half-an-hour longer than the show's usual 60-minute broadcast slot.
• ComicBook.com speaks with Sydney Park, who says of Oceanside's Cyndie, "I think what really drives her is that she doesn't want to turn into the people that have hurt her."
• For recaps and reviews of Season 8, Episode 4, "Some Guy," check out Atlanta Journal-Constitution, A.V. Club, Chicago Tribune, Entertainment Weekly, Forbes, Fox News, The Guardian, MarketWatch, Movie Pilot, The New York Times, Rolling Stone, Time, TV Fanatic, TV Insider, TVLine, USA Today, Vanity Fair, Variety, Vulture and TheWrap.
Watch Season 8, Episode 4 on amc.com and AMC apps for mobile, Fire TV, XBox One, Apple TV, Roku and Chromecast. Watch Season 8, Episode 4 of Talking Dead.
To stay up-to-date on all the latest news about The Walking Dead, sign up for the weekly Dead Alert.
Read More