Q&A
(SPOILERS) The Walking Dead Q&A — Lennie James (Morgan)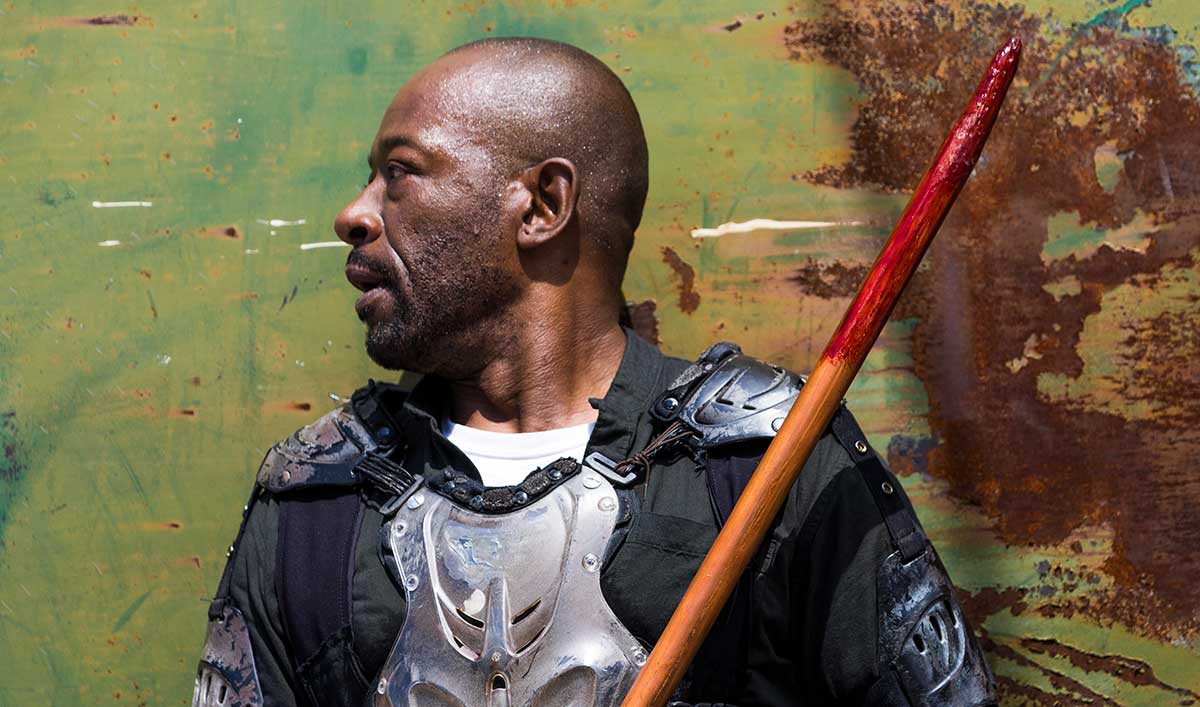 Lennie James, who plays Morgan Jones on AMC's The Walking Dead, talks about making it 100 episodes into the show, trading a fighting stick for a firearm and how Morgan is adjusting to a world full of violence. 
Q: As someone who appeared in the very first episode, what was it like being a part of the 100th episode?
A: It was a chance for us to take a moment and look at what we've done and how far we've come. For me, having been there on the first episode and then on the 100th episode added a particular perspective in the journey and on the show. It was good to acknowledge that and to acknowledge the work that both the cast and crew have been putting in.
Q: How different was it filming the first episode vs. the 100th?
A: With the first episode, we were filming on a planet we had never been to before. We didn't know whether or not the show would get a second season, let alone seven more. We did six episodes in the first season and I only did one of them. At that particular moment, I had no guarantee or real sense that my job on the show hadn't ended at that moment. Now, it's a completely different beast. We had no idea if we would be successful in making the show we wanted to make or if the audiences would like or watch. We had no comprehension that they'd be as committed to it as they have been. We have an understanding of ourselves now in the world that we didn't have before. It's exactly the same and it's completely different.
Q: Morgan has taken up a gun in the survivors' mission against the Saviors. Did that take getting used to after leaning on the fighting stick for so long?
A: It did. It's a change, but one of the things I like about playing Morgan is that no change is small with him. The fact that he's using a gun is about where his head is at this time. Morgan is in a hurry to get to the other side of this war so he can get back to some semblance of peace and to try to discover whether it's possible to live in this world with a sense of respect for human life and its preciousness. I think the gun is much about expediency as it is about self-preservation.
Q: In Episode 2, Morgan is bent on killing the Savior responsible for Benjamin's death, but Jesus stops him. What did Benjamin mean to Morgan?
A: For Morgan, Benjamin was an attempt to belong. It was him putting down roots. When the King asked him to join the Kingdom he was reluctant because he wasn't sure if he was staying. It was a way of him saying, "I want to see if I can stay here and whether or not I can be with people and care about people again." It's no accident that Morgan wears Benjamin's armor despite the fact that it's about seven times too small for him and protects him in no way shape or form. He wears it to remember the loss, but to also align himself with the Kingdom and say, "I'm in." The two best manifestations of his sense of community are his relationships with Ezekiel and with Carol.
It was also an opportunity for Morgan to rebuild his life amongst people who didn't necessarily know his history. He took a chance and Richard and Jared took that away from him. He took the risk of taking on a mentee and it could have possibly grown into a father-son relationship. He risked all of that and it was taken away from him. It opens up the deepest wound that Morgan has, which is the loss of his son.
Q: How did Benjamin's death change Morgan's view of the Saviors and the larger war?
A: I don't know if, at the end of Season 7 or even the beginning of Season 8, Morgan has taken on some kind of sense of the whole – in the sense of the war as a whole. What he has taken on is that in order to get to the person who killed Benjamin, he has to side with Rick in this war. Once he gets there, he's forced to deal with the complexities of the position he holds, the beliefs he holds and the people he's around, not least Jesus. Initially – just like he was trying to do at the end of Season 7 before Carol stops him – he was just going to walk straight ahead and kill everyone in his way until he got to Jared, even if that meant killing Negan. That's the mindset he has. Episode 2 is when he realizes it's a bit more complicated than that.
Q: Morgan originally had trouble adjusting to Rick's rule and the level of violence he'd be expected to partake in. Does he still struggle with that?
A: He's still struggling and he'll continue to. It's an ongoing thing. It's not an arbitrary belief. He's not doing it to be contrary. He's doing it because he truly believes that all survivors across the board – of Alexandria, of the Kingdom, of the Hilltop— all of them who have gotten to this stage, know how to survive against the walkers. What we don't know yet is how to survive among ourselves. He's saying, "Let's start at the premise that all life is precious. Let's start with trying to respect and preserve our lives and find a compromise that means we can all live together rather than trying to destroy each other." The difficulty for Morgan is that in order to get to continue that conversation, he has to go to war.
Read a Q&A with Andrew Lincoln, who plays Rick.
Watch full episodes of The Walking Dead on amc.com and AMC apps for mobile, Fire TV, Xbox One, Apple TV, Roku and Chromecast.
To get more exclusive interviews with the cast, sign up for the weekly Dead Alert.
Read More