Press
Robert Kirkman Teases New Season to ABC; EW Spotlights Premiere Scene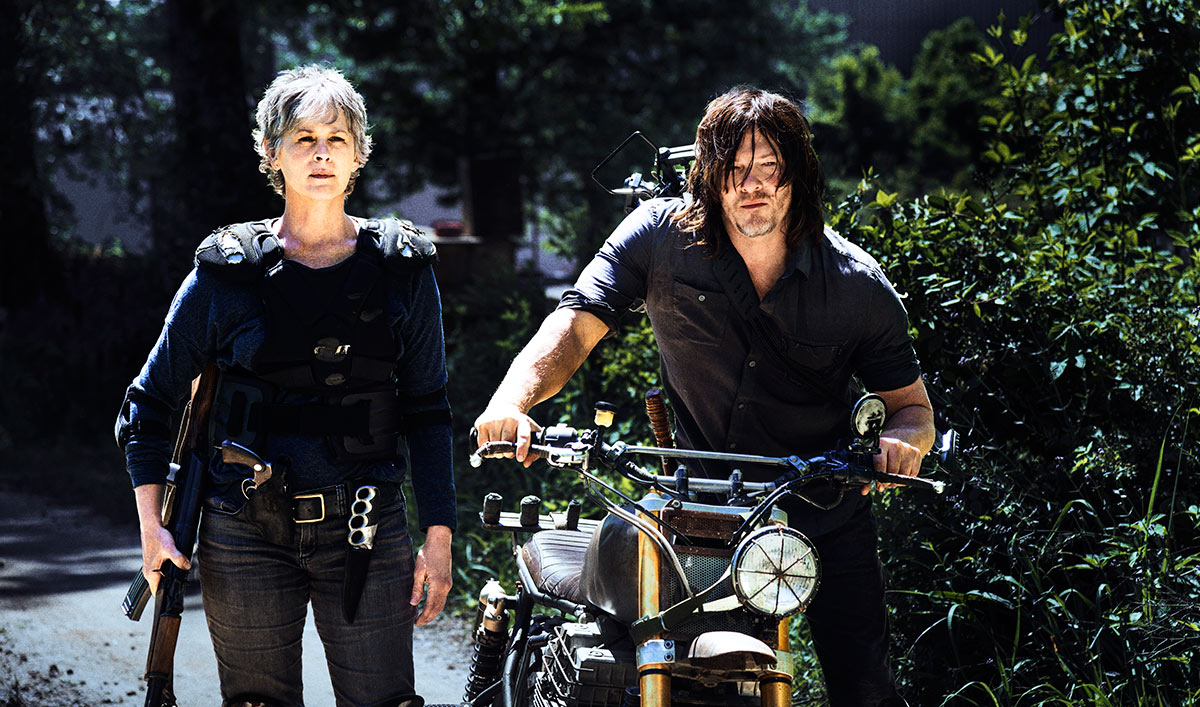 This week, Robert Kirkman teases the new season to ABC News, while Entertainment Weekly spotlights a Season 8 Premiere scene. Plus, CBR.com hypes up a crossover with Fear the Walking Dead. Read on for more:
• "The end of Season 7 was so huge, and our goal with Season 8 is to make that look small in comparison. We're doing the 'All Out War' storyline, we've been very public about that. We're going to do a very fast-paced season," Robert Kirkman tells ABC News.
• Entertainment Weekly spotlights a new Season 8 Premiere scene featuring Carl and observes, "If the scene feels familiar that's because it appears to be almost a carbon copy of the show's very first scene ever, with Rick Grimes looking for gas."
• CBR.com debuts an image teasing a The Walking Dead/Fear the Walking Dead crossover, where there "is one character that is going to go from one show — that I will not name — and appear in the other show — that I will not name," according to Robert Kirkman.
• Deadline, reporting from New York Comic Con, notes the crossover is expected to happen "in the next year," while Forbes is "excited for the potential" when it comes to a crossover.
• Gale Anne Hurd previews to Deadline, "I will say that even if you follow the comic book, get ready because Season 8 is big and it is badass."
• "Season 7 sucked for Rick Grimes, but Season 8, he's definitely getting his strut back. We've got the gang back together," Andrew Lincoln previewed at New York Comic Con, Entertainment Weekly reports.
• TV Guide shares "what you need to know about what's shaping up to be The Walking Dead's biggest season yet."
• Rolling Stone previews Season 8's Oct. 22 return because "for many fans, this is the season they've been waiting for: the all-out war between our man Rick Grimes, his allies and the diabolical clan of hostile survivors led by the violent Negan."
• Entertainment Weekly asks Greg Nicotero "to pick out his 10 favorite walkers ever and share the stories behind the screams."
• Geeks of Doom files a dispatch from the show's New York Comic Con panel, where Jeffrey Dean Morgan said of Negan that Robert Kirkman "created this guy that's hard not to like, despite what he does."
• Entertainment Weekly interviews Jeffrey Dean Morgan, who reveals that Negan respects Rick "because, you know, Rick is Rick. In another lifetime, in another world, these two would hang out and be friends, but in this world, that's just not going to happen and Rick is a thorn in his side."
• Recounting his first day on set, filming a shootout, to Entertainment Weekly, Andrew Lincoln says, "Jon Bernthal was terrified because I was driving and he knew that I had only spent three weeks in the country and I was still driving on the left-hand side of the road. And I had to break 60 to 70 miles per hour and then put the brakes on."
• Melissa McBride tells Entertainment Weekly about her first day on set, in Season 1: "I was just really observant and apprehensive. Just a little anxiety because I felt I was being thrust into somebody else's world and I wasn't quite sure what it was."
• Entertainment Weekly learns from Norman Reedus that, his first day on set, he was "so insecure that I kind of threw everything that way and didn't look up much and didn't really look everybody in the eyes. I was kind of like, 'Don't look at me.' And I was like, Oh, that's who Daryl is."
• As for Lauren Cohan, she relates to Entertainment Weekly, "When I first started, it was the scene where Carl has been shot and he comes into the house and we're all kind of shell-shocked and reacting to the group. And I remember myself and Emily [Kinney] and Scott [Wilson] were new to the show and we knew it was great."
• In another first-day dispatch, Danai Gurira tells Entertainment Weekly, "I was coming into the most humid heat I had ever experienced in my life. I was wearing a beautiful but new to me dreadlocked wig and I had very short hair for a very long time so I was like, 'What is this?' And then the whole day, it was just me."
• ComicBook.com speaks with Norman Reedus, who reveals that Melissa McBride is "a Norman favorite. I remember my first scene with her, I have to hand her the pick ax and she has to kill her husband with it and I liked her right off the bat."
• Andrew Lincoln warns Entertainment Weekly, "There's some big deaths this season, just to warn everybody."
• Ahead of Season 8, Josh McDermitt shares with ComicBook.com that Eugene is "with Saviors, he's on team Negan, he's looking out for himself. He's thinking about self preservation, just trying to continue to live in this apocalypse."
• Entertainment Weekly chats with Seth Gilliam, who asserts that "Gabriel has found a little footing, finally, where he can be of service to the group. And I think it's given him the purpose to live again."
• Khary Payton tells ComicBook.com that King Ezekiel may drop his act some in Season 8: "I'm sure there's going to be a bit of that peppered in. I think you'd be remiss not to use that aspect of him in some way, shape or form…"
• Entertainment Weekly interviews Austin Amelio, who says Dwight is "the lone wolf right now, you know? He's inbetween two islands and every move that he makes, he has to be extremely careful."
• Checking out a new teaser, ComicBook.com notes that the "first footage of Judith from the eighth season of The Walking Dead has been revealed."
• Bleeding Cool announces that The Walking Dead is donating a range of items to the Smithsonian Institution this week, with Greg Nicotero saying "the items would represent items spanning the show's 100 aired episodes."
• Soundtrack.net reports that Bear McCreary's soundtrack for The Walking Dead will be released digitally and on CD on Oct. 20 and on LP Oct. 27.
The Walking Dead returns Sunday, October 22 at 9/8c. Click here to add the premiere to your calendar. Watch the official trailer for Season 8.
To stay up-to-date on all the latest news about The Walking Dead, sign up for the weekly Dead Alert.
Read More