Blog
Four Interactive Features to Take Your The Walking Dead Experience to the Next Level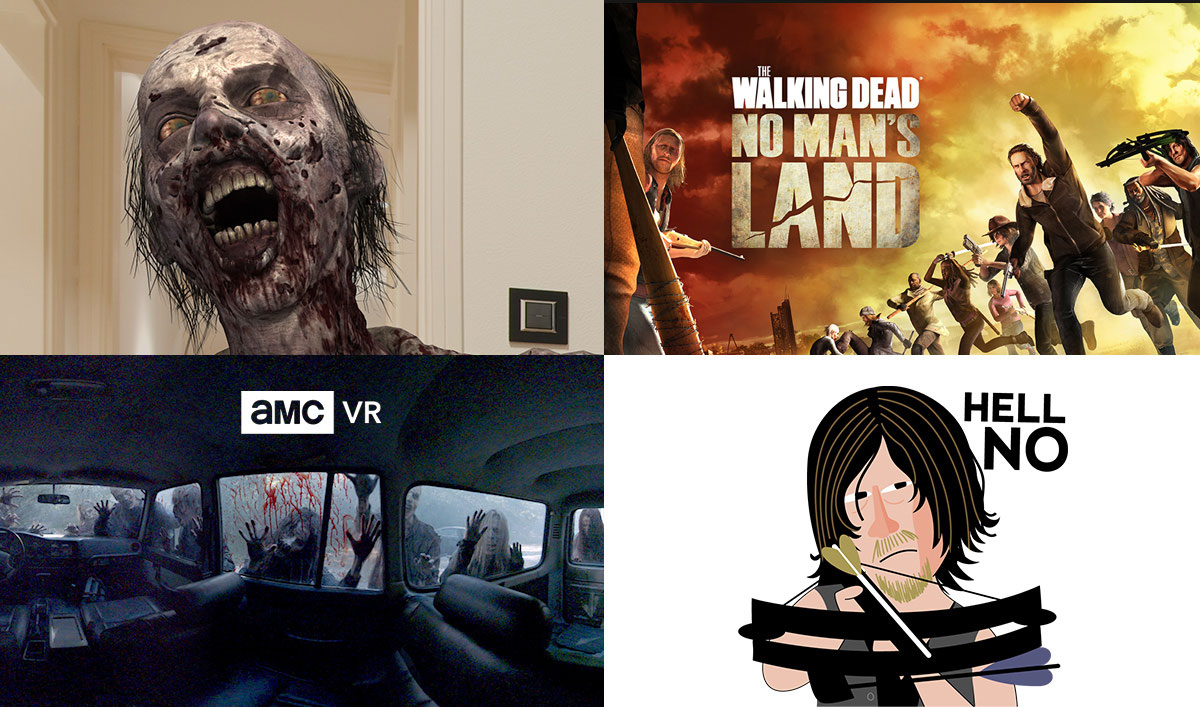 The Walking Dead Season 8 premieres Sunday at 9/8c on AMC. In addition to the action-packed premiere, there are now even more thrilling ways to immerse yourself in the world of TWD throughout the whole season and beyond. Four heart-pounding interactive features and experiences are now available for your mobile device or computer. Check out…
See Walkers IRL With The Walking Dead Encounter App
Are you sick of walkers being relegated only to your TV? Now you can see them everywhere you go by downloading The Walking Dead Encounter, the official augmented reality experience of the series, now available for iOS and Android. To get started, download the app, start collecting walkers and scan specially-marked Mountain Dew products to unlock even more. Then, tune into new episodes of The Walking Dead live on AMC beginning October 22 and look for the Mountain Dew commercial during each new episode. Scan the ad with the app to unlock a new iconic walker from the series. Collect all 20, take photos and videos and share your scare with friends.
The Walking Dead Sticker Pack for iOS
Take your texting to a whole new level with 30+ iconic The Walking Dead Stickers. The app is available now on iOS and features fan favorite characters Rick, Daryl, Michonne and Negan, as well as several unique walkers and undead flesh-eating expressions. Spread the infection by sending stickers in chat, customize your photos for hilarious, gruesome results and scale and rotate to create the perfect effect. These static and animated stickers are the best way to reach out and touch your friends, whether you're channeling your inner survivor or indulging your flesh-hungry alter ego.
The Walking Dead Virtual Reality App 
Experience the apocalypse first-hand, if you dare. Available now for iOS, Android, Samsung Gear VR and Google Daydream
the app will come with several unique The Walking Dead experiences, including:
Attacked Pt. 1: Trapped – You're trapped in an abandoned car. Can you last until help arrives?
Attacked Pt. 2: Surrounded – The walkers are closing in now, and time is running out.
Attacked Pt. 3: Devoured – Dinner is served.
Attacked Pt. 4: Herd – You're the walking dead. Join the herd.
In addition, open the app on Sunday night after The Walking Dead Season Premiere to see an exclusive bonus VR scene from the episode. And be sure to stay tuned to the app and be on the lookout for new The Walking Dead content.
The Walking Dead No Man's Land
Download the official mobile game for AMC's The Walking Dead where you can play all-new Season 8 missions every Monday after a new episode of The Walking Dead. Complete all the missions to unlock an all-new Season 8 character: Jerry! Also, check out a trailer for the next The Walking Dead mobile game coming from AMC and Next Games.
Click here to watch the official trailer for Season 8.
The Walking Dead returns Sunday at 9/8c. Click here to add the premiere to your calendar.
To stay up-to-date on all the latest news about The Walking Dead, sign up for the weekly Dead Alert.
Read More